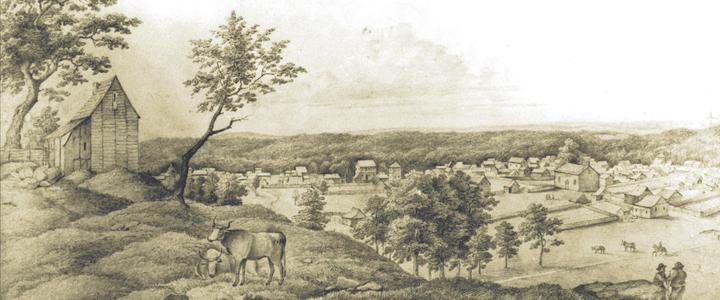 From the main plaza to the tube chute, New Braunfels' history and culture have been preserved for future generations to enjoy
In New Braunfels, history isn't just in books – it's woven into every aspect of daily modern life. Founded by German immigrants in 1845, its European roots are still embraced and celebrated.
The city began when an adventurous German prince set sail for America under the authority of a group of fellow noblemen intent on creating a German colony in Texas. Prince Carl of Solms-Braunfels Germany purchased 1,265 acres of land on the Texas frontier along a spring-fed river, at just under $1 per acre, sparking a wave of German immigration.
Those early settlers founded a city that even today blends Old World Europe and independent, rugged Texas Hill Country.
As you explore New Braunfels, you'll find that the past is never too far away. From downtown to Gruene, the fabled tales keep culture alive, and it may be right under your nose and feet—or inner tube.
Main Plaza. In the center of town, traffic flows around a verdant, oblong-shaped piece of parkland. With a roundabout surrounding a plaza in the center of downtown, the heart of the city is more Old World Europe than Texas Hill Country. Most Texas towns have a grand limestone courthouse in the heart of the community, surrounded by a standard square grid of streets. New Braunfels' founders brought with them the traditional European roundabout, with ample space for celebrations and gatherings (the courthouse sits on the edge of the plaza). A fountain was added in 1895 to commemorate the city's 50th anniversary; shortly thereafter, the space took on its modern shape as high curbs were added to prevent citizens from watering their horses in the fountain (horse spit made it difficult to keep the fountain clean). The bandstand was added in 1905 for open-air music performances. During the area's cotton boom in the early 1900s, the plaza was a marketplace for farmers bringing in their bales on horse-drawn wagons. Hitching posts remain on downtown streets today, marking spots where riders would tie up their horses. As the automobile became the dominant form of transportation, the lanes around the plaza were paved in 1918. After decades of two-way traffic, the city restricted the flow of vehicles around the circle to one-way in the 1950s. Monuments commemorate local sons who lost their lives in the Civil War and World War I. Today, city traffic bustles around the plaza and city celebrations and festivals still take place there.
 
Tube Chute. Each year thousands of revelers in tubes zip down a thrilling water slide into whitewater rapids as they float down the Comal River: the famous Tube Chute. It all began when banker William Clemens purchased property along the river and built a dam in 1882 in an attempt to harness the river's power for industry. It ended up sitting idle as a power source, but created a popular swimming hole. When the City bought the surrounding Prince Solms Park in 1976, they added the chute to give swimmers easy passage around the dam. Today it's a highlight of the float along the Comal for river tubers.
 
Historic Gruene. When Ernst Gruene arrived in 1845 with his wife and two sons, there wasn't enough land in the settlement for his plans to farm cotton. They purchased land further north along the Guadalupe River and built homes and a farming community that thrived for decades. Today, many of the original structures still stand: the cotton gin (now the Gristmill River Restaurant and Bar), a dance hall and saloon (Gruene Hall, Texas's oldest dance hall), mercantile buildings (now Gruene General Store and the Gruene Antique Company) and various homes that today serve as the Gruene Mansion Inn and Gruene Haus, among others.

Founders Oak c. 1900


 
Founders' Oak. One of the city's oldest living inhabitants is still a local favorite. Founders' Oak, a sprawling tree believed to date back to the 1700s, is the crown jewel of Landa Park, a 51-acre riverside park surrounding the headwaters of the spring-fed Comal River. Its trunk is more than 17 feet in circumference, with a canvas of limbs that over the years has provided a setting for picnics, celebrations, concerts, and more, along with ample shade from the Texas sun. 
 
Sprechen Sie Deutsch? From greetings of "Willkommen" to a farewell of "Auf Wiedersehen," the German language is woven into the fabric of the community. You'll probably stay, dine, play or shop at an establishment with "Haus" in the name or grab a German or Texas brew in an outdoor Biergarten. From Schlitterbahn to Gruene (pronounced "green"), the city's origins as a settlement of German immigrants live on. Residents continue to speak German today, and some of the city's oldest citizens spoke German at home until learning English when they started school. The local newspaper, Neu Braunfelser Zeitung, was published in German until 1957 when it merged with the English language New Braunfels Herald.
 
Old-world traditions. The traditions of the early settlers are alive and well here. To survive on the harsh Texas frontier, settlers here had to rely on their skills and ingenuity. Whatever necessities they required, they had to find, forage or create them. Old-world sausage-making skills enabled early settlers to preserve venison, beef, and pork, and each family had its own recipe. Today that heritage is celebrated every fall at Wurstfest, a German-themed festival lovingly called "a 10-day salute to sausage." German beer-making traditions live on at several local breweries, including the Faust Brewing Company (try the German nachos, with potato chips, jalapeno bratwurst, and sauerkraut!) and New Braunfels Brewing Co., both downtown. The Guadalupe Brewing Co. and 5 Stones Artisan Brewery brew with a modern twist, using fresh local and seasonal ingredients. At Krause's Biergarten and Café, an enormous tap wall offers an extensive variety of German and Texas beers, with a kitchen serving both German classics and Texan favorites. Also downtown, the Alpine Haus creates authentic German cuisine in a setting full of Gemutlichkeit (ambiance). Just off the town plaza, grab a strudel, lebkuchen, kolache, or pfeffernusse at the oldest bakery in Texas, Naegelin's Bakery, in business since 1868.
For a deeper journey into the city's unique history, visit the 5 cultural museums. There also are a variety of tours through the city, including a self-guided walking tour of downtown or plan a jaunt to see the historical murals, each with their unique expression of the people, places, and things that have shaped New Braunfels into the town it is today.
 
SOURCES:
https://www.texasmonthly.com/the-culture/auf-wiedersehen-to-a-dialect/