Historic Gruene, Texas
The exciting and historic town of Gruene, Texas, is a world-famous destination for country and Americana music. It sits just upstream of New Braunfels on the slow, cool waters of the Guadalupe River. The bustling Gruene Historic District features gorgeous German-Texas architecture, unique shops, tantalizing restaurants, and much more.
At the heart of Gruene, Texas is one of the oldest continually-operating dance halls in Texas. Gruene Hall is a famous launchpad for legendary musicians such as Lyle Lovett, Hal Ketchum, Robert Earl Keene, and Lucinda Williams.
Several of the original 19th-century buildings have been preserved or renovated, finding new life as popular gift shops, bars, restaurants and B&Bs. Several river outfitters stand by, ready to assist visitors with an adventure on the Guadalupe outside the New Braunfels city limits. Gruene is also home to a monthly music, food, and art festival called "Old Gruene Market Days."
Bust to Boom and Back Again
Gruene was founded as a small farming community on the stagecoach line between San Antonio and Austin in the late 1860s. The sleepy crossroads soon blossomed into an industrial and economic hub. By the end of the 19th Century, Gruene had transformed into a booming center for cotton growing and shipping.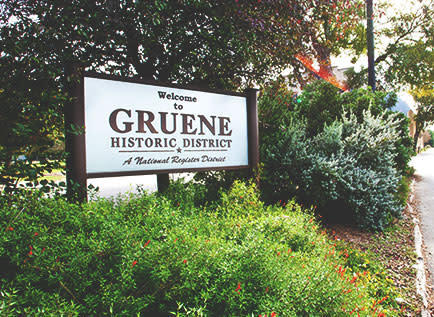 A one-two punch of boll weevil scourge and the Great Depression nearly spelled the end for Gruene. It sat as a virtual ghost town until it was rescued from the wrecking ball in 1974. Chip Kaufman, a young student at UT Austin, recognized the significance of Gruene's historic buildings and convinced developers to spare them. In 1975, Kaufman managed to have Gruene placed on the National Register of Historic Places.
Investors Pat Molak and Mary Jane Nalley poured their hearts into creating the vibrant and quintessentially Texan destination. Their dedication, toil, and vision helped mold Gruene into the live music, shopping, and Texana haven it is today.
Texas Fun for Everyone
Whether you seek a stroll through history, a unique shopping experience, or some time on the honky-tonk hardwood floor, Gruene has something for everyone. Several hotels, campgrounds, and B&Bs are waiting to help you make a weekend of your trip to Gruene!