Downtown New Braunfels
Downtown New Braunfels is alive with shopping, dining, art, history, and fun! Visitors to New Braunfels' bustling city center will find:

Retail Stores
Cafes and Coffee Shops
Boutiques
Bars
Museums
Restaurants
Live Music
Local Theatre
Delis & Meat Markets
Fine Dining
Barbershops and Salons
Hardware Stores
Bakeries
Antiques
Churches
Banks
Art Galleries
Government and Utility Offices
Historic Landmarks
Lodging
Farmers Markets
And More!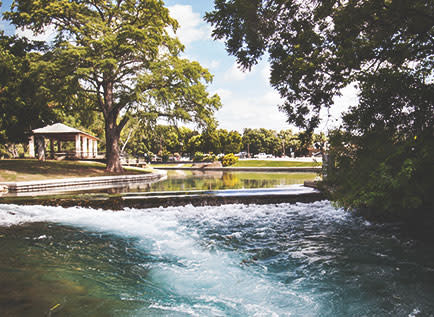 Lush and beautiful Landa Park is located just a few blocks from the city center, as are the Wurstfest grounds. Numerous charming businesses line both sides of San Antonio Street — the main thoroughfare of Downtown New Braunfels. Visitors love to stroll along the tree-lined avenues, window shopping under the awnings or popping into a shop for a tasty snack or refreshing drink.
Several times a year, the streets near the historic downtown square are closed for festivals, parades, street fairs, and other community activities. The city of New Braunfels was built on two traditions: a strong work ethic and good times, known in German as Gemütlichkeit. Tourists and residents alike will find both in abundance, no matter what time of year they plan a visit to downtown New Braunfels.