Smoothie King just opened up the other day to great fanfare, a few doors down from the HEB on 46 and the loop (Is that HEB #2? #1? #3? I haven't been here long enough to know the order they popped up, I need a local to give me some schooling.)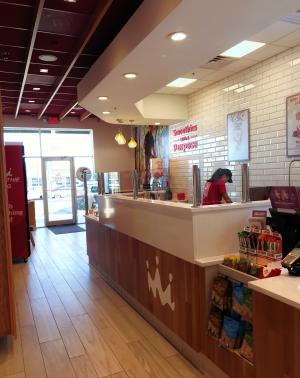 They had a line all the way down the sidewalk before they opened. It was full of hopeful residents looking to be one of the first 50 in the door to secure FREE SMOOTHIES FOR A YEAR! It was crazy! They also, in staying with their health-conscious branding, had a live fitness demo in a roped off section of the parking lot that looked so fun with pumped-up jams and a very enthusiastic class instructor leading a step workout that seemed like they were almost dancing. So fun!
The smoothies are delicious and I bet even those outside of the first 50 weren't too disappointed after they got their drinks.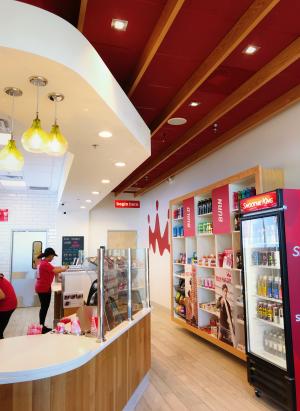 Smoothie King is a franchise that focuses on using whole fruits and organic veggies, adding in no artificial colors or preservatives or high fructose corn syrup, and offer many of their menu's blends with 0g of added sugar. They've got signs up inside toting how their drinks are made without any hydrogenated oils, or any rBST/rBGH hormones in the dairy, or any trans fat or and gluten! That's right New Braunfel's Gainz Bakery-frequenting Gluten-hating, Keto Community, Smoothie King is your jam!
Not only are they gluten-free, but they offer made-to-order Keto-Champ Smoothies (keto protein blend, Almond Milk, almond butter, & 100% cocoa) with cold brew coffee, but you can also get your morning Keto-kickstart in a berry smoothie with all the above, but nix the coffee and add keto-approved raspberries and wild blueberries. The micros (micro-nutrients) for all are helpfully listed in a grab-and-go pamphlet menu.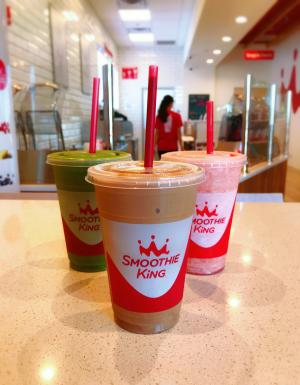 I tried the Keto-Champ cold brew coffee smoothie while there with extra added cocoa and liked it. It was very filling and wasn't very sweet (which I was glad of) and had some nice bitter notes in it, maybe from the extra cocoa, which I didn't mind. To those that stomach classic-keto coffee every morning, this would be a welcome alternative *unless you somehow really like classic-keto coffee.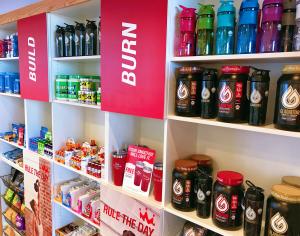 "Look at all the supplements and #fitlife merch they sell!"
It is very Jamba Juice reminiscent to me (does anyone remember when these were on like every corner), but it seems to be geared to a much more health-goalz focused crowd where as I see Jamba Juice as one of the gateway merchants for the wheat-grass obsessed austin-ite. Smoothie King is killing it with it's base of ingredients and then they give you the option of what kind of "enhancers" you would like to add in.
Choose your "health goalz" category of the menu (slim, fitness, wellness, or breaktime) and then select a blend within it.
For example, within the "Slim" category, I chose to try out the Slim-N-Trim smoothie (all come with Gladiator Protein, Lean1 Protein, Fiber Blend Enhancer, and protein blend) and chose the Veggie version of it. This was a blend of organic spinach, kale and ginger, bananas, mangoes, and an apple pineapple juice blend.  I added the diet down enhancer (chromium, green tea extract, L-Carnitine, 5 HTP & fiber) and the energy boost (ginko biloba & panax ginseng; stimulant free) and felt quite good about myself. It was tasty too! Refreshing without any bitter punch from the kale managing to come through the banana flavor. It managed to be creamy tasting in fact. I love me a green juice or smoothie and think that this would definitely be my choice as a go-to every morning smoothie if I had to choose one.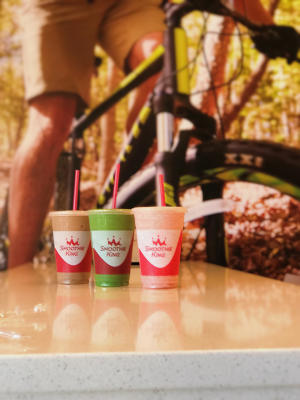 I also ordered a "Strawberry-Kiwi Breeze" from the "Break Time" area of the menu to try and give a more well-rounded view of what Smoothie King has to offer. It seems that the "Break Time" area of the menu is about giving yourself a bit of a treat, and less concerned with being the most healthy/low in calories, etc. The Strawberry-Kiwi Breeze for example contained strawberries with added sugar, kiwi apple juice blend, papaya juice blend, and dairy whey blend. It was very sweet and slightly sour/tangy, and probably a lot more healthy than a "treat" you might buy for yourself at a bakery or candy store. I dunno. There's definitely a lot less preservatives, fake colors and flavors, but I am not an expert that can analyze micros like sugar grams and know what is high.
All around, Smoothie King manages to be a place that both provides delicious smoothies, and is a very helpful tool for those super specific diets that avoid certain things and add certain others into their daily meal plan. The choice is yours! I will definitely be coming back to have another Veggie smoothie.