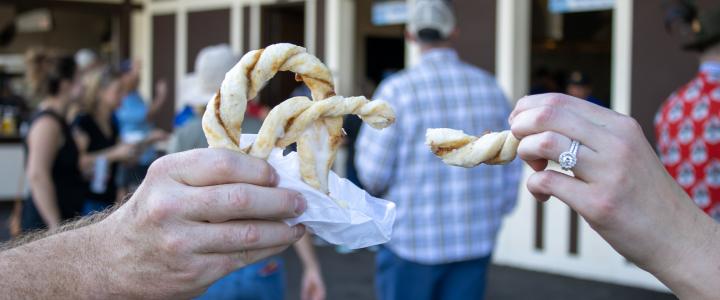 Sausage delights and other must-try food items at this 10-day tribute to city's German heritage
When planning a visit to Wurstfest, here's one of the most critical pieces of advice: go hungry.
Sausage ("wurst" in German) is the highlight of this 10-day celebration, and it's served up in multiple ways, along with many other delicacies that Wurstfest fans look forward to all year. With a wide variety of delicious food, many people return year after year to indulge in their favorites.
As you eat your way through Wurstfest, heed another word to the wise: pace yourself. Wurstfest lasts for 10 days, so you can try something different each time you go back!
Here's a look at some of the most popular dishes served each year at Wurstfest, happening Nov. 3-12 in New Braunfels.
So much sausage!
Sausage is the reason Wurstfest was started in 1961. The event was born when city meat inspector Ed Grist had the idea for a festival to honor local sausage makers. 
Sausage is still in the spotlight and served up in just about every way imaginable. Start with a link on a stick with a bun or a plate with bratwurst, German potato salad and kraut, all served up by the New Braunfels Noon Lions Club or try the 5-sausages-on-a-stick sampler at New Braunfels Smokehouse.
Other options include the Wurst-n-Tauschen, a grilled bratwurst served in a fresh pita and topped with sauerkraut, sauteed onion and green pepper. This Wurstfest favorite served up by the Downtown Rotary Club of New Braunfels each year.
Sausage also pairs nicely with potato pancakes and applesauce, as served by the Rotary Club of New Braunfels. Or try your sausage wrapped in a pretzel and served with a side of beer cheese. That's the bretzel wurst, served up by the New Braunfels Jaycees.
Try the Dussel Dog, a bratwurst served on a pretzel bun and topped with sauerkraut, or the Jager Dog, a bratwurst on a pretzel bun with gravy and mushrooms. Both are specialties of the booth that St. Jude's Ranch for Children operates.
Ready for a walk on the wild side? Try the sausage-on-a -stick stuffed with macaroni and cheese and jalapenos, the sausage cheese balls or wurst nachos.
Meat me at Wurstfest
When you're ready to branch out beyond sausage, Wurstfest has you covered. The pork-chop-on-a-stick and pork wild wings are perennial favorites, served by the New Braunfels Little League and the Comal County Junior Livestock Association, respectively.
Traditional German-style Reuben sandwiches are another crowd-pleaser, with pastrami, corned beef and sauerkraut piled high on rye bread by New Braunfels Performing Arts. Get a taste of Germany with an authentic pork schnitzel, dished up by the Comal County Senior Citizens Foundation.
Kebabs, shrimp and burgers… oh my!
The culinary delights don't stop there. Pretzels are a must and are available at the New Braunfels Conservation Society booth. Fried pickles and shrimp are a highlight at Wurstfest each year, served up by Communities in Schools. The Elks Lodge serves up doner kebabs and gyros at their booth, while the Canyon Lake Masonic Lodge offers classic burgers and fries.
Wurstfest also offers traditional festival fare, including turkey legs, popcorn and roasted nuts.
Save room for dessert!
Whether you eat dessert first to make sure you have room or you reward yourself for eating all your sausage, the sweet scene at Wurstfest does not disappoint.
Satisfy your sweet tooth with help from Naegelin's, the oldest bakery in Texas, dating back to 1868. These dessert pioneers serve up treats such as apple strudel, German sweet pretzels, bear claws, cinnamon rolls, cookies, cream horns, Gingerbread men, lebkuchen and more from their booth at Wurstfest.
Don't miss the funnel cakes, an annual tradition served by Canyon High School Music Boosters. And it wouldn't be a festival without fried Oreos, served by the New Braunfels Evening Lions Club, along with other delights such as cheddar wurst.
Helping with every bite
One of the best things about eating your way through Wurstfest is knowing that with every bite of sausage or other delicious food, you're helping the community year-round. Many of the food vendors at Wurstfest are nonprofit organizations that come back each year to sell their delicacies and raise funds for programs that they offer throughout the year.
So have fun, visit often and savor the many flavors of Wurstfest. For more details on the festival, go to Wurstfest.org. Plan a weekend or overnight stay to get the most out of your Wurstfest adventure #InNewBraunfels at  playinnewbraunfels.com/.