By Hannah Thompson The Herald-Zeitung     Updated ​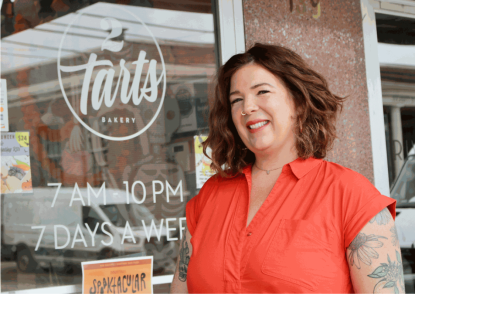 Ashley Landerman stands outside 2tarts Bakery in New Braunfels. The co-owner is set to compete on Food Network's Holiday Baking Championship.
Hannah Thompson I Herald-Zeitung
2tarts co-owner and New Braunfels native Ashley Landerman is representing New Braunfels on the national stage once again as she competes in the Holiday Baking Championship from Food Network.
"I have always loved baking and cooking since I was a preteen," Landerman said. "(I) was definitely like the latchkey kid making food at home by myself and like asking people for like a cup of sugar, and all of that, so I mean, I've always just loved food."
At first, Landerman went to culinary school and resisted her natural baking talents, as she had aspirations of becoming a chef.
After working at bakeries in Austin, she came around to the idea of becoming a baker
She knew she wanted to open a business that would have longevity and be successful, but full catering proved to be intense, with the idea of owning a restaurant being even more so.
So at 25, Landerman opened 2tarts Bakery with her sister April Ryan.
Around a decade later, in 2019, Landerman was scouted for a baking competition called the Christmas Cookie Challenge — and she brought the win home to New Braunfels, along with a $10,000 cash prize.
"The pandemic happened and all that crazy stuff, and then I had a baby," Landerman said. "I actually had to kind of turn down some opportunities, filming because I was like being a mom, and this opportunity just came at the perfect time when I was like okay, my kids are old enough where I can leave them — because I was gone for a long time — and do this."
Although not too much can be given away yet, Landerman said the experience was certainly difficult.
While the cookie competition focused on just that, the Holiday Baking Championship was a full baking competition with people of all cooking backgrounds, from Patissiers to chocolatiers.
Along with the strong competition she faced, she also missed being around her family and their support.
"Overall, I had a blast," Landerman said. "My cast was amazing. We are super close, and we're very trauma-bonded now, and everybody was so talented. I really think that our season is one of the best seasons there's ever been. The show is like top-tier people, so it was really cool to get chosen (for) that."
The new season of the show will premiere on Food Network on Nov. 6 at 7 p.m. as a two-hour episode.
However, this isn't the only thing New Braunfels residents can look forward to.
"The bakery is going to try to highlight some things that I made on the show," Landerman said. "That's something that I learned from the previous show … people wanted exactly what I made on TV, and I was basically stuck in that kitchen just like all season making exactly what I made, and I was like, 'Oh my gosh, people are really into that,' so I'm semi-prepared for that this year."
For those interested in trying some of these baked goods, 2tarts is located at 139 N. Castell Ave. Suite 300.
https://herald-zeitung.com/news/co-owner-of-new-braunfels-2tarts-bakery-to-compete-on-food-network-tv-series/article_03709152-72af-11ee-ba25-13d4d6e90af7.html