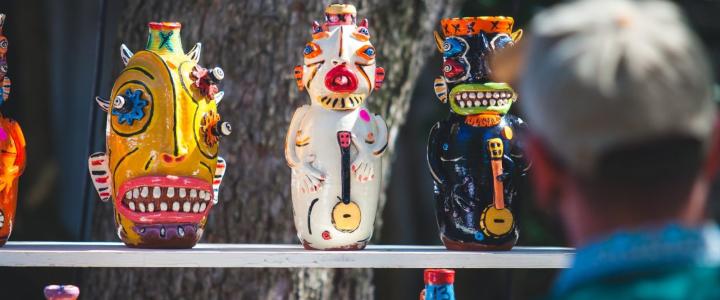 Experience the city's arts scene at three major events in October
With its historic buildings, European charm and natural beauty, New Braunfels offers plenty of artistic inspiration. That's why 40 artists from around Texas and beyond will come here to paint iconic scenes of the city this October.
It's all part of Two Rivers Plein Air, an event that sends artists into the community to create works of art outdoors. It's one of three major arts festivals happening around New Braunfels this month, along with the 7th annual Fall Into Art Festival, Oct. 21-22, and the 31st Annual Texas Clay Festival, Oct. 28-29.
TWO RIVERS PLEIN AIR, OCT. 9-14
Plein air is a French term meaning "in open air." It originated when metal paint tubes were invented in the 1840s, allowing painters to transport paints from their studios and go outside to find inspiration.
The Two Rivers Plein Air event will carry on the tradition when 40 artists come to New Braunfels to take to the streets, hills, rivers or wherever their vision takes them. Whether artists want to paint a historic landmark, a river landscape or a flowerpot on someone's front porch, they'll find a wealth of worthy subjects here.  "There's plenty of beautiful motifs to set up and paint," said Myra Knapp, an artist and teacher with the New Braunfels Art League. "You're happy when you're out there because everything in New Braunfels is very beautiful. It's all just sort of handed to you here."
This is the second year for the event, which the New Braunfels Art League organized in 2019 and is resuming now post-COVID. It's the local version of a national trend. The experience of painting outdoors presents a unique challenge to painters, Knapp said. In addition to studying subjects up close instead of from a photograph, artists must contend with rapidly changing daylight.
"You learn to be spontaneous, mix your colors really fast, just paint it as it is, just out in fresh air," Knapp said. "There's a real excitement to the whole idea."
The event kicks off at Krause's Café on Oct. 9 at 5 p.m. with a Quick Draw competition that challenges artists to go from a blank canvas to a finished piece of art in just two hours. The next morning, artists will hit the streets to create as many paintings as possible until the submission deadline at noon on Oct. 13.
It's a unique opportunity for spectators to watch art being made before their eyes, Knapp said.
"People love to watch artists work. It's something you don't get to see very often. People will drive by and suddenly stop, get out of their car and come over for a chat," Knapp said.
Most artists will end up with at least three paintings during the event, which will be on display at a reception and awards ceremony on Oct. 13 from 5 p.m. to 8 p.m. at the New Braunfels Art League. The event is free and open to the public, and art produced during the week will be for sale. For more information visit newbraunfelsartleague.com.
FALL INTO ART FESTIVAL, OCT. 20-22
Painters, potters, photographers, jewelers, woodworkers, sculptors, candle-makers, musicians and more will share their wares at the 7th annual Fall Into Art Festival, Oct. 20-22 at Columbus Club Hall, 111 Landa Street. The event draws award-winning local and visiting artists to display and sell their creations.
Presented by the Greater New Braunfels Arts Council, the festival will feature indoor and outdoor vendor booths, a kid's pavilion, live music, performing arts, food trucks and raffles.
New this year is a VIP Sneak Peek & Silent Auction wine and cheese reception the evening before the festival. Attendees will have the first chance to purchase artwork on display at the festival. For more information, go to gnbac.org.
TEXAS CLAY FESTIVAL, OCT. 28-29
It's been called "a two-day clay love-fest." The 31st Annual Texas Clay Festival is a celebration of the ancient art form of pottery as the works of more than 80 Texas potters and clay artists will be on display (and up for sale) at the 31st Annual Texas Clay Festival, taking place in the Gruene Historical District. 
The festival offers a unique opportunity to meet the artists, learn more about pottery with artist demonstrations and to start (or add to) a pottery collection by purchasing the works of some of today's leading clay artists.
Admission is free. A silent auction will help fund clay-related scholarships, fund festival events and support clay artists in need.  For more information, go to texasclayfestival.com.
Year-round, New Braunfels is home to working artists and galleries that display their crafts. Visit a working pottery studio or shop for one-of-a-kind gifts at The Barn Handmade Pottery and Fine Art Gallery and browse original landscapes, sculptures and other artworks at the Mill Street Art Gallery. Or pick up your own brush and create your own masterpiece at Painting With a Twist or try your hand at painting pottery at Clay Casa.
Whether you're an artist or an art enthusiast, you'll find your inspiration  #InNewBraunfels. Check out these and other experiences, along with everything you need to plan your New Braunfels getaway, at playinnewbraunfels.com.