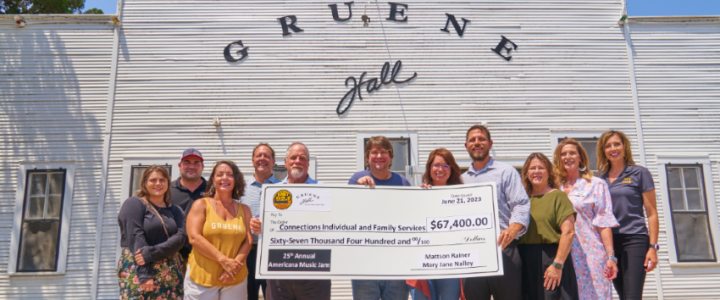 GRUENE, TX, June 21, 2023 – 92.1 KNBT and Gruene Hall presented $67,400 to local charity Connections Individual and Family Services using the funds that were raised this year's 25th Annual KNBT Americana Music Jam.  The Jam was held on Sunday, May 21, 2023 at Gruene Hall. Over the years, the Americana Music Jam has raised over a million dollars for various charities in the New Braunfels area.
The lineup for this milestone event boasted well-known artists including Reckless Kelly, Randy Rogers, Ray Wylie Hubbard, William Beckmann, Hayes Carll, Bruce Robison, Kelley Mickwee, Jim Lauderdale, Jamie Lin Wilson, Mike McClure, Walt Wilkins, John Baumann, Terri Hendrix & Lloyd Maines, Slaid Cleaves, Tom Gillam and surprise guest Cody Canada.
Connections Individual and Family Services began in 1981 as an organization seeking to support at-risk youth in Comal County. In the years since its inception, the organization has expanded its reach to include service to 17 counties, providing counseling, prevention programming, an emergency children's shelter, as well as a youth transitional living program. The group's vision is a community where every individual feels safe, is empowered to make positive life changes and is afforded the opportunity to lead a meaningful life.
The KNBT Americana Music Jam is an annual celebration of Americana music featuring exceptional artists of the genre. Sponsors of this year's Jam were Valmark Chevrolet, Express Paintless Dent Removal Inc, Christus Santa Rosa Health Systems, Woods Indian Motorcycle, First Commercial Bank, Prestige Metal Roofing Systems and TNT Top Notch Truck & Trailer.
(High res image attached in email)
Pictured (left to right): Grace Ratliff (Express Paintless Dent Removal), Michael Goodsell  (Express Paintless Dent Removal), Crystal Kinman (Gruene Hall), Chris Young (Val-Mark Chevrolet), Mark Long (First Commercial Bank), Mattson Rainer (KNBT Radio New Braunfels), Nicole Beauchamp (Connections), Jacob Huereca (Connections), Robin Schoepf (KNBT Radio New Braunfels), Joann Lange (First Commercial Bank, Tiffany Mayne (KNBT Radio New Braunfels
MEDIA CONTACT:
Crystal Kinman