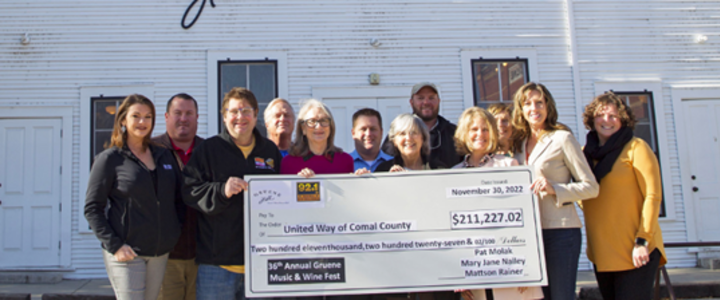 ­­
Photo by Alma Hernandez of New Braunfels Herald-Zeitung
Gruene Hall & KNBT Radio New Braunfels Present Record-Breaking Donation of $211,227.02 to United Way of Comal County
FOR IMMEDIATE RELEASE, November 30, 2022: (GRUENE HISTORIC DISTRICT) – Presenters Gruene Hall and KNBT 92.1 FM among sponsors were thrilled to donate $211,227.02 to United Way of Comal County.
Held annually at The Grapevine and Gruene Hall in Gruene Historic District, Gruene Music & Wine Festival features the best in Texas wine and live music, all the while raising funds for multiple charities through United Way.
The festival spans over four days Columbus Day weekend each year. For more information on the 2022 event, please visit www.gruenemusicandwinefest.org. 
The United Way of Comal County works to provide funding to support 31 local health and human care service agencies, including Any Baby Can, Big Brothers Big Sisters, Boys and Girl Scouts, New Braunfels Food Bank, River City Advocacy and St. Jude's Ranch for Children.
The 36th Annual Gruene Music & Wine Festival presented by Gruene Hall and KNBT 92.1 FM Radio New Braunfels was sponsored by The Grapevine, Chase Bank, M&S Engineering, Moody Bank, New Braunfels Herald-Zeitung, Mission Hill Apartment Homes, GVEC, Vulcan Materials Company, Valero and The Ammo Group.
Pictured (left to right): Trena Wilkinson (Moody Bank), Jeff Kerlick (GVEC), Mattson Rainer (KNBT 92.1 FM Radio New Braunfels), Brian Meuth (M&S Engineering), Mary Jane Nalley (Gruene Hall), David Schreiner (Moody Bank), Terry Robinson (United Way of Comal County), Troy French (TA French Custom Builder), Melissa Krause (United Way of Comal County), Joann Lange (First Commercial Bank), Tiffany Mayne (KNBT 92.1FM Radio New Braunfels) and Tiffany Goff (First Commercial Bank)