Guadalupe River New Braunfels – Rules & Tubing Information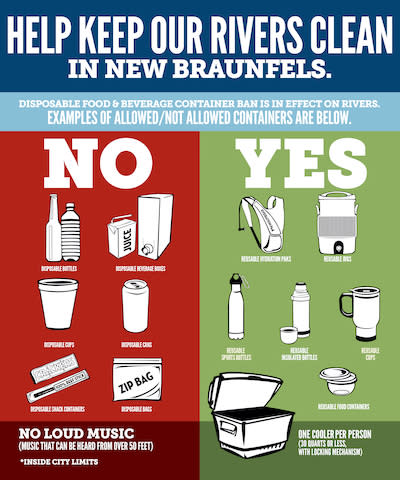 New Braunfels is home to not just one, but two beautiful rivers – the Guadalupe and the Comal. Texas is known for its water recreation, but nothing beats the heat like a float trip!
The Guadalupe River starts at the headwaters near Kerrville, Texas. The river flows for 230 miles, all the way to the San Antonio Bay in the Gulf of Mexico. The lower Guadalupe begins at the Canyon Lake dam and winds through the Texas Hill Country to New Braunfels.
The Guadalupe River snakes through multiple cities, but New Braunfels is the epicenter for summer river tubing in Texas! The Guadalupe River offers scenic nature views and plenty of time to soak it all in. Looking for a shorter float? Try the Comal River!
Tubing is the most popular activity on "The Guad", but many adventure seekers also enjoy rafting, canoeing, kayaking, and paddleboarding. Enjoy a long day exploring Landa Park, two-stepping at the oldest dance hall in Texas, and shopping. When your feet start to hurt, let the cool currents of the Guadalupe River help you unwind.
The fun doesn't stop when the hot Texas summer is over. The Guadalupe River is also one of the nation's hot spots for year-round fly fishing. Every winter, thousands of rainbow trout are released in locations across Texas, including right here in New Braunfels!
Many Texas Hill Country visitors stay at campsites or cabin rentals along River Road in New Braunfels. The scenic stretch of road runs alongside the water, with several river crossings between New Braunfels and Canyon Lake. This stretch is known as the Hill Country Coast and features wonderful attractions and lodging options!
Our rivers are open for floating 7 days a week, dependent on good tubing conditions. The water released from Canyon Lake into the Guadalupe River fluctuates depending on periodic drought conditions. River conditions, river flow, and water levels often vary.
Contact one of our preferred New Braunfels River Outfitters for current river conditions and float times. Outfitters make floating the river easy by offering tube rentals, shuttle rides to and from your vehicle, and more convenient services.
GUADALUPE RIVER RULES - INSIDE NEW BRAUNFELS CITY LIMITS
No disposable containers
No glass
No foam containers
No littering
Life jackets are recommended for weak swimmers and children under eight on the Guadalupe River. Personal flotation devices will be provided to tubers/citizens free of charge w/ deposit at New Braunfels river outfitters
No volume drinking devices
No containers under 5 fluid oz.
Noise devices may not be audible beyond 50 feet
No jumping from bridges, dams, or trees into the Guadalupe River
Coolers must have a locking mechanism on the lid (zipper, Velcro, latch, cord). The maximum size is 30 quarts. 1 cooler is allowed per person.
Inflatable devices cannot exceed five feet in length or width
Vessels on the Guadalupe River may not be over 18 feet in length
When the river flow is above 500cfs, it is mandatory for all children under eight years of age to wear a life jacket
When the river flow is above 750cfs, it is mandatory for all individuals to wear a life jacket
When the river flow is above 1000cfs, tubing is not allowed. The only allowed Guadalupe River water recreation is raft trips and kayaks
GUADALUPE RIVER RULES - OUTSIDE THE NEW BRAUNFELS CITY LIMITS
No glass
No foam containers
No littering
No containers under 5 fluid oz.
No jumping from bridges, dams, or trees into the Guadalupe River
GUADALUPE RIVER TUBING COSTS & FEES
Expect to spend $15-22 per person, including shuttle, tube rental, and fees. Most outfitters require a driver's license or credit card to hold as a rental deposit.
WHAT TO BRING FOR A DAY ON THE GUADALUPE RIVER
A Good Attitude - We get it, being in the hot sun with a crowd can cause some rudimentary behaviors to arise. Be smart, keep cool, and remember we are all here to have a good time.
Proper Footwear - the Guadalupe River is a naturally flowing body of water. As such you can expect to encounter rocks, silt, floating vegetation, muddy embankments, and other natural elements.
Sunscreen and Shade - Apply before you depart and while on the water. A hat helps keep you cool and out of the sun.
Hydration - Responsibly enjoying a cold, friendly beverage is a great way to enjoy our waterways. Just be sure to follow it up with adequate H20 and electrolytes.
Waterproof Phone Case/Lanyard/Dry Sack - The Guadalupe River is a great place to reconnect with nature. However, we know many people choose to bring their valuables and electronics with them. Please, please, take only what you will need for your river adventure. Leave the jewelry, extra keys, and wallets at home. Anything you do bring should be protected from the elements.
Guadalupe River Outfitters