CIVIC/CONVENTION CENTER
Putting the "New" in New Braunfels. The New Braunfels Civic/Convention Center is 50,000+ square feet of newly renovated, modernly updated meeting and event space. The airy, Hill Country architecture and harmonious design create a welcoming environment that almost disguises the facility's form-meets-function practicality. The versatile setting is perfect for everything from industry conventions to breathtaking weddings.
The event and meeting spaces include a column-free exhibit hall (11,780 sq. ft), a beautiful ballroom (9,288 sq. ft), five flexible garden rooms, and a secluded courtyard, featuring lush landscaping which provides the perfect area for meeting breaks and extends the overall space.
The facility includes wireless internet and all state-of-the-art equipment and technology you could need for a dynamic, highly memorable presentation. At the New Braunfels Civic/Convention Center, out-of-town groups have the luxury of coming to the lush Hill Country where Texans go for vacation.
New Braunfels – only 25 minutes to San Antonio, 40 minutes to Austin, and exactly where you want to be.
Floor Plan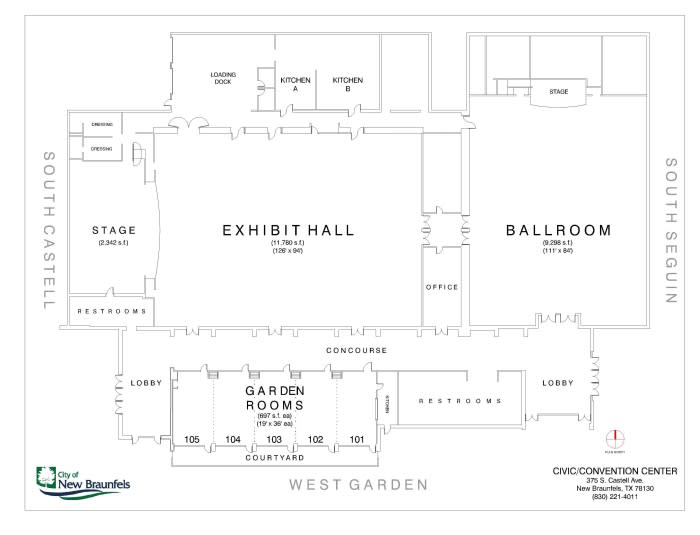 See Additional Floor Plan Details

Exhibit Hall – The 11,780 square foot column free Exhibit Hall is perfect for trade shows as well as large social and corporate events. The room is equipped with polished concrete floors, built-in audio/visual, a stage and velvet curtains, wheelchair lift and lighting with remote access. Dressing rooms are adjacent for costume changes, show offices, green rooms, or bridal parties. The Exhibit Hall also has direct access to a large loading dock and professional kitchen.

Ballroom – The 9,288 square feet Ballroom is appointed with attractive wood flooring, a stage and extensive built-in audio/visual, including adjustable lighting and sound. The Ballroom is a perfect room for your reception or large meeting.

Garden Rooms – For ultimate flexibility, five Garden Rooms can be used individually, or combined to a total of 3,528 square feet with a small kitchen attached. Each room overlooks a beautiful courtyard and is equipped with darkening shades for presentations, as well as 50″ flat panel televisions and a ceiling mounted projection system in room 105.

Courtyard – This area, available for rental with the Garden Rooms, is a wonderful setting for a wedding ceremony, casual reception, cocktail area, team-building activities or for additional event seating. With its private entrance, lush landscaping, festive lighting and accessibility to the facility's indoor amenities, this area can even be used as its own event space.
Donna Meurin

Director: CVB Group Sales and Services

(830) 608-2812
28 years of service

Bio

Abi Schaefer

Civic/Convention Center Manager
Calendar
Click here to see Civic/Convention Center Calendar.