Comal River Rules & Tubing Information
River Rafting and Tubing:
River Outfitters are not renting rafting or tubing equipment

Resorts and Campgrounds are not renting rafting or tubing equipment

Public River Parks, Access, and Exits are closed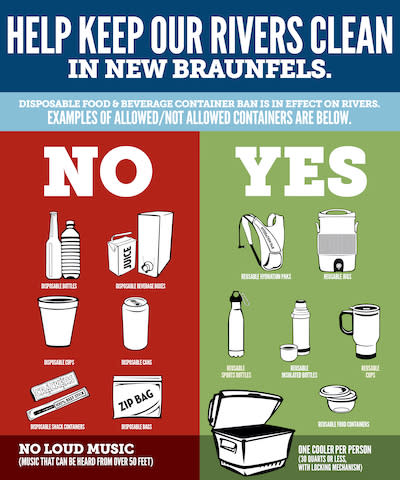 The Comal River is a beautiful spring-fed river that has drawn visitors and vacationers to New Braunfels, Texas, for generations. The headwaters of the Comal River spring up from the Edwards Aquifer in New Braunfels' beautiful Landa Park. Tubing on the Comal River starts near the Wurstfest grounds before passing through Downtown New Braunfels and Schlitterbahn Waterpark and eventually merging with the Guadalupe River within the city limits of New Braunfels. Several river outfitters offer tube, canoe, and kayak rentals for visitors seeking to enjoy recreation on the cool waters of the Comal River.
The Comal River in New Braunfels is one of the shortest navigable waterways in the United States. The water temperature is a steady 70-72 degrees year round, which makes the river water refreshing in the Texas summer heat and warm enough for a morning swim in the winter months.
Comal River Rules & Information
Comal River Rules
No disposable containers
No glass
No foam containers
No littering
Lifejackets are recommended for weak swimmers and children under eight. Personal flotation devices will be provided to Comal River tubers/citizens free of charge w/ deposit at the New Braunfels City Tube Chute or river outfitters
No volume drinking devices
No containers under 5 fluid oz.
Noise devices may not be audible beyond 50 feet
No jumping from bridges, dams, or trees into the Comal River
Coolers must have a locking mechanism on the lid (zipper, Velcro, latch, cord) with a maximum size of 30 quarts and 1 cooler per person
Vessels on the Comal River may not be over 18 feet in length
Limit of two tubes per person
Canoes and kayaks may not use the Last Tubers Exit on the Comal River on weekends and holidays
Round inflatable floatation devices shall not exceed five feet (5′) in diameter
Comal River Tubing Costs & Fees
Expect to spend $15-22 per person, including shuttle, tube rental, and fees. Most outfitters require a drivers license or credit card to hold as a rental deposit.
Comal River Parking
We recommend using one of our preferred River Outfitters which typically have on-site or no charge parking with shuttle services.
Prefer to do it on your own? No problem, visitors to New Braunfels are welcome to park at Prince Solms Park for $20, Hinman Island for $30 and Elizabeth Ave for $10. To save time, download the ParkMobile app before arriving. (Parking fees only apply between May 1st and Labor Day, 8AM-7PM.)
What to Bring For A Day On The Comal River
A Good Attitude - We get it, being in the hot sun with a crowd can cause some rudimentary behaviors to arise. Be smart, keep cool, and remember we are all here to have a good time.
Proper Footwear - The Comal River is a naturally flowing body of water. As such you can expect to encounter rocks, silt, floating vegetation, muddy embankments, and other natural elements.
Sunscreen and Shade - Apply before you depart and while on the water. A hat helps keep you cool and out of the sun.
Hydration - Responsibly enjoying a cold friendly beverage is a great way to enjoy our waterways, just be sure to follow it up with adequate H20 and electrolytes.
Waterproof Phone Case/Lanyard/Dry Sack - While the Comal River is a great place to reconnect with nature, we know most everyone chooses to bring their valuables and electronics with them on the water. Please, please, take only what you will need for your New Braunfels river adventure. Leave the jewelry, extra keys, and wallets at home. Anything you do bring should be protected from the elements.
Comal River Tubing Outfitters