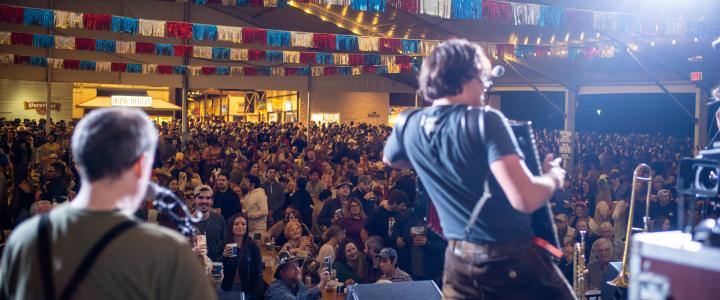 10 insider tips to make this year's Wurstfest
the best ten days in sausage history!
For more than six decades in New Braunfels, November has meant Wurstfest. This year, the 10-day celebration of the city's German origins takes place Nov. 4-13.
The annual festival celebrates the city's heritage with sausage and other delicious food, music, dancing, a carnival and great beer from Germany, Texas and elsewhere.
There's a reason national media including Good Morning America and USA Today have sung Wurstfest's praises. It's a one-of-a-kind experience, with incredible entertainment on five stages throughout the Wurstfest grounds and a wide array of German-inspired food and beer. Many locals go back more than once because there's only so much you can experience (and eat) in one visit.
With so much to see and do, it's important to be prepared before you arrive. Here are 10 insider tips for making this Wurstfest the best one yet. 
Dress appropriately.
At Wurstfest, that means your finest lederhosen and vest or your most flattering dirndl. Hats are also encouraged, especially those resembling chickens or other animals (the bottom line: the sillier, the better). But if wearing silly hats isn't your style, opt for a traditional German wool hat from Carl's Steinhaus. Located in the pavilion area on the Wurstfest grounds, Carl's Steinhaus is operated by one of New Braunfels history museums The Sophienburg Museum & Archives. Each purchase supports the museum's mission of preserving New Braunfels history.
Look for Grosse Opa!
Watch for the smiling fellow with a bright blue feather in his cap. That's Grosse Opa (Big Grandpa), the Spass Meister (master of fun). Chances are he'll be handing out limited edition Wurstfest buttons. Each year the president of Wurstfest chooses a volunteer to serve as the official leader of Wurstfest fun. This year's Grosse Opa is Bob DiFonzo.
Save on free admission days!
Wurstfest offers five days with free admission! Monday Nov. 7 through Thursday Nov. 10, entry is free during the festival's hours of 5 p.m. to 10 p.m. It's also free on Sunday Nov. 13 from 3 p.m. to 10 p.m. That means more money for food and beer!
Skip the lines.
Save time by buying your admission and drink tickets online at Wurstfest.com. Admission tickets are $18 online and $20 at the gate. Children 12 and under are always free! While food vendors accept cash and/or credit cards, you must have drink tickets to purchase beer.
Bring cash.
Bring cash if you decide to buy your ticket at the gate; admission sales are only cash. You'll find plenty of ATMs on the Wurstfest grounds.
Wear your dancing shoes.
Even if you don't consider yourself a dancer, you're bound to get caught up in the frenzy of the Chicken Dance or other traditional group dances. Fortunately, the most popular dances are also the easiest to follow. 
Go early to beat the crowds.
On weekend days, Wurstfest gets more crowded the later it gets. Go earlier in the day to avoid peak hours and enjoy shorter lines for food, beer, rides, etc. You'll find great entertainment whenever you go; check out the entertainment schedule to find out who's playing at each of Wurstfest's five stages.
Get ready to fall in love with polka music.
If you never considered yourself a polka fan, just wait until you hear an accordion player bust out with Lady GaGa's "Bad Romance." While you'll hear plenty of traditional oom-pah bands, waltzes and classic polka tunes, the genre has been adopted, embraced and updated by a new generation, including the Ohio-based Chardon Polka Band and national polka legend Alex Meixner, a New Braunfels resident who earned a Grammy nomination for his album "Polka Freak Out."
Get a ride.
Wurstfest serves an enticing array of German, Texan and domestic beers. So enjoy yourself, but plan ahead to get home safely. Use the designated taxi and ride share service pickup locations nearby or book the Wurstwagen Shuttle Service, which offers transportation between Wurstfest and area Park & Ride sites, lodging or group pick-ups from private locations. The Resort at Schlitterbahn offers Wurstfest packages including event tickets, drink tickets and free shuttle service.  
Go hungry.
Each year visitors return to Wurstfest to enjoy the foods that have become an annual tradition over the decades. In addition to many varieties of sausage, crowd favorites include kartoffelpuffers (potato pancakes), pork chop on a stick, and Wurst-n-Taschen – sausage, sauerkraut, sauteed onion and pepper stuffed in a pita pocket. And of course, because this is still Texas, look for German food with a Mexican twist (wurst tacos, anyone?) and deep-fried delicacies from funnel cakes to Oreos.
Finally, pat yourself on the back. When you enjoy yourself at Wurstfest, you're supporting the work of area nonprofit groups. Many food booths are run by local civic organizations to raise money for community projects. So come hungry, eat well and feel good about supporting great causes!
Plan your Wurstfest adventure today at playinnewbraunfels.com, where you'll find an array of lodging options, attractions, and restaurants to complete your adventure #InNewBraunfels!