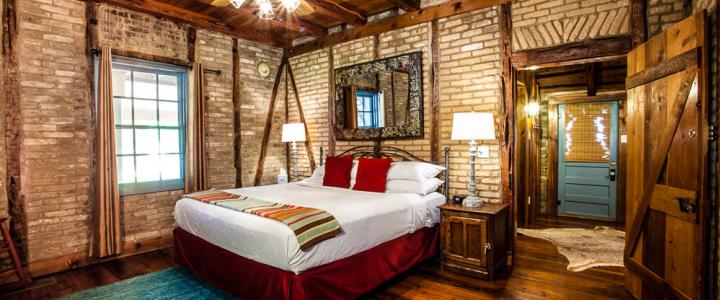 Pictured: Gruene Cottages
Discover romantic cottages, historic inns, luxurious river rentals and more
When temperatures cool and nights get longer, New Braunfels continues its charm as a welcoming destination. This Texas town with German roots offers one-of-a-kind lodging options year-round, whether you're looking for a romantic getaway or relaxing retreat.
You'll find the perfect spot to relax and unwind and enjoy the charm of the season here, including live music, boutique shopping, and a wide array of restaurants and bars unique to this central Texas town. Natural Bridge Caverns and Natural Bridge Wildlife Ranch are open year-round, and for those needing their river fix, the trout fishing on the Guadalupe River is some of the best in the state.
Whether you're here to relax, recharge or reconnect, you'll find an array of lodging to cozy up in while enjoying the unique history and culture of the area.
Gruene Cottages
The tradition of Sunday houses began when German-American farmers and ranchers would come to town on Saturday to stock up on supplies, then stay in modest cottages overnight to attend church the next morning. Gruene Cottages updates this tradition with seven luxurious guest cottages and three guest rooms, all located on a tranquil three-acre property in historic Gruene.
You'll find stylish, beautifully appointed cottages with fully furnished kitchens, whirlpool tubs, and all of the amenities you'd expect in an upscale property. This spot is perfect for music lovers: they offer live music in their courtyard in the spring and fall. If the weather is good, you may catch a few recognized Americana musicians playing in the winter, too.  Plus, it's located a half-mile from Gruene Hall, the oldest dance hall in Texas and a year-round venue for all kinds of touring musicians.
The Gruene Homestead Inn
The Gruene Homestead Inn is a collection of historic houses dating from the 1850s to the early 1900s, all on eight beautifully landscaped acres. Today, these fully renovated vintage buildings are home to rooms and suites that combine the ambiance of the era with modern-day comforts and amenities. Located less than a mile from the Gruene Historic District, the inn puts you close to some of the area's best entertainment, shopping and dining.
When you're done, retreat to a rustic Texas-style room and enjoy amenities including a private entrance, private bath, private porches and jacuzzi tubs. Choose from 20 different accommodations, including an original 1940s grain silo with a spiral staircase leading up to a king-size loft bedroom. In the morning, head to the elegant Faust dining room for a full-size, Texas-style hot breakfast.
Cation on the Guadalupe
This luxurious boutique property is just over a mile from downtown New Braunfels, but with a tranquil setting on nearly five acres along the banks of the Guadalupe River, you'll feel like you're worlds away from it all. Cation on the Guadalupe describes its lodging as an "aparthotel," or a hotel in an apartment setting. Each apartment-style space combines full kitchens and living areas with the service and safety of a hotel.
Each glamorous aparthotel has its own flair, so choose the one that fits your personality. This former pecan grove is still lined with towering trees, providing a relaxing setting for sipping coffee or kayaking on the river.
River Run Condos
Views of the beautiful Comal River and a short walk to downtown New Braunfels make River Run Condos a great spot for your winter visit. River Run offers 1-, 2-, and 3-bedroom vacation rentals, with monthly rates available in December and January to welcome "Winter Texans." River Run provides on-site management and amenities including river-view balconies and a riverside pool and hot tub, so guests can truly relax and enjoy their stay.
River City Resorts
River City Resorts offers a wide variety of vacation rentals in and around New Braunfels. With more than 50 options available, you'll find everything from condos to villas and vacation homes, even secluded Hill Country vacation homes on more than 70 undeveloped acres! Whether you desire a historic cottage within walking distance of top downtown restaurants and boutiques or a villa in Gruene, River City Resorts will find it for you.
Guadalupe River Houses
This vacation home rental agency specializes in waterfront properties along the Guadalupe River, whether it's a bungalow near historic Gruene or a unique treehouse overlooking a nearby lake. Each Guadalupe River Houses property has a one-of-a-kind atmosphere and style, but all are extremely comfortable and stylish spaces perfect for everything from a couple's getaway to a family reunion. Guests love the river views and the hospitality and service, too.
Hilton Garden Inn New Braunfels
If you're looking for a great value on a hotel that has everything you need for your New Braunfels stay, be sure to check into the Hilton Garden Inn New Braunfels. This hotel offers everything you'd expect from a respected national brand with a few extra perks, including an on-site restaurant for casual American dining, pet-friendly rooms and a great location just 10 minutes from the Gruene Historic District, downtown New Braunfels and San Marcos outlet mall shopping.