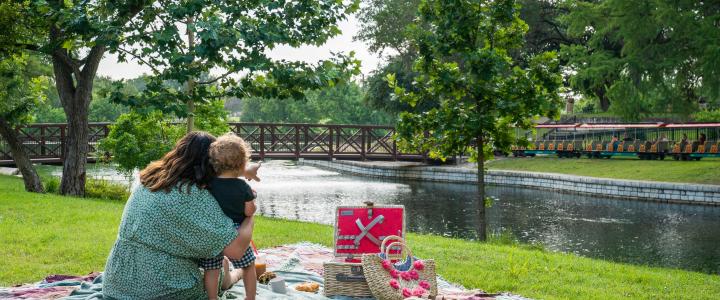 6 ways to maximize your time outdoors this Spring in New Braunfels
If you're spending spring break in Austin or San Antonio, we'll let you in on a little secret: New Braunfels is not far away, and it's totally worth the trip.
Wherever you're coming from, spring is a great time to play outside in New Braunfels as the temperatures get warmer and the world gets greener. Just 30 minutes northeast of San Antonio and 45 minutes south of Austin, New Braunfels offers many ways to enjoy the outdoors, whether listening to live music in an open-air live venue, adventuring on the water, or unwinding with a beverage under a shady tree.
Here are 6 ways to make the most of spring in New Braunfels.
River Trips
New Braunfels is located along two rivers: the spring-fed Comal, and the Guadalupe River, which runs through Central Texas on its way to the Gulf Coast. Each river has a host of outfitters that can provide all the gear and direction for the best experience. Rockin' R offers several ways to enjoy both rivers.
On the Guadalupe River, starting at Rockin R's main location in historic Gruene, water enthusiasts can enjoy a scenic, leisurely float through three natural rapids.
On the Comal River, try a stand-up paddleboard excursion, perfect for beginners or experts. Or embark on an unforgettable adventure with a guided evening float in a clear-bottomed, LED-lit 2-person kayak. The lights shine below to illuminate the hidden world of the river as you glide on the water under the stars.
Live Music
New Braunfels offers a wealth of opportunities to hear live music just about any night of the week, year-round. As the weather gets more delightful, open-air venues beckon, combining great music and glorious spring weather.
Historic Gruene Hall is lined with screened-in windows, letting the outdoors in as you enjoy live music from the hallowed stage of the oldest continuously operating dance hall in Texas. When the weather gets warm, you can check out the local Americana radio station 92.1's live broadcast of the Friday Afternoon Club in Gruene Hall every Friday from 4- 7 p.m. Celebrating its 25th year, the quintessential happy hour offers $3 longnecks, great music, giveaways, and there are always special guests lined up for interviews.
Catch national touring acts at Whitewater Amphitheater, an outdoor venue nestled among the towering cypress trees on the edge of the Guadalupe River where new shows are always being announced. For a more intimate setting, check out Freiheit Country Store, a honky tonk and live music venue dating back to 1889. Locals describe it as a half-indoor, half-outdoor, cool place to hang out and listen to music.
Park it
Landa Park is a 51-acre riverside park at the headwaters of the Comal River. With walking paths, picnic spots, playgrounds, a lake with paddle boats, mini-golf and giant oak trees, it's a great place to enjoy the great outdoors with the whole family. Create a core memory for the kids with a trip on the Landa Park Railroad, a miniature train that winds through the park. The park includes an arboretum that's home to more than 80 species of trees, making it one of the most diverse arboretums in Texas and a "living library" of trees. 
Locally crafted beverages
When you're ready to quench your thirst, check out 5 Stones Artisan Brewery. On the rural edge of downtown, the beer varieties are as fresh as the spring air, with seasonal ingredients and inventive brews. Grab a beer and unwind in the oak-shaded beer garden. Or enjoy wines among the vines at Dry Comal Creek Vineyards. Try Texas-made wine under the trees in their relaxing outdoor tasting area (there's often live music on the weekends, too).
In the Gruene Historic District, a stop at the Grapevine is another way to enjoy a taste of spring. Just across the road from Gruene Hall, a shady patio and a garden area provide plenty of room to chill with a specially curated craft beer or glass of wine from one of more than 25 Texas wineries (among other selections).
Hit the links
Enjoy the season from the greens of the golf course! Landa Park Golf Course at Comal Springs is an 18-hole public course along the Comal River. Covering 122 acres, it combines a challenging layout with beautiful Texas Hill Country views. With sculpted fairways, strategically placed bunkers and water hazards, the course offers a great experience for players of every level. 
Pull up at the drive-in
When night falls, it's showtime at the Stars and Stripes Drive-In Theatre. The latest movies may be playing, but you'll feel like you drove back in time several decades in this authentically retro-themed drive-in. Bring camp chairs or keep your windows rolled down to fully enjoy the evening air. The 50's Café on site dishes up rockin' eats and tasty treats, so get there early to snack up and get ready to enjoy movies under the stars. 
This spring, make plans to savor the season #InNewBraunfels.