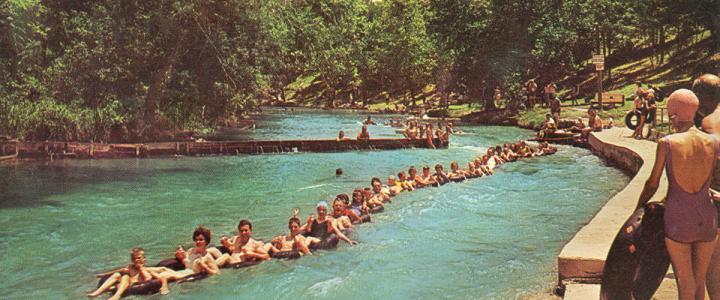 From one-of-a-kind water sports to Texas-style safaris, underground tours to live music under the stars, outdoor adventures come in all shapes and sizes in New Braunfels.
1. Texas Ski Ranch
Looking for one-of-a-kind water recreation? Look no further. The 70-acre Texas Ski Ranch boasts wake boarding without a boat on Texas' only cabled lake system, with something for every level.
2. Rockin 'R' River Rides
Whatever time of year you visit, hit the water and make the most of New Braunfels' two beautiful rivers. From tubing to kayaking to paddle boarding, Rockin 'R' River Rides outfitters has you covered.
3. Natural Bridge Wildlife Ranch
Get ready for an African safari, Texas-style! The 450-acre Natural Bridge Wildlife Ranch boasts 500 free-roaming animals – from ostrich to zebra to buffalo – and plenty of close encounters.
4. Natural Bridge Caverns
From underground caving adventures to canopy challenges, panning for gold to conquering the AMAZEn' Ranch, Natural Bridge Caverns boasts more than its fair share of outdoor fun. Great for day trips.
5. Gruene River Company
Enjoy a lazy day out on the crystal-clear Guadalupe River – one of the most beautiful stretches in Texas. Paddle along at your own pace with a half or full-day raft rental from Gruene River Company.
6. River Road
One of the most scenic roads in Texas, River Road winds its way along the Guadalupe River to Canyon Lake, featuring numerous campgrounds, RV Parks, river outfitters, and great year-round fishing.
7. Stars & Stripes Drive-In Theatre
Enjoy a throwback to 1950s Americana at the Stars & Stripes Drive-In. With double features shown nightly on three giant screens, it makes for a great evening 'out,' whatever season you visit. 
8. Whitewater Amphitheater
Bordered on two sides by a 'year-round' creek, and beautifully integrated into the riverside landscape, Whitewater Amphitheater is hard to beat for seeing headline acts in a memorable location. 
9. Schlitterbahn Waterpark
Spanning 70 acres, Schlitterbahn's flagship waterpark is a must-visit for families of all ages. Rocket uphill on the Water Coaster, tube on the Torrent wave river and lounge in its spring-fed pools. 
10. Landa Park Aquatic Complex
Boasting an Olympic pool, slides, and fountains for the little ones, a baby pool, and one of the oldest spring-fed bathing pools in Texas, Landa Park Aquatic Complex is a fun outdoor spot for all ages.