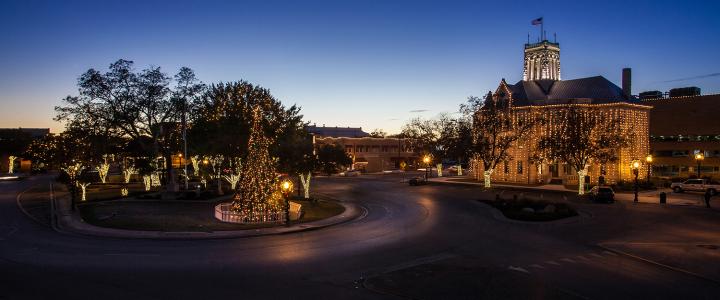 Christmas celebrations honor both German roots and Texas traditions
When you celebrate the holidays in New Braunfels, you'll experience a one-of-a-kind blend of German heritage and Texas traditions. Where else can you toast the holidays with a steaming cup of wassail and also take pictures with Cowboy Kringle?
Here, the city's roots as a community of German settlers are embraced year-round. But during the holidays, the old-world traditions of the city's founders combine with the spirit of the Texas Hill Country for an unforgettable celebration of the season.
Downtown Lighting & Santa's Arrival, Nov. 18
This free annual event kicks off the holiday season in New Braunfels. The festivities start on Nov. 18 at 6 p.m. when Santa Claus arrives in historic Main Plaza downtown beneath 100,000 twinkling lights. This dazzling display of lights stretches through downtown and remain lit throughout the holiday season. Get photos with Mr. and Mrs. Claus after the tree lighting ceremony. Photos are $10 cash. Proceeds benefit the New Braunfels Downtown Association.
Weihnachtsmarkt, Nov. 18-20
This New Braunfels holiday favorite is reminiscent of the traditional German village Christmas markets. Pronounced vy-noks-markt, this event is a German-style Christmas market with merchants and artisans offering authentic German collectibles and ornaments, unique decorations, specialty items, gifts, apparel, antiques, traditional baked goods and more. The event takes place Nov. 18-20 at the New Braunfels Civic & Convention Center and serves as the largest fundraiser of the year for the Sophienburg Museum & Archives, a museum dedicated to the city's history and cultural heritage. 
Wassailfest, Dec. 1, 6 p.m. to 9 p.m.
City streets around Main Plaza in the city's downtown turn into pedestrian-only walkways as revelers search for the best wassail (with stops along the way for great food and shopping at downtown businesses). Sample the various versions of wassail, a hot, spiced apple cider dating back hundreds of years, traditionally spiked with a little liquor to warm the soul. With the sparkling Christmas lights of downtown and holiday music from local choirs, drink in both wassail and the holiday spirit on a beautiful December night. 
Christmas at the Caverns, select dates from Dec. 3-23
This one-of-a-kind experience takes holiday celebrations to a new level. Descend below the earth's surface into dramatic natural caverns, where live musicians and choirs perform holiday music against a backdrop of ancient stalactites, stalagmites and other formations. Back on the surface, enjoy attractions such as a 30-foot Christmas tree, a stunning trail of lights, campfire smores, even ice skating for the little ones. It's all happening at Natural Bridge Caverns, the most extensive cavern system in Texas. Tickets available online at https://naturalbridgecaverns.com/christmas/.
Gruene Pony Express Ride & Town Lighting, Dec. 3
The Gruene Historic District offers a variety of activities to celebrate the holidays, with many of the highlights happening Dec. 3. The fun starts at 10 a.m. when Pony Express riders arrive on the main street of Gruene, carrying Christmas greetings from the governor of Texas in a holiday tradition spanning 21 years. Stick around for Bah Humbug!, a version of Charles Dickens' A Christmas Carol performed entirely by one actor in all the roles, happening on the Grapevine stage at 1 p.m. Then at 5 p.m., watch as Gruene's own Cowboy Kringle rides into town on horseback and lights up Gruene for the holidays. Book holiday photos with Cowboy Kringle online at multiple dates throughout November and December.
Catch a holiday show at the Brauntex Theatre, various dates
The historic Brauntex Performing Arts Theatre is ringing in the season with a variety of holiday-themed live performances. The entertainment kicks off on Dec. 2 with Fort Sam's Own 323rd Army Band and U.S. Army North present "An Army Band's Holiday Special," with an evening of holiday music from classics to today's hits. Next is the Polar Express Experience, with showings of the classic movie and pictures with Santa at the Railroad Museum next door (cozy pajamas encouraged!). Productions of A Tuna Christmas, the American Dance Co.'s production of The Nutcracker, and Will Hearn's Grand Ol' Christmas Show round out the holiday entertainment.
For a more detailed listing of New Braunfels' holiday events, visit https://www.playinnewbraunfels.com/winter-holiday-events-in-new-braunfels/.