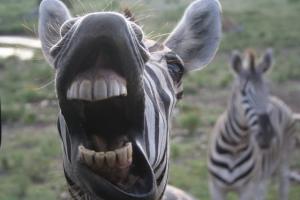 REMEMBER GOING TO THE ZOO AS A KID, wandering past exotic creatures that you'd only ever seen in movies like The Lion King? All the magic and joy in the air, as you stand just outside enclosures of zebras, monkeys, and wildebeest, peering inside, ice cream cone in hand? 
Well, at our state's many drive-through safaris, the roles are reversed. Animals peer in to your vehicle as you hold in hand food meant for them alone to eat.
At these safaris, you can learn about animals from all over the world as they roam freely like they would in the wild—but, you know, all from the comfort of your own car and only a couple hours from home.
Here are six worth a drive from Houston.
Franklin | 9 a.m. to 5 p.m. | $18; Kids 2 and under free
SPONSORED
Visit South Padre Island.
Presented by Visit South Padre
Drive time from Houston: 2 hours
This 100-acre park is home to 500-plus animals. Watch for more than 50 different animal species on the mile-long drive. There's also a 10-acre walking section where you might spot kangaroos, anteaters  camels, or Natalia, a baby giraffe. Get a feed bucket for $5, or make friends with the monkeys with a $2 cup of peanuts. You can go on a private tour of the park, but manager Sharon Ivey says most people's favorite part is the Baby Room, where guests can play with some of the park's exotic babies, such as lemurs and coatimundi, for an extra $20.  
13440 Us Highway 287 N, Grapeland | 9 a.m. to 6 p.m. | $12.95; kids 2 and under free
Drive time from Houston: 2 hours
Nona Herring has been in the drive-thru safari business since the 1980s, when her family used to own a safari park outside of Tyler. Since 2005, she's run the 59-acre Grapeland Safari, halfway between Crockett and Palestine. Bring your binoculars, get a cup of feed (free with admission), and try to identify the 38 species in the park and petting zoo: zebras, emus, axis deer and yaks among them. You can also bring your grill and have a cookout in the safari's picnic area.
235 Zoo Trail, Johnson City | 9 a.m. to 5 p.m | $16.95; $13.95 for kids
Drive time from Houston: 3.5 hours
Cars aren't allowed to drive through this 127-acre ranch, but take a tour on one of its five trams to learn about the 500 animals and 40 species here—blackbucks, ostriches and Gomar, the kissing camel. The animals are friendly, especially when you're armed with a $6 feed bucket. Owner Marilyn Bacque says that at any given time there could be 30 to 40 animals surrounding the tram, "begging for tidbits." After your tour, check out the park's two petting zoos, or stay the night in one of the ranch's eight cabins and enjoy evening campfires and the catch-and-release fishing pond.
 2299 County Road 2008, Glen Rose | 8:30 a.m. to 6:30 p.m. | $24.95 per person; $19.95 for kids
Drive time from Houston: 4 hours 
This 1,800-acre ranch is an oasis for 1,100 animals from almost 50 different species, but it also happens to have the largest cheetah breeding facility in the world, raising 18 to 20 cubs each year. It takes a couple hours to drive through the park, but there's so much more on offer here, including 14 different tours (a bike tour, a Murder Mystery tour), photo workshops, tasty burgers at the Overlook Café, and even cool accommodations like the lodge, cabins, and bunkhouses. While Fossil Rim offers an almost unending list of educational activities for its guests, the center's main focus is on conservation of species in peril. They've even reintroduced species back into the wild, like the scimitar-horned oryx in Chad in 2016. Note: Due to the pandemic, all tickets must be booked online prior to your visit. Please check the website for any updates before your visit.
Cherokee Trace Drive-Thru Safari
 1200 CR 4405, Jacksonville | 10 a.m. to 7 p.m. | $17.95; $12.95 kids; 2 and under free
Drive time from Houston: 3 hours
On your drive through Cherokee Trace's 5-mile trail, be on the lookout for Minnie the Yak and protect your feedbags from a camel named Rupert, a "professional thief" who will stick his head into your car and gobble the whole bag down. With 700 animals, 35 species, and 300 acres, it takes about two hours to go through the whole thing, but your feedbag is free, so go ahead and make friends with the bison, alpacas, zebras, capybaras and more. Cherokee Trace even has six alligators, which live in their own fenced-off enclosure and, yes, you can feed them.
26515 Natural Bridge Caverns Rd, San Antonio | 9 a.m. to 6 p.m. | $26.99; $18.99 kids (2 and under free)
Drive time from Houston: 3 hours
Life at Natural Bridge is a moving picture, says wildlife specialist Tiffany Soechting, with 500 animals and 40 species roaming freely throughout the 450-acre ranch.  It takes about 1.5 hours to drive through the conservation-minded ranch (you can drive-through again for free too), and about half of the species here are endangered, including a herd of scimitar-horned oryx, the gibbons and reticulated giraffes. In 2017, its staff went on a multi-national research expedition to South Africa to learn more about giraffe breeding in the wild, and are working to produce more outreach programs here in the U.S. Don't forget to check out the petting barnyard and the great burgers and queso at the Safari Camp Grill. Hours change depending on time of year, so be sure to check the website before you go.
Filed under
https://www.houstoniamag.com/travel-and-outdoors/best-drive-thru-safaris-texas