UPDATED FEBRUARY 2021
New Braunfels is easily one of South Texas's most underrated gems! Nearly equidistant between San Antonio and Austin, it's not a far drive for a vacay of breweries, rivers (aka the famous Guadalupe), shopping and of course, Schlitterbahn! Start planning your getaway with some of the coolest Airbnbs in the area, including Gruene!
---
SPACIOUS MODERN HILL COUNTRY HOME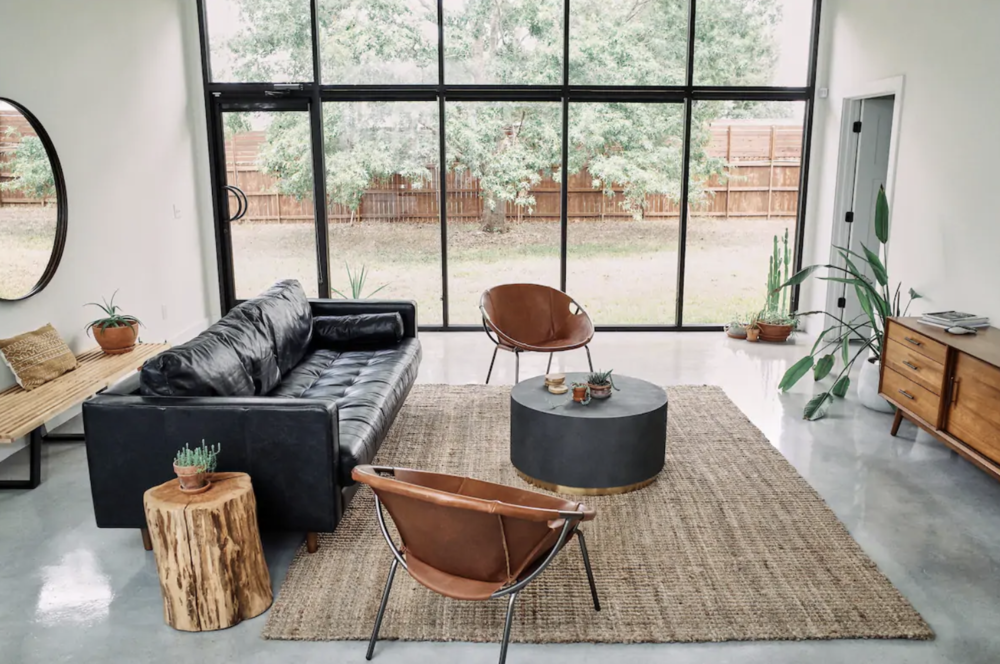 SPACIOUS MODERN HILL COUNTRY HOME
Relax in tranquil living with a minimalist vibe via this Texas Hill Country gem! The modern, private home is minutes from downtown, Schlitterbahn and the rivers to do some kayaking or floating! There is a bbq grill and a fire pit on site to enjoy soaking in time outdoors!
Sleeps: 5
Pets: not allowed
---
STOLLEWERK HAUS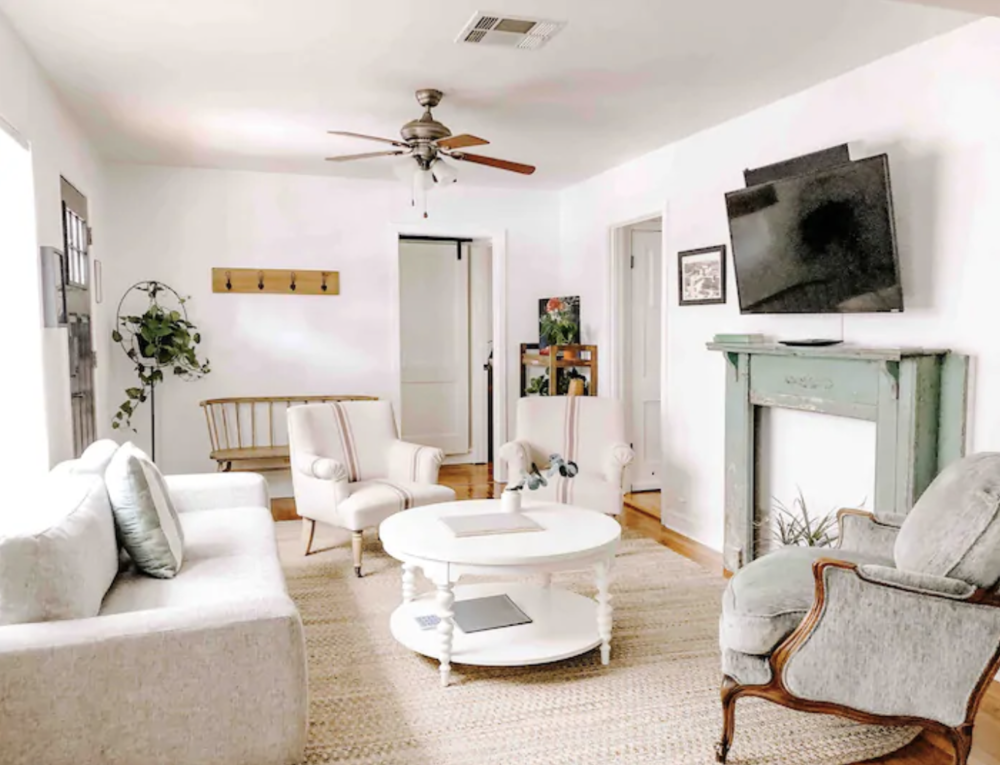 For those who don't know, haus is the German word for house so you know that the Stollewerk Haus is full of darling, antique flair! From well appointed mantles to armchairs, it screams cozy for a weekend (or week!) away! Check out framed photos of local history as you tour the home, original wood floors and thoughtful amenities. The backyard is the place to be for unwinding with corn hole, an outdoor grill, string lighting and firepit so bring the marshmallows!
Sleeps: 6
Pets: not allowed
---
GRUENE GUSTHAUS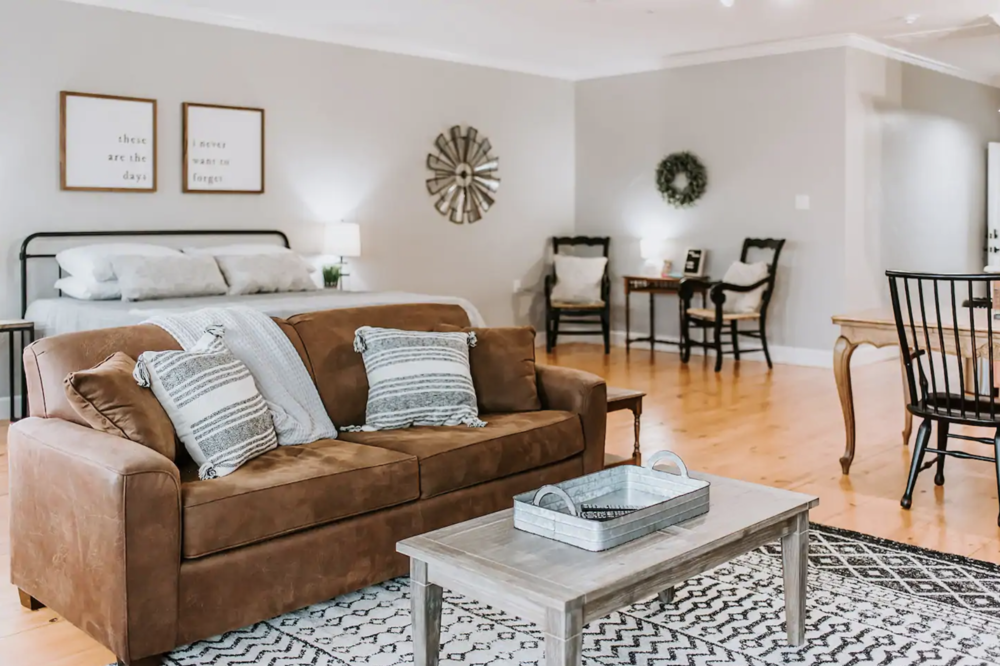 GRUENE GUSTHAUS
Cozy up in an intimate studio unit with a balcony that overlooks New Braunfels! On street level there's lots of shopping to be had when you're not relaxing in the snug apartment. Gruene Gusthaus has partnered with John Newcomb Country Club to provide the full amenities to their guests - from an outdoor pool, fitness center and tennis courts! You can also add on a golf cart to your stay for exploring!
Sleeps: 4
Pets: not allowed
---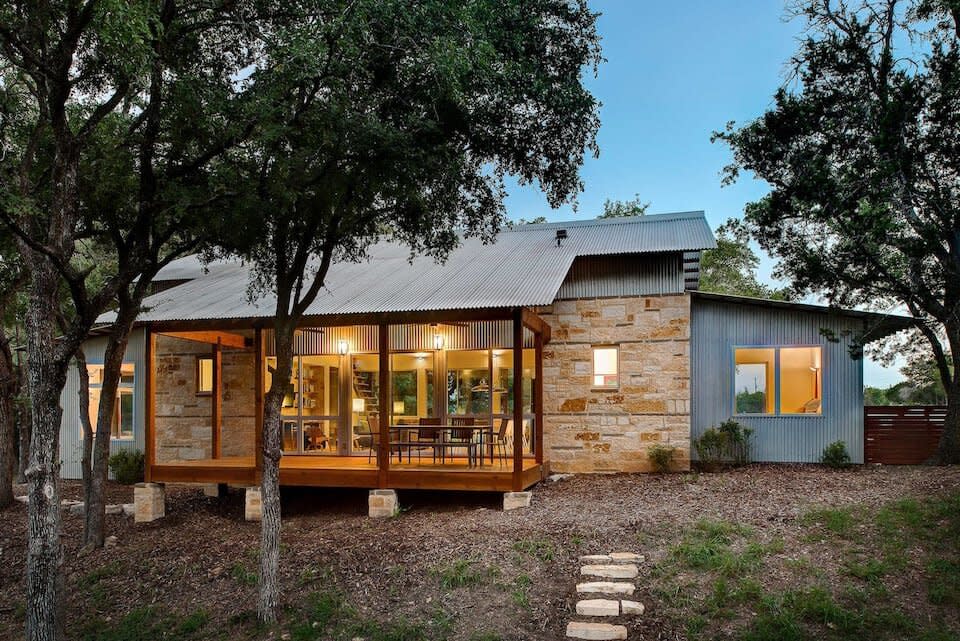 BURNING CREEK RETREAT
For a retreat with up to 10 guests, enjoy a tranquil and modern stay out in the middle of the hill country on 14 acres, between New Braunfels and San Marcos. This new home has been featured in Dwell Magazine and won awards for its thoughtful design. An open floor plan provides a common living area with an 1880's Harvest Table, efficient kitchen, sectional sofa, comfortable chairs all pulled together by a Danish wood-burning stove. And there's a pool!
Sleeps: 10
Pets: not allowed
---
DAS RIVER HAVEN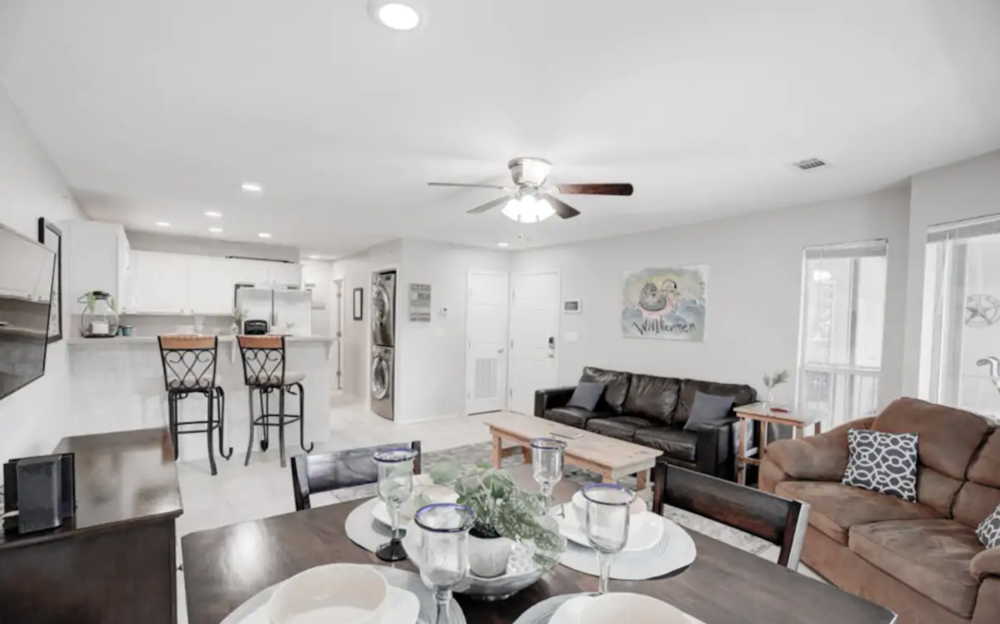 DAS RIVER HAVEN
For a total water activity trip, check out Das River Haven, aka a complex of recently updated units near the Guadalupe! You can see the river from the unit and the balcony to float the river or enjoy one of the many pools and hot tubs! The hosts have lived in the area for 15+ years and can provide great recs for outings around town! Guests have shared access to the on site green space, park, picnic tables and bbq pits.
Sleeps: 6
Pets: not allowed
---
THE FARM HOUSE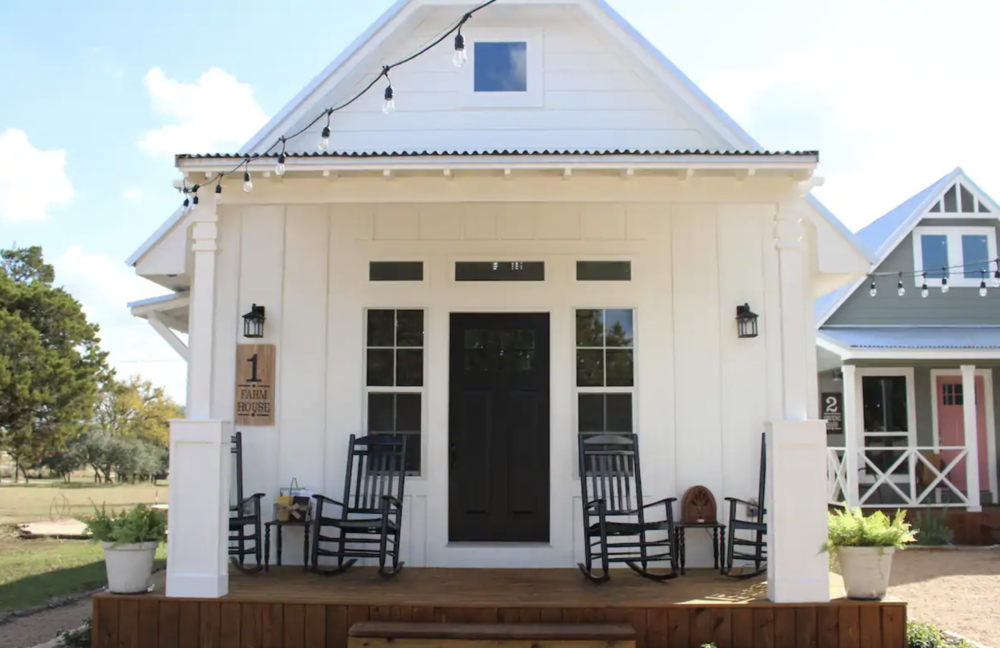 THE FARM HOUSE
Well y'all we did it. We've officially found one of the cutest farm house Airbnbs! Not only is it super aesthetically pleasing for all the pics, but the host owns multiple you can browse through! Positioned outside of the Gruene Historic District, it feels like a countryside getaway with breakfast provided! In the evenings spend time around the fire pits or playing a game of horseshoes after a day exploring Gruene!
Sleeps: 5
Pets: not allowed
---
LAKEFRONT STAYCATION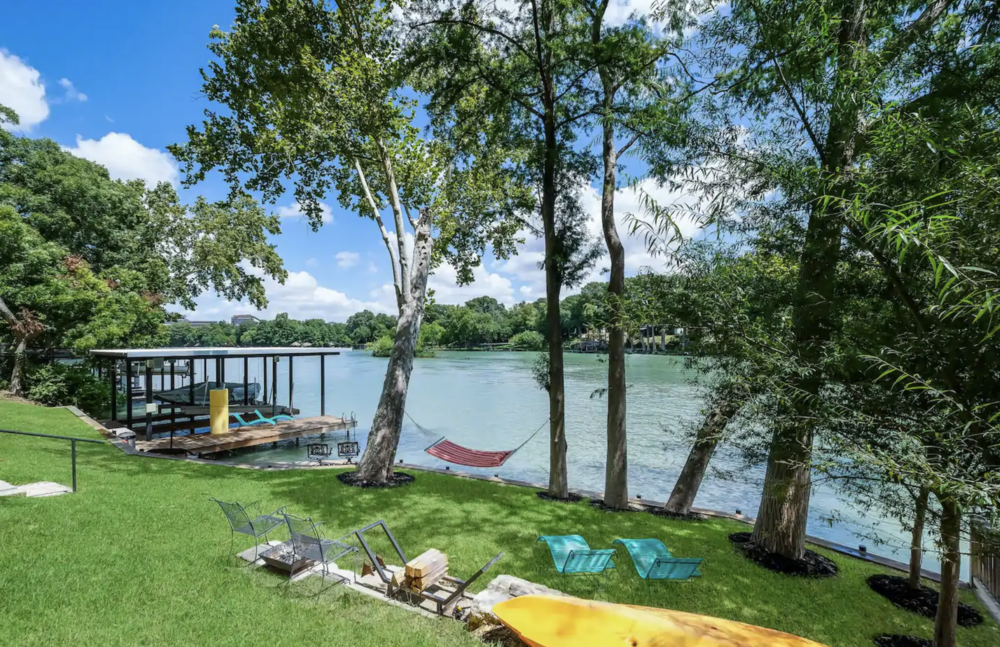 If you're planning a trip to the area, being as lakefront as it gets is pretty unbeatable! The 2 bedroom duplex stay offers an outstanding view of Lake Placid, part of the Guadalupe River. Every rental comes with kayaks, paddle boards, floats and life jackets! Plus bring your own boat, fishing poles or jet skis. A hammock between two tall trees right on the water seems like the perfect place to sunbathe with a good book! There is a 25+ age requirement to rent.
Sleeps: 4
Pets: not allowed
---
CREEKSIDE OVERLOOK HOME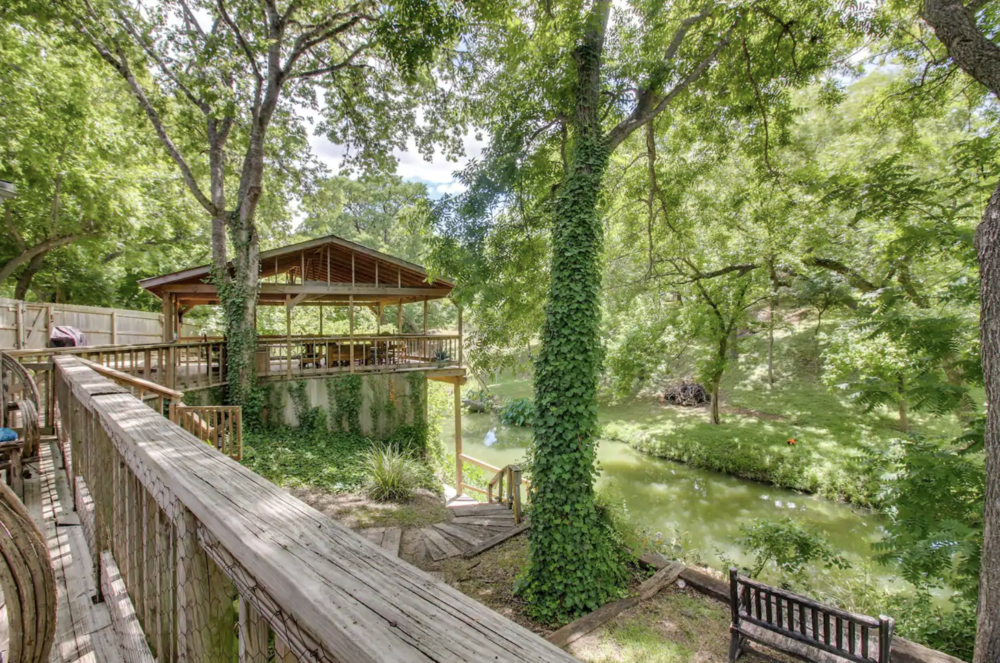 CREEKSIDE OVERLOOK HOME 
This rustic, woodscaped home sits right on Long Creek that is only a paddle ride away from the refreshing Guadalupe River! A boat ramp is available a short distance from the property if you have your own to bring! The best part? You don't have to explore alone because this home is pet friendly! Bring your furry friend to explore the best of New Braunfels and even take them for a paddle ride on the water!
Sleeps: 4
Pets: allowed
---
RIVERFRONT GETAWAY ON GUADALUPE RIVER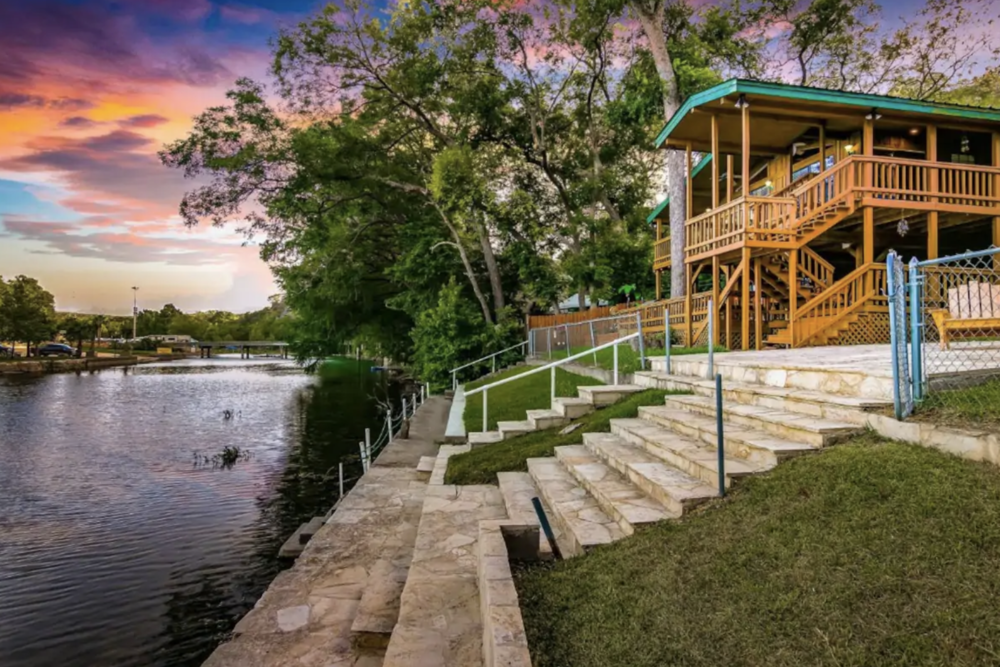 RIVERFRONT GETAWAY ON GUADALUPE RIVER
A dreamy, riverfront escape is awaiting your next getaway! Soak in beautiful sunsets from one of many outdoor sitting areas accompanied by a glass of wine. Bring the whole crew or fam because there's 3 queen and 2 twin beds total! It's definitely worth it to enjoy with loved ones since the outdoor amenities are meant to be shared in great company including firepit, grill and picnic table. 
Sleeps: 8
Pets: allowed
---
DESIGNER COTTAGE ON LAKE MCQUEENEY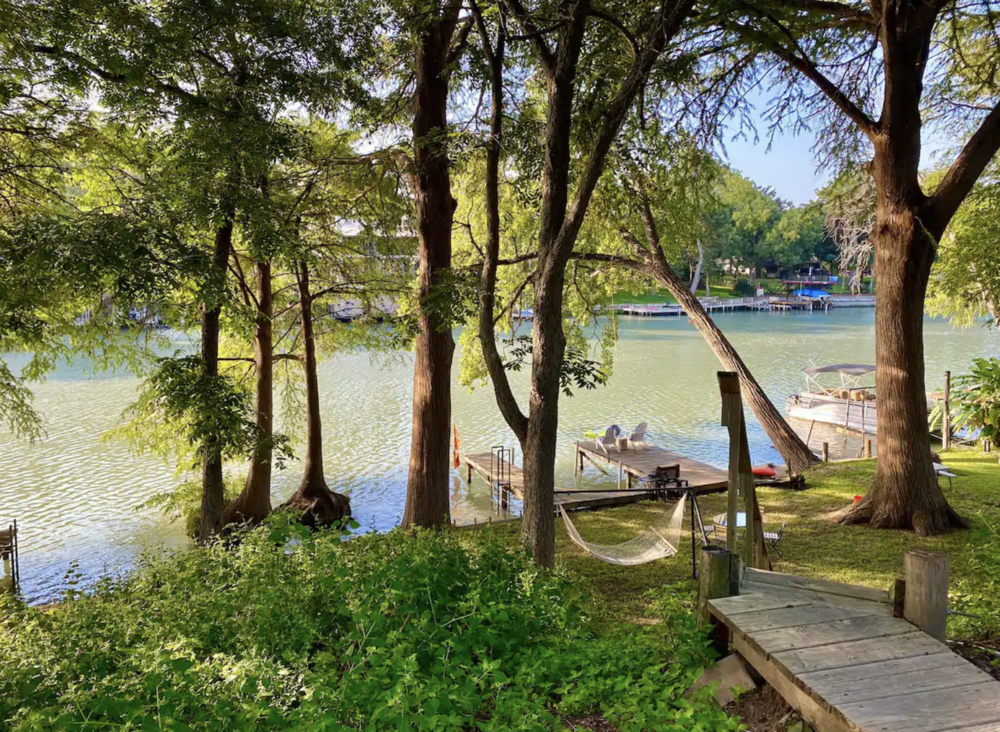 DESIGNER COTTAGE ON LAKE MCQUEENEY
The only thing that could possibly make a waterfront escape better would be if it was in a darling, designer cottage! Nestled among tall cypress trees, the private home is a quiet refuge from city life. It feels like walking into a boutique bed and breakfast but the place is all yours! The home has been completely remodeled into the charming cottage you see today with all the bright, white farmhouse vibes. Plus the DECOR! So adorable!
Sleeps: 6
Pets: not allowed
---
SKYHOUSE GUADALUPE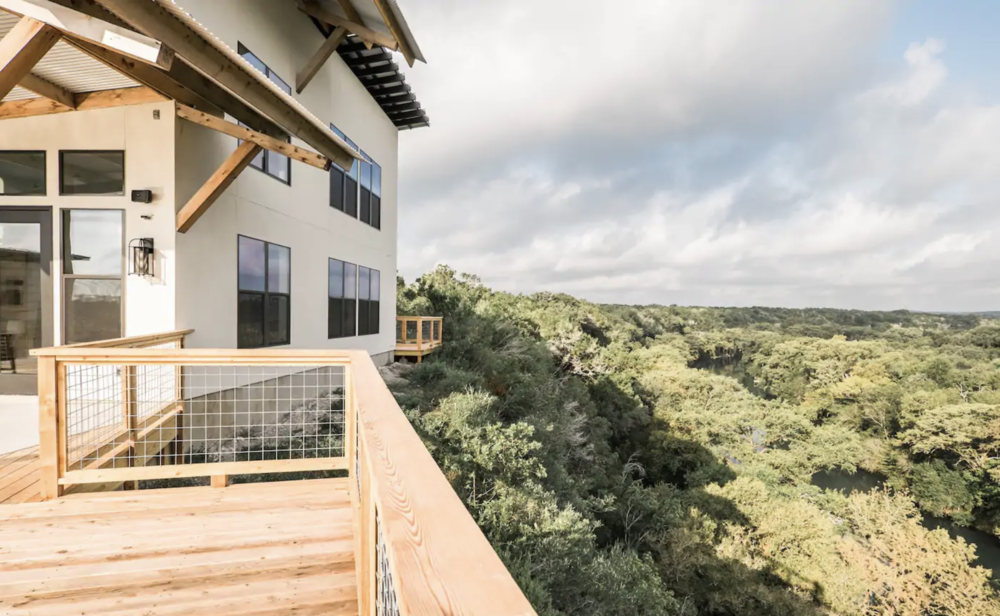 SKYHOUSE GUADALUPE
Vacay cliffside in a Guadalupe River skyhouse! Exactly like it sounds, the impressive, multi level unit soars above the river and the trees giving elevated views of naturescape all around! Inside find state of the art, modern features from the kitchen to the bathrooms, all expertly designed and spacious for a pampered vacation. To kick off your stay we recommend firing up the grill for some poolside bbq which, by the way, the pool area shows off some stunning scenery! 
Sleeps: 6
Pets: not allowed
---
GUADALUPE RIVER CABIN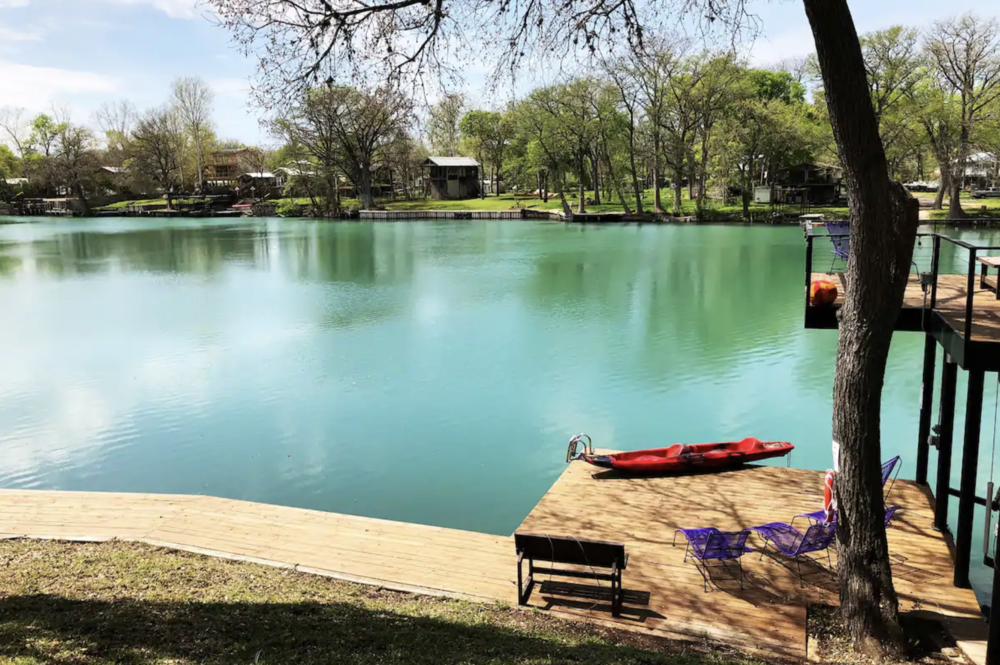 When in New Braunfels, there's no shortage of waterfront properties which makes it even more of a transported vacay! This unique property is a tiny home that comes with a bedroom and loft as well as some pretty exciting water toys aka kayaks, paddle boards, floats and life jackets! Feel free to fish, swim, kayak or take a paddle because there are no prohibited zones! The sparkling waterfront will be there to greet you each morning and for some incredible sunsets!
Sleeps: 5
Pets: not allowed
---
HILL COUNTRY MODERN COTTAGE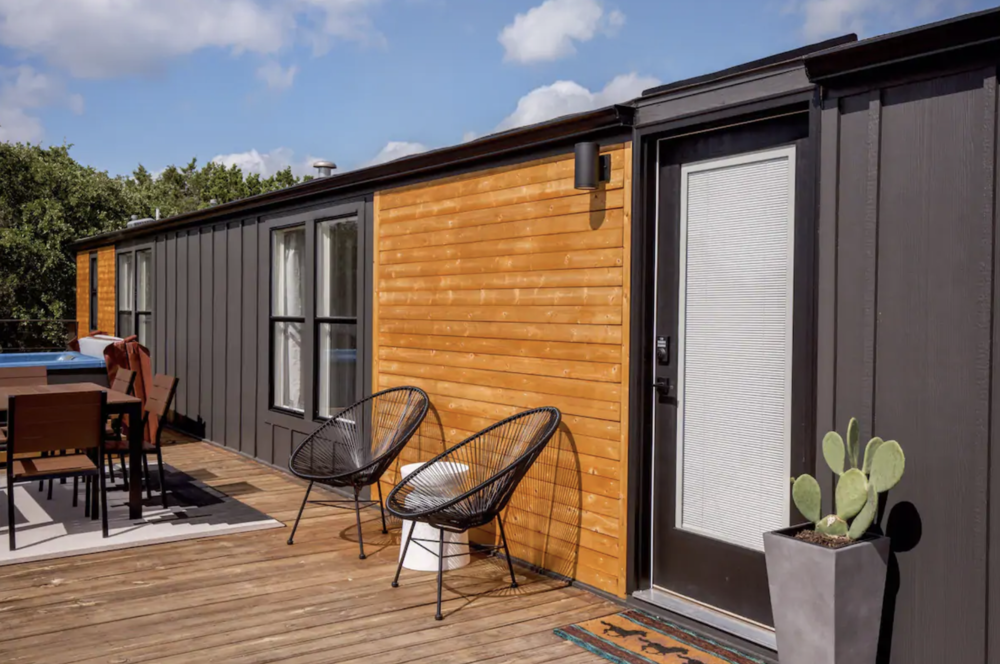 HILL COUNTRY MODERN COTTAGE
In the middle of Texas wildlife, this Hill Country gem is a private escape with Scandinavian style design to the exterior elevated above the property! And inside? A modern, southern oasis! Minimalist, thoughtfully appointed decor welcomes you for a weekend or week long retreat! A massive deck is the perfect spot to relax on a warm day and take a dip in the jacuzzi or roast marshmallows at the firepit by night!
Sleeps: 4
Pets: not allowed
---
GUADALUPE BLANCA SKYHOUSE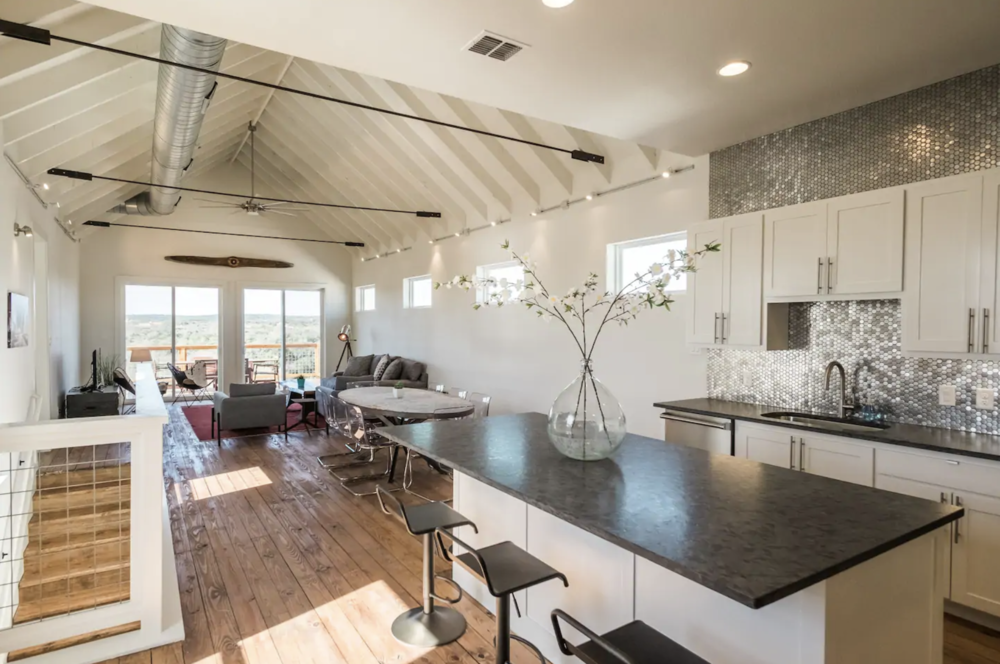 GUADALUPE BLANCA SKYHOUSE
Another skyhouse with great views and a cliffside pool but this one also boasts a hot tub! It's a super trendy stay with multiple levels, the most exciting of which is the massive deck with a sparkling pool, bbq grill, lounge chairs and hot tub! Inside are vaulted ceilings and styled decor but surprisingly still intimately cozy. 
Sleeps: 11
Pets: allowed