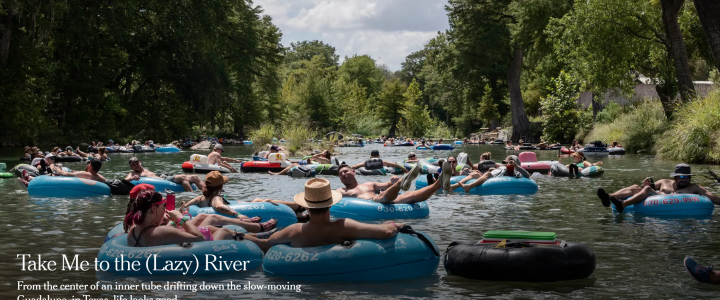 Float enthusiasts take to the river on a recent weekend, some with drinks tubes in tow. Credit...Eli Durst for The New York Times
By Shannon Sims
When Beyoncé — a Texan, by the way — released her "Renaissance" album this summer, she surprised fans and critics by not delivering heavy social commentary on the problems facing the country. Instead, she offered a nonstop flow of retro dance beats, explaining that the idea was "to feel free and adventurous in a time when little else was moving," offering "a place to be free of perfectionism and overthinking."
Floating down a slow-flowing river feels a lot like that. And so, in a hot Texas summer, with weeks of 108 or 109 degree temperatures and not a drop of rain, there was really only one option: Rent an inner tube and get into the water.
At the end of the float, a Rockin' R River employee waits to pick up tubes.Credit...Eli Durst for The New York Times
Straw cowboy hats are popular accessories on the river. Credit...Eli Durst for The New York Times
So I grabbed a friend and headed to the edge of Texas Hill Country, between San Antonio and Austin. It's the kind of area where water towers identify the towns, and where the asphalt ends just blocks from Main Street. The region is known for its rolling vistas, wineries and antique stores. But perhaps its greatest attractions are the endless shady, emerald-green rivers to float down. The Guadalupe, the San Marcos, the Comal, the Medina: Each river offers a different vibe.
The San Marcos, which runs through the campus of Texas State University, can tend spring break-y, with packs of young people tying their tubes together, and delegating one tube to hold a massive cooler. The Comal is more family-oriented thanks to its proximity to the Schlitterbahn water park. For our adventure, we picked the Guadalupe, a versatile river that appeals to young and old, has a few rapid spots and lends itself to a fantastic, authentic Texas evening post-float.
After renting a tube from an outfit called Rockin' R River Rides in New Braunfels, we found ourselves on a Friday afternoon in the presence of occasional groups of friends and families passing by — and just as many Guadalupe spiny soft-shell turtles, one of about 25 turtle species native to the state. The water was refreshing and clear. Bald cypress trees lined the banks, their canopy creating shaded bumper lanes along the sides of the route. Without looking too hard we spotted white-tailed deer behind the trees, bright red cardinals flitting about and even a gray fox skulking by. Just five minutes into our float, and we were completely absorbed by nature.
In addition to floating the river, people will spend the day sitting in beach chairs in it to stay cool. Credit...Eli Durst for The New York Times
Many people bring along a tube for their cooler; the rules now prohibit bringing disposable containers and glasses on a float.Credit...Eli Durst for The New York Times
Given the summer's lack of rain, a float can be a slow and lazy day.Credit...Eli Durst for The New York Times
We caught sight of these creatures because we didn't have much to do besides look around: The float was a very lazy one. With more rainfall, it would take two hours, maybe even less. But this year, after months without a drop, the route is taking more like three and a half, or, in our case, four hours because of the low level of the water.
Many Texans skipped a float this summer, fearing the dreaded, sobering scenario of having to stand up in the sizzling sun and drag your heavy tube over rocky dry patches. We never needed to do that, though we did occasionally engage in some awkward kicking and arm flapping in order to get a bit of momentum. Sometimes it felt more like we were in a pleasant but currentless pool than in a flowing river.
Who needs a tube? Credit...Eli Durst for The New York Times
At first, this sense of stagnation agitated me. Without realizing it, I had started the float with a goal-oriented mind-set: My mission was to reach the end. But after about an hour, the heat of the summer made clear the futility of my efforts at propulsion. I was working, when I should be relaxing. With no screens to stare at or to-do lists to fret about, I was left with nothing to do but power down my brain and cruise, and listen to the distant guitar riff of ZZ Top's "La Grange" playing somewhere downriver.
As we slowly drifted downstream, we passed groups of locals gathered along the sandbars under tents, offering us beers. A man with American flags embroidered on his blue swim trunks asked if we'd take a photo of his group. "I haven't seen these guys in years, but we figured the best place to have a high school reunion was out here on the river, right?" he said as they posed around a Yeti cooler propped up in its own tube.