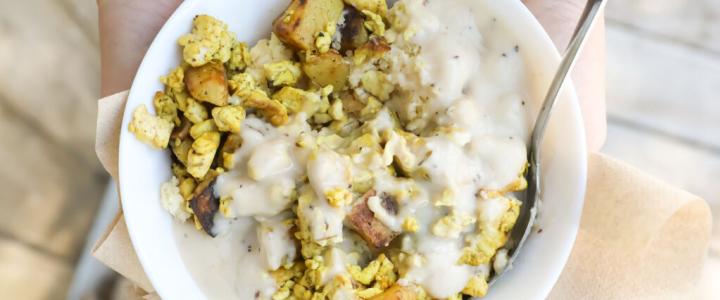 Skull and Cakebones' breakfast bowl with biscuits, house tofu scramble, potato hash, and a peppered gravy. Photo courtesy Skull and Cakebones
With vegan options, too, there are plenty of delicious dishes to find in Central Texas
Written by: 
Rose Bruno Bailey
Published: March 17, 2022 at 11:49 am
As a vegan who has lived in different parts of the country and now resides in Texas, I'm happy to see that alongside its population boom, the state has also experienced growth in its vegan food culture, especially in its largest cities. Still, as someone who loves to travel, I know how challenging it is to find good vegan and vegetarian options on the road, especially in a state known for its barbecue. So, I set out with a friend to find local vegan and/or vegetarian places to eat in the Texas Hill Country.
Dripping Springs is our first stop, about 25 miles from Austin on US 290 West. The town offers a surprising variety of shops, restaurants, wineries, and craft breweries for a town with a population of around 4,200. It also boasts the first plant-based craft bakery/market in the Hill Country: Skull and Cakebones.
Founded in 2013, co-owners Yauss Berenji and Sascha Biesi, who is also the executive chef, opened the Dripping Springs shop in 2017 as a place to grab a bite and stock your cooler if you get hungry between destinations. Everything at Skull and Cakebones is plant-based and made with no artificial ingredients, and the delicacies are baked in-house with locally sourced products.
Servers Ani Metzger and Anastasia Wright are friendly and accommodating, and my lavender oat milk latte pairs perfectly with a pain au chocolat. My unrequited dreams of Parisian travel come alive when I bite into the flaky croissant.
Along with pastries, sweets, coffees, and teas, the bakery's menu offers savory dishes for breakfast and lunch, including a breakfast bowl with biscuits, house tofu scramble, potato hash, and a peppered gravy; macaroni and cheese topped with sourdough breadcrumbs; and a nut-based creamy tomato basil soup. As for to-go items, pack facon—fake bacon—strips and the shop's thin-sliced, house-made, plant-based "turkey" and "pepperoni" by the half-pound for a roadside picnic.
Continuing on 290, our next destination is Fredericksburg in the heart of Texas Wine Country. Known for its German heritage, the National Museum of the Pacific War, Enchanted Rock, and, of course, a vast number of wineries, the town has a charm that extends to shopping and dining along its Main Street. We turn left on East Highway Street and head to the food trucks at Münch Food Park.
Here, we find Beans and Greens, a vegan and gluten-free food truck managed by chef and caterer Krista Wells. You can eat on one of their picnic tables or take a meal to go. (There are public restrooms, too—a road trip must.)
Get the veggie chili if you crave a little spice—it sticks to your ribs as much as any meat chili—or the vegan Reuben with kraut and beets on a tortilla—a healthy spin on the dish. Beans and Greens' mission statement is "to introduce healthy and tasty 'fast food'" to curious eaters looking for a change to their diet, among other things. Based on the food we had, they're accomplishing their goal in a splendid way.
Next, we turn our attention to San Marcos, located about 70 miles southeast of Fredericksburg or 30 miles south of Austin on Interstate 35. Home to Texas State University, this college town has big road trip appeal with plenty of activities, from tubing on a river to outlet mall shopping.
Here, we discover Earth Burger, a 100% vegan drive-thru just two minutes from Rio Vista Park on the San Marcos River. (Three other locations are in San Antonio.) Like Beans and Greens, this place also strives to be zero waste by using compostable disposables.
We order the vegan fish sandwich and fries, and I'm reminded of my childhood vacations with my mother and sisters, making impromptu stops at roadside drive-thrus. The Beyond Burger, topped with gooey vegan cheese, and plant-based shakes are just as delicious; they certainly pass the test for good diner food.
Off we set to New Braunfels, a delightful stop along I-35 once home to a German prince. After getting lost in the antique stores, boutiques, and charming sights of downtown, we have a royal-size appetite and head to Naturally Café in Gruene Lake Village. The restaurant offers menu items for everyone, no matter their diet restrictions, and the impressive menu is matched by the brightly colored décor and lively ambiance.
The soup of the day is always vegan, so we tried the cream of zucchini—so good I wish I had the recipe. We also order chickpea salad sandwiches with agave poppyseed dressing and cranberries on whole-grain bread; the BLT sandwich with a substitution of tempeh; and hummus with fruit, crackers, and vegetables garnished with seeds and smoky paprika. Manager Kenndal Mayo explains everything is made in-house daily, including all of their juice selections.
Naturally Café's motto is "love what you eat, feel good about it too." We love all the dishes and leave feeling full and satisfied. It's the perfect ending to our Texas Hill Country food adventure. Now, all we need is to get home before the food comas hit.
https://texashighways.com/travel-news/take-a-vegetarian-road-trip-through-the-texas-hill-country/