SWEET SUMMERTIME
May 17, 2023 | 9:35 am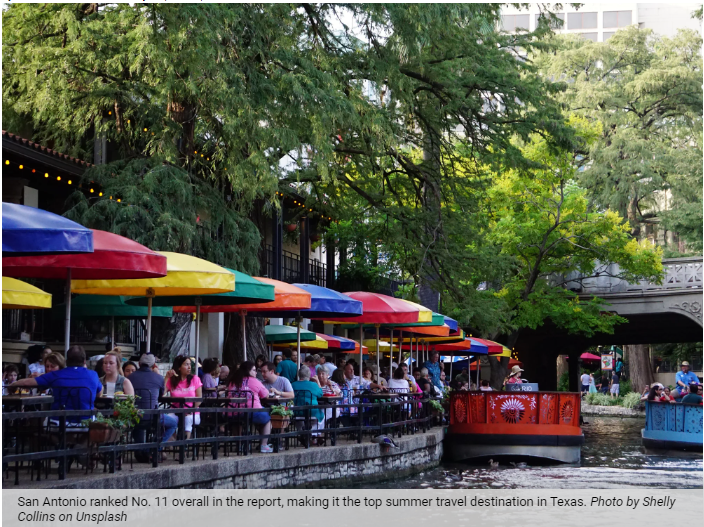 We already know the San Antonio area is a top destination for both Texas and out-of-state travelers, and is widely recognized for its family-friendly vacations. Now, a new ranking has deemed the city one of the best places to visit in the summer.
San Antonio-New Braunfels ranked the No. 11 best summer travel destination out of 100 of the largest metro areas in America, according to the 2023 edition of WalletHub's report. The report compared the cities across 41 metrics, including number of attractions, which we know the San Antonio region has plenty of.
Though the Alamo City's ranking is a one-place drop from the 2022 report, it still claimed the top summer spot in Texas after outranking Austin (No. 14). The Texas Capital previously ranked No. 4 in 2022, but experienced a 10-place drop in this year's report. Checkmate, Austinites.
Behind San Antonio and Austin in the rankings is El Paso (No. 18), Houston (No. 38), Dallas-Fort Worth (No. 45), Corpus Christi (No. 62), and McAllen (No. 86).
Dr. Susan Weidmann, assistant professor in the department of recreational management and physical education at Appalachian State University, said in the report that summer 2023 is going to be a "good season for travel" despite recent economic downturns that have many worried about a recession.
"Coming out of Covid, I think many people have taken these last few years to really evaluate what they want out of life, and for those that love travel, I think they have probably put it at the top of their list of things to do," she said. "As far as economics are concerned, many may have saved their traveling money from the last multiple years, so will have money to spend. That being said, after the airline chaos of last year, many people may be thinking about domestic travel over the long-haul, just to alleviate many of the concerns that airlines, especially in Europe, are still grappling with, such as reduced staffing leading to flight cancellations."
Dr. Weidmann predicts the time period between July and early August will be the most popular season for National Parks, like Texas' Big Bend and Guadalupe Mountains.
Despite none of them being in Texas, the top 10 destinations in WalletHub's report are all popular cities worth a glance in sun-friendly states like Hawaii, New York, and Florida.
The top 10 best summer destinations are:
No. 1 – Atlanta, Georgia
No. 2 – Honolulu, Hawaii
No. 3 – Washington, D.C.
No. 4 – Wichita, Kansas
No. 5 – New York City, New York
No. 6 – Chicago, Illinois
No. 7 – Tampa, Florida
No. 8 – Orlando, Florida
No. 9 – Richmond, Virginia
No. 10 – Springfield, Missouri
The full report can be found on WalletHub's website.
https://sanantonio.culturemap.com/news/restaurants-bars/shiner-beer-tour/