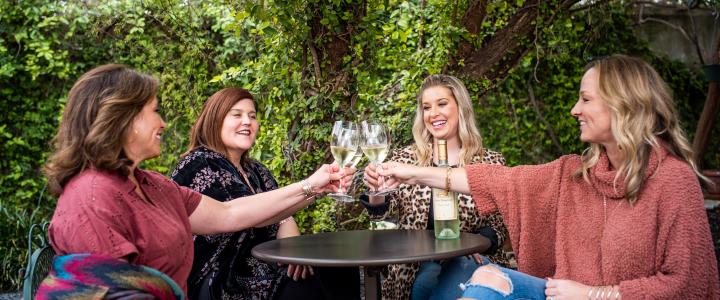 Memories, fun and photo opps await with these one-of-a-kind activities in New Braunfels
It's always a good time for making memories with friends. That's especially true in New Braunfels, where you'll find unforgettable experiences for a girlfriend trip, Galentines Day getaway or a fun adventure with your besties any time of year.
While New Braunfels enthusiastically embraces its historic past, this dynamic community is also constantly evolving, with new activities and experiences that reflect its creativity, artistry and sense of play. Every time you come back, there are always new memories to be made. 
Monica Garcia, the Texas-based travel and lifestyle blogger behind @CCBucketList, calls New Braunfels "the perfect place to relax with your gal pals." 
"If you're looking to break away from the hustle and bustle of the city life, this is just the right destination for you!" she said. "It's the opportunity to experience something new and unlike anything else in Texas."
Here's a look at some of the coolest activities to make your next girlfriend getaway the best ever.
Nighttime Kayaking
Experience the river in a whole new way with Rockin R as you glide along in a lighted glass-bottomed kayak under the stars. These 2-person kayaks feature LED lights that create a beautiful glow while illuminating the river beneath you, so you get a glimpse below the surface of either the Comal or Guadalupe River as your guides lead you on your evening adventure. 
The Redbird Listening Room
While New Braunfels offers many opportunities to enjoy live music, the Redbird Listening Room offers a different kind of experience. This intimate setting puts singer-songwriters in the spotlight so you can focus on enjoying their songs and stories. With a comfortable, rustic environment and excellent acoustics, it's like a cozier version of Austin City Limits, where you can experience talented performers up close and personal.
Lot 59
This eclectic boutique offers a mix of artisan-made goods, apparel, accessories, jewelry and retro home goods. Shop for mementos of your trip here or at Lot 59's sister boutique,  The Local, featuring equally delightful finds along with New Braunfels-themed items. In addition to shopping, Lot 59 occasionally hosts special artist-inspired, hands-on experiences (macrame lessons, anyone?), so be sure to check for special events before you go.
The Foundry Salon
Treat yourselves to a new blow dry style and a memorable time at this iconic salon. Clients here get more than a haircut – they get a warm, appealing atmosphere and relaxing treatment that starts with a beverage (including fresh coffee, tea, craft beer or wine) and a head and neck massage. Browse the selection of trinkets, products and makeup and enjoy the bustling community of friendly stylists and happy customers.
Bowling, giant Scrabble and more
Get your game on at the Downtown Social, a fun hangout that includes a 6-lane bowling alley and a variety of games, served up with food and drinks (and often live music). With a hip retro atmosphere, an appealing menu and classic cocktails, it's a great spot to relax and play. Check out their daily events calendar to see what's happening during your visit.
Cheesy delights, charcuterie style
Otto's Cheese Shop's calls itself the biggest little cheese shop in Texas for good reason. Tucked away a few blocks off the main plaza, guests can taste their way through local and exotic cheeses from around the world.  Take away to-go charcuterie boxes or book a class to learn the art of pairing cheeses with wines and chocolates.
Make your own custom wine
Water 2 Wine is a local winery that sources grapes from around the world to craft award-winning wines right on-site. But it's not just a great place to enjoy a glass or shop for bottles – you and your friends can actually make your own wine! Sample the wines on their menu, choose your favorite style and make your own batch, complete with a custom-designed label! It's an experience you'll savor in the moment and again once your wine is bottled and ready to serve.
Cocktails at the Prince Solms Inn
Enjoy a round of drinks in The Parlour, an elegantly cozy room just off the lobby of the Prince Solms Inn, a historic Victorian-era hotel. The Parlour, which serves a menu of cocktails, wine and spirits, opens at 5 p.m. nightly, with seating available on a first-come, first-serve basis. Or venture downstairs to Sidecar, a speakeasy-style bar serving up handcrafted cocktails, small plates, live music and the warm ambiance of an intimate jazz club. Pro tip: Sidecar also offers two Snug Rooms, private lounges decked out in vintage décor and perfect for intimate gatherings away from the main bar (available by reservation).
 
Your own African safari-style adventure
A wild time is always guaranteed at the Natural Bridge Wildlife Ranch. This Texas-style African safari is home to more than 40 species of wildlife on a 450-acre habitat. Drive your own vehicle or level up your experience with a private guided tour on your own safari shuttle. Your designated wildlife specialist will share their knowledge of the many animals that live on the ranch, including zebras, giraffes, rhinos and more (advance booking required for private tour).
Float the Comal
Of course, a visit to New Braunfels during warm weather has to include a float on the Comal River. This spring-fed river offers calm waters, a thrilling tube chute and a steady water temperature of 70-72 degrees year-round. Rent tubes from a local outfitter and spend an afternoon lazily floating on the river with your friends.
Start planning your next girlfriend getaway #InNewBraunfels!  Find other activities, dining, nightlife and lodging options at https://www.playinnewbraunfels.com/.