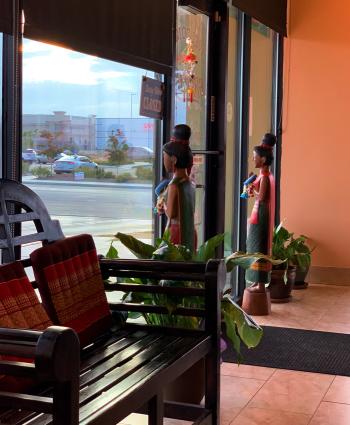 Baan Oy seems to be a community favorite. Our neighborhood messaging board can't stop recommending it to each other. It's what local news people have recommended when people complain about wanting a good local Asian restaurant in NB, but somehow it's taken us this long to get our butts in there for the first time!
It's cute! Calm lighting and decorated with statues and paintings that reference their "Thai-ness." And great if you are a vegan as they have some options available. The ladies working there were what made the place though! They gave us amazing service. Coming over to check up on us multiple times and refill our tea. We brought along our energetic child, which can make restaurants tough for both us and the staff of any restaurant. But these ladies were saints and made sure that not only we had a great experience, but our little one did too. She got her very own set of brightly colored plastic dinnerware, and as we were finishing up our meal, the ladies kept popping by offering her treats (Capri Sun, rice crispy treat, etc.), after checking with us that they could give them to her. Keep in mind these items weren't even on the menu, so it must have come from their own personal stash of snacks in the back. Beyond, beyond sweet.
The food was a mixed bag for us. We thought that the classic Pad Thai did not have much flavor, but we found a few dishes that we highly highly recommend ordering.
The Tom Kha Gai (Chicken Coconut Soup) was slightly sweet and sour, with a pleasant creaminess from the coconut milk. It was hot, spicy, salty, and delicious, stuffed full of big vegetable chunks. There was bamboo, mushrooms, cilantro, green onions, ginger, and these amazing sweet tomatoes that shoot juice into your mouth when you bite them. Definitely a delicious soup. Take caution when eating though as they hadn't removed the bay leaves or large chunks of ginger. Delicious flavor additions but biting into a fibrous chunk of ginger when you're expecting a soft veggie can be a surprise!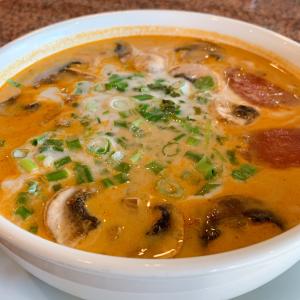 When you're here, you absolutely have to order the Kaeng Dang (red curry) as well! Get it spicy (we ordered level 4, which was spicy but didn't burn off any taste buds) and pile it up on a bowl of - super cute - heart shaped white rice.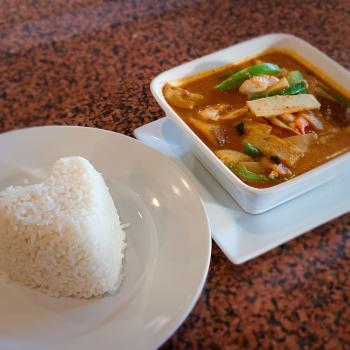 Then for dessert, order the sticky rice with mango. This warm dish is sweet and creamy, and the mangos were perfectly ripe. Some of the most delicious mangos we've had in a while.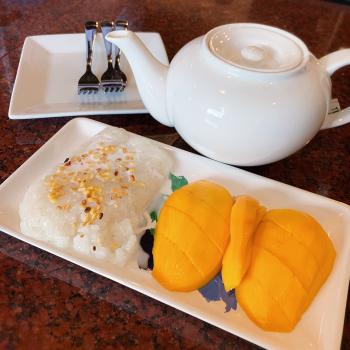 Baan Oy Thai Restaurant 272 FM 306, Suite 128 New Braunfels, TX 78130 (830)708-9099