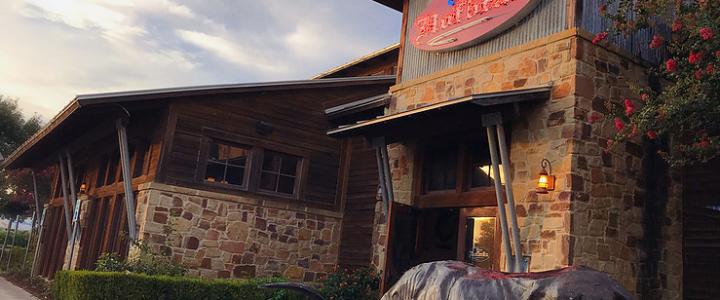 I have driven by River Hofbrau many times and never registered it as something I would want to try, mainly because I'm judgmental and the outside (well...inside too) looks like a Texas Roadhouse or TGIFridays mega-chain. Also, I'm not the hugest fan of German food (said half of the team) if it's not a giant pretzel or sausage.... I know. Lord smite me now before the long time New Braunfel's residents do. However, in perusing THE GRAM, I saw someone's photos of the food and was tempted to give it a go.
I'm really glad I did. River Hofbrau's inside was a bit too orange and red lit, with deer heads hanging about, so we set up shop on the porch and it was delightful! River Hofbrau's porch is fun. Just fun! Lots of shady umbrellas, old wood spool tables, and the river flows by just down a small hill off the porch. It was casual and comfortable. Everything green and gorgeous. We showed up on a night with live music and the kids danced around under twinkled lights strewn up over the porch while a nice breeze kept us cool.
We would highly recommend you gathering a group of friends, and spending the evening/night here after a day on the river or scrapping the backyard BBQ and coming here and letting someone else do the work. The atmosphere feels very much like a backyard BBQ or party. People standing at tables, moving about, while music is playing. As a parent with two small ones, I'd say I'd recommend this place up there with Herbert's and Krause's as a place you can go and you can actually relax for once in public because the kids can be kids and no one cares.
Order some of their **EXTRA** drinks with your friends. We got the tub-sized Dreamsicle slushy drink. It was a boat. Big as my face, but creamy and sweet and delicious! Way too sweet for one half, but just the right amount of summer for the other. We also got something that they just started serving that day (so I don't know the name), but it was a frozen margarita, swirled together with sangria slush, and topped off with an alcoholic popsicle and a Chile rim. It was a well thought out combo of flavors. The salty margarita was an awesome contrast to the super sweet popsicle.
The fried mushrooms were alright. Tasted of mushrooms. The Catfish was thinly breaded and not greasy, but actually quite good and juicy. With the spicy sour kick from the tartar sauce, it was fantastic.
The thing to order and reaaaaally write home about was the Shrimp Diablo Skewers. Omigeeersh please get these!! They were my absolute favorite and I would quite gladly have shoved ten more of these in my belly if there'd been room. They were big ol' shrimp wrapped in thick chewy slices of bacon and then painted up in this delicious sweet BBQ sauce that was just the teensiest bit spicy. There was crunch and there was chewiness and it was just everything right. I want some right now...
Another delicious mind-blower on the menu was the Sweet Potato Funnel Cake Fries. The waffle fries were drizzled with this amazing caramel sauce that tasted very honey-like. It reminded me of the buttery, goopy sweet sauce you get on a honey butter chicken biscuit, and it was goooood. They were all dressed up with a dusting of powdered sugar and a cherry on top. I'd say these fries would beat funnel cake any day of the week, and that's saying a lot coming from me. Definitely order them with friends as it's too sweet for one person to finish, regardless of their appetite. Or a child, because they will be demolished.
We ordered a second dessert, the Pecan Whiskey Pie, because...we wanted to get fatter? Ha! We've got no excuses... The pie wasn't bad but not our favorite. It had the light Caramel taste you get from a pecan pie, but it was overpowered by the whiskey flavor, and maybe I'm used to my pecan pie's hitting me in the face with their sugar content, but I felt this could be improved by being a little more sweet.
River Hofbrau was a delight to dine at. The staff were charming and so helpful and we are completely OBSESSED with the Shrimp Diablo Skewers and the Sweet Potato Funnel Cake Fries. We will be back soon to lounge on that lovely porch and eat ALL the orders of fries and shrimp skewers. We will fight you for them, but they will all be ours!! <3
River Hofbrau has two locations. We dined at River Hofbrau and Beer Garden at at 1515 Kuehler Ave location. The other is Hofbrau on the Green at 180 Gold Course Rd. They accept bookings and reservations for parties, events, and banquets.