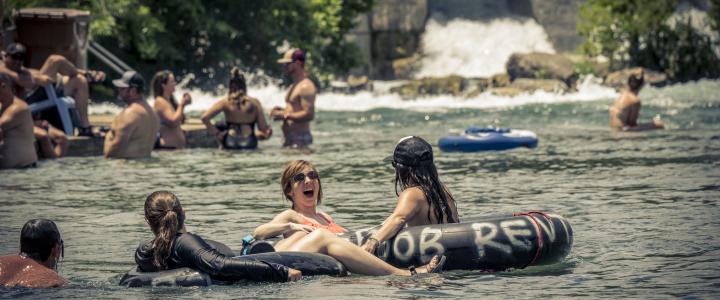 The first floats of the year on the world-famous Comal River typically happen when temperatures begin to rise in March where you can take in the blossoming trees and active wildlife. While tubing is always a highlight, spring break also offers plenty of other outdoor thrills in New Braunfels.
From viewing wildlife up close on an African-style safari to riding a zip rail high above the tree line, spring break means adventure in this historic Central Texas city.
Floating the Comal River
When temperatures heat up, tubers take to the crystal-clear, spring-fed Comal River, which remains at a consistent 70 to 72 degrees year-round. New Braunfels offers many river outfitters who make floating the river as easy as possible with tube rentals, parking, transportation to and from your vehicle. Some outfitters also offer fishing, rafting, kayaking and stand-up paddleboarding. Before you head for the river, check with an outfitter for current conditions.
Keep in mind that disposable food and beverage containers, including bottles and cans, are not allowed on the river, so be sure to bring your drinks and snacks in reusable containers. The City of New Braunfels offers lifejackets free in Prince Solms Park, the official entry to the Comal River. Learn more about these and other rules of the river here. Pro tips: remember your sunscreen, water, river shoes and a waterproof phone case!
Rockin' R
One local river outfitter has expanded its offerings with a beautiful new open-air green space along the Guadalupe River. Located in the heart of the city's Gruene Historic District, the green at Rockin' R includes a stage for live music and food trucks serving up a variety of fare. It's the perfect spot to savor a meal or drink, enjoy live music, play lawn games or just relax under Texas skies.
Whenever you go, it's a great spot to spread a blanket on the lawn, watch the sunset, grab some delicious food and settle in for an evening under the stars. 
And, if you are staying in downtown New Braunfels and need a ride to Gruene, Rockin' R has you covered with their Night Moves service. The shuttle runs from partner hotels and lodging to Gruene and Downtown on Friday evenings and all day Saturday from March through October. Catch a ride for $10 per person and bounce between all the venues all day.
Twisted Trails Zip Rail and Ropes Course           
At Natural Bridge Caverns, descend 180 feet below the earth's surface to explore unbelievable, otherworldly rock formations. Once you emerge from the caverns, a whole new level of adventure awaits. The Twisted Trails Zip Rail and Ropes Course at Natural Bridge Caverns takes entertainment to new heights.
This 60-foot high, aerial adventure ropes course lets you test your skills on 50 elements suspended high above the ground, and ride multiple zip rails as you fly above the tree tops with views of the Texas Hill Country. The course offers four levels, so you can build your confidence on the lower levels or head straight to the top!
The ropes course includes 685 total feet of suspended zip rail track, which is similar to a zip line, only you control the routes and challenges you take as you navigate the course.
Natural Bridge Wildlife Safari Adventure
Wild times are available year-round at Natural Bridge Wildlife Ranch. Take a Texas-style African safari from the comfort of your own vehicle and watch zebras, giraffes, rhinos,  ostriches, wildebeests, and more than 40 other species as they roam free in the ranch habitat, which includes 450 acres of rolling hills, creek beds and magnificent live oak trees. Be sure to pick up a bag of feed when you enter the park for extra excitement!
Take the experience to the next level with a guided tour on one of the Ranch's Safari Adventure Trek Tours. A wildlife animal specialist will lead your group of up to 12 in the park's special Safari Shuttle for a private tour of the ranch. You'll get the inside story on the safari animals from an expert as they guide you through an up-close-and-personal experience. Tours must be booked in advance; check availability and make reservations at www.wildliferanchtexas.com/groups.
The Resort at Schlitterbahn
Schlitterbahn, consistently rated as the world's best waterpark, opens for the season on April 15, but The Resorts at Schlitterbahn is open year-round, complete with heated pools. Special springtime rates of 30 percent off are available for stays through April.
The Resorts offer several types of accommodations, from hotel rooms with full kitchens to luxury suites overlooking the Comal River. Some options are only three blocks away from the vibrant city center.
When the waterpark opens, guests will enjoy $9 million in improvements to the park, including a refresh of Schatze's Central Park children's water playground, an expanded Boogie Bar with both swim-up and walk-up service, and upgrades to the entire lagoon area of the original park. Learn more at www.schlitterbahn.com.
Adventure awaits you during spring break #InNewBraunfels! Plan your trip today at https://www.playinnewbraunfels.com/.