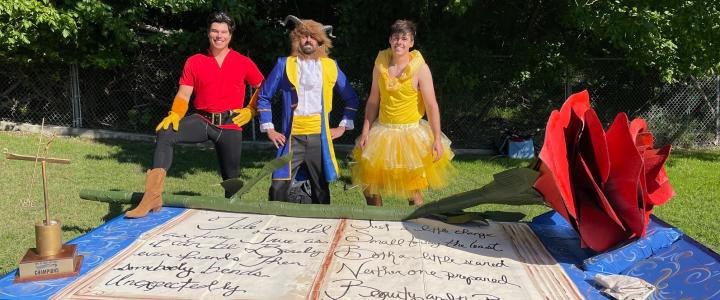 Only the sturdy survive the rushing waters of the tube chute
Every summer, thousands of people flock to New Braunfels to float the spring-fed Comal River in inner tubes. It's a leisurely ride – that is, until they reach the famous tube chute. The tube chute is a water slide that shoots tubers around a dam on the Comal, propelling them on swiftly moving water back into the river below.
But before summer visitors arrive, local New Braunfels residents gather there for their own brand of fun: the Thru the Chute Boat Race & River Expo, an exhilarating race down the water slide on homemade cardboard boats, that promotes education and conservation of the Comal River.
The local newspaper, the New Braunfels Herald-Zeitung, calls it the city's "soggiest and most entertaining event of the year." It's a contest based not only on time, but on the creativity of entrants. The 2023 race on April 29 saw costumed riders in boats ranging from Peter Pan's flying ship to a floating tray of nachos with the passengers dressed as chips.
Thru the Chute competitor Wade Goodwin has been part of the winning team two years in a row. Goodwin's 2022 team, The Schnitzel Boys, dressed in lederhosen and zipped through the chute in a cardboard boat shaped like a 12-foot sausage in a tribute to the city's German heritage.
This year they took it up a notch: the five of them dressed as characters from Beauty and the Beast and surfed through the chute, standing on a cardboard raft resembling an open book and carrying a 12-foot cardboard rose. Team The Beast won the "Most Expert of All" award and the champion's trophy. Goodwin dressed as Belle, competing in a yellow gown.
The event is a daring test of skill and engineering. Some competitors, like Goodwin and his team, successfully navigate the trip through the chute and manage to touch the wall on the other side of the river. Others emerge from the chute with their boat falling apart or capsize upon hitting the river, vying for the contest's "Epic Fail" award for the most spectacular sinking.
Thousands of spectators come out to watch the thrill of victory and the agony of defeat. The event has grown since its inception in 2011, with fans arriving early on race morning to get a good spot.
"It's becoming this thing that everyone wants to be a part of," said Geronimo Aguirre of the New Braunfels Parks & Rec Department.
Only 40 boats can compete each year and spots usually fill up within a day or two of registration opening, Aguirre said. "A lot of these teams are families, work families, groups of tight-knit friends," Aguirre said. "We've seen families returning a couple of years in a row and dreaming up new themes every year."
Goodwin's team included his brother and neighbors, who live a few blocks from the river. In the weeks leading up to the event, team members and their families would get together to BBQ and work on their boat. "This year we probably put about 80 hours into building it, painting it, assembling it," Goodwin said. "It's a lot of work over many days, but it's just a ton of fun getting to spend time with the neighbors and build it all together."
Event organizers told Goodwin that nobody had ever made it to the wall standing on their boat. Team The Beast took that as a personal challenge. "We also just really liked the idea of holding this 12-foot-long rose and surfing down," Goodwin said. "We thought that would be a fun way to go down the chute."
The team prepared by staging test runs, wrapping their boat in plastic and testing it in the chute for stability and sturdiness. After it sank on their first try, they did some additional engineering to ensure that it stayed afloat. "When you're keeping it just to cardboard and duct tape you have to get really creative on how to build it so it doesn't just fall apart on you," Goodwin said.
With two championships under their belts, The Schnitzel Boys/Team The Beast are already making plans for 2024. "We have a plan in place and it will be extraordinarily tough to engineer it," Goodwin said. "We have a lot of fun with it and we take it pretty seriously, too. We're always trying to go a little bit bigger and better every year."
The event shows the camaraderie locals share even with the city's recent growth, said Hayden McDonald, aquatics supervisor with the City of New Braunfels.
"There's still a sense of small-town community, that we're all going to come out and enjoy the river in a way that no other town does," he said.
The event is also an example of another enduring quality the city is famous for.
"New Braunfels is fun," Aguirre said. "Always has been, always will be."
Plan your next adventure #InNewBraunfels! Go to https://www.playinnewbraunfels.com for information on lodging, dining and events.