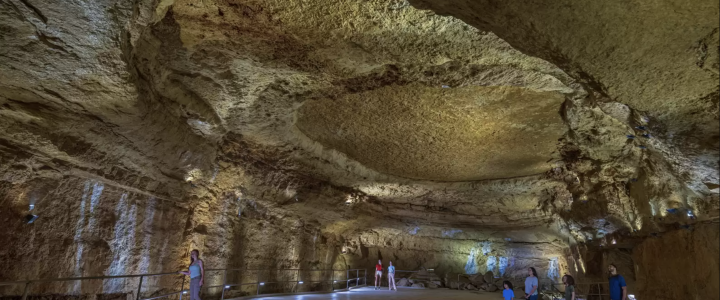 Alex Meixner and Brett Cline to perform Sept. 14 within newly unveiled chamber at Natural Bridge Caverns
New Braunfels' newest live music venue is also its oldest – by a lot. In fact, it's eons in the making.
Marking its debut as a concert hall is The Ballroom, a natural chamber located 180 feet underground. The Ballroom is within a newly accessible cavern at Natural Bridge Caverns, one of Texas' largest cave systems and top attractions.
With space for only 200 audience members, this intimate venue is the setting for the Concerts in the Caverns series, which made its debut in August with a sold-out performance by Monte Montgomery.
The up-close-and-personal setting and the sound quality of this 5,700 sq. ft. natural limestone dome chamber below the earth's surface make it a must-do experience for music lovers.
Two more concerts in the series are scheduled this fall, including a Grammy-nominated artist, a beloved jazz and pop pianist and two highly regarded singer-songwriters. New Braunfels legends Alex Meixner and Brett Cline take the stage on Sept. 14, followed by the Topo Chico Cowboys on Oct. 5.
Alex Meixner and Brett Cline at Natural Bridge Caverns, Thursday Sept. 14
Two acclaimed New Braunfels-based musicians will take the stage on Sept. 14 as the next performance in the new Concerts in the Cavern series. Alex Meixner and Brett Cline will perform in their first-ever collaboration as a duo, playing music spanning a wide range of genres. Cline is beloved for his pop and jazz piano stylings, whether solo or with his band. He's also a regular at Sidecar, the speakeasy-style jazz club at the Prince Solms Inn. Meixner is a nationally renowned, Grammy-nominated artist known for blending an array of musical styles – even creating his own modern take on traditional German polka, that staple of New Braunfels' musical heritage.
Topo Chico Cowboys perform on Oct. 5
Drew Kennedy and Josh Grider, considered some of the country's most highly regarded songwriters, will perform as the Topo Chico Cowboys on Oct. 5 for a show billed as part performance and part picking party.
Kennedy has made a name for himself on Nashville's Music Row and has written with some of country music's most revered songwriters. His longtime friend Josh Grider is a New Braunfels-based country songwriter and recording artist from Las Cruces, New Mexico.
Doors for both performances in the series open at 6 p.m., with shows starting at 7 p.m. Food and drink will be available. When the show is over, guests will exit effortlessly via a 700-foot-long belt-assisted transport (affectionately referred to as "The Bat") that takes them out of the cavern.
For more information and tickets go to https://naturalbridgecaverns.com.
A new look at a Historic National Natural Landmark
The Ballroom is one of the newly developed spaces that Natural Bridge Caverns is now showcasing on its Hidden Wonders Tour, which debuted in May 2023, taking visitors into never-before-toured areas of a cavern system now named Hidden Cavern. The experience features expertly lit delicate formations and a sound and light show designed to tell the geological story of how a process of rock, water and time created the underground cavern.
Hidden Caverns is part of the same geologic system as Natural Bridge Caverns, but did not have a natural opening to the surface. Since 2017, a multi-million-dollar development of this new area has been underway to allow visitors to explore this unique environment once only accessible by cavers. 
However you like to rock out, you'll find it #InNewBraunfels. Check out these and other experiences, along with everything you need to plan your New Braunfels getaway, at https://www.playinnewbraunfels.com/.