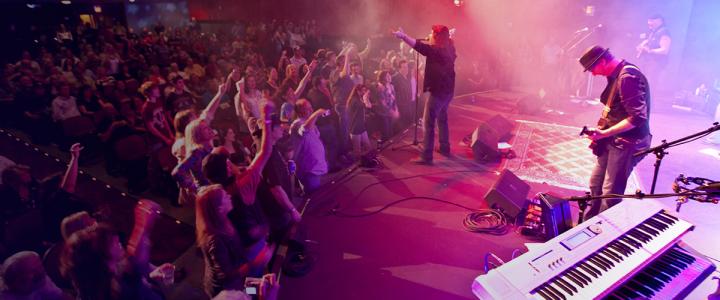 Local expert Dennis Peek gives insight into the bests of city's dynamic live music scene
Whether you want to scoot your boots, rock out or even catch some traditional German music, the thriving live music scene in New Braunfels has you covered. 
Music is in the city's roots. As the home of Gruene Hall, founded in 1878 and reigning as the oldest continually operating dance hall in Texas, New Braunfels is a prime destination for music, drawing an eclectic mix of nationally known, up-and-coming, and local favorite performers. 
Lifelong New Braunfels resident Dennis Peek has been in the music industry for nearly four decades, both on stage and behind the scenes. As the owner of 2 Rivers Technical Services, a full-service live production company, he's provided the sound and lighting for many artists who have played in New Braunfels. 
As someone familiar with live music venues all around the city, Dennis is a go-to resource for finding just the right venue for any fan and any occasion. Check out his picks below. 
 
1. Live music venue with the best sound.
From a sound perspective, the Brauntex Theatre's remarkable sound system is among the best, Peek said. This former movie palace in downtown New Braunfels was built in 1942 in classic art deco style and is now home to live theater and touring bands. "I think it's the best sounding building anywhere around here," Peek said, adding that holds its own with performing arts venues in bigger cities. 
2. Best venue to listen to good music and have a conversation.  
Tucked away just off Gruene's main drag, the Gruene Grove is an outdoor music venue that specializes in live blues. The seating area is inside a spacious walled-in courtyard, making it easy to find a spot where you can hear the band but still enjoy a conversation, along with food and drinks. "Aesthetically it's just a great spot," Peek said. Pro tip: bring your own folding chair to make sure you get a seat. 
 
3. Best live music venue for a quiet, intimate evening.
Sidecar, underneath the Prince Solms Inn in downtown New Braunfels, is a dimly lit, intimate club that regularly features live jazz, among other genres. Local legend Brett Cline, who has earned raves for his Billy Joel tribute concerts, frequently plays piano here.  
 
4. Best live music venue for dancing. 
Originally established in 1871 as a local watering hole (and the first bar in Texas to serve women), today the Phoenix Saloon is expanding its repertoire as a lively music venue. "They book a lot of acts that le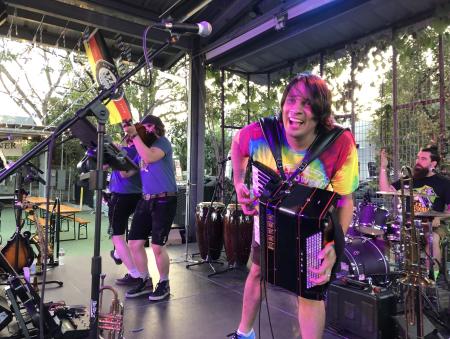 nd themselves to dancing," Peek said. "I see a lot of people really shaking their booties here." 
5. Best live music venue for German polka. 
Krause's Café embraces its heritage in its amazing selection of German beer, its German-inspired menu, and its biergarten, where traditional German music and polka bands regularly take the stage. Alex Meixner, a Grammy-nominated musician, modern-day polka enthusiast and New Braunfels resident, often performs here. 

6. Best live music venue for the biggest variety of musicians and genres
With its history, acoustics and rustic atmosphere, bands from all genres put Gruene Hall on their bucket list of performance venues, Peek said. "Indie, rock, blues, country, Texas singer-songwriters, they all play here," he said. "Gruene Hall covers the gamut better than anyone else." 
7. Best kept secret in live music. 
It's no secret that the Downtown Social offers dining, drinks, and games from bowling to giant scrabble, all in an eclectic, retro setting. But it's also now host to a regular jam session of prominent Americana singer-songwriters. "Roots & Branches of Americana with Ray Wylie Hubbard" is a live performance that's broadcast on KNBT 92.1 FM, one of the country's top Americana radio stations. 
8. Best Texas-sized concert venue.
Located on the banks of the Guadalupe River, the American Country Music (ACM) nominated outdoor venue of the year Whitewater Amphitheater is the city's top spot for major national bands that pack in the crowds. "There aren't many places like it in the world with a venue that picturesque," Peek said. 
9. Best live music festival.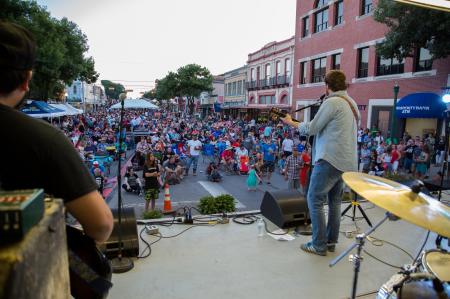 While New Braunfels is home to many great festivals featuring live music, Peek's pick is the Gruene Music and Wine Festival, held every second weekend in October. The event features performances at Gruene Hall, wine tastings and a signed guitar auction, all to benefit United Way of Comal County. 
The Americana Music Jam hosted by local radio station KNBT 92.1 FM has been showcasing the best in Americana music every May for 24 years. Wein & Saengerfest, also hosted in May for the last 17 years, brings in high-caliber artists for what some claim is a good, old-fashioned street dance in the middle of downtown New Braunfels. 

10. Is there a "best" overall live music venue? 
Not really, says Peek. Because they all offer something for every music lover.  While he praises the quality of the 600-seat Brauntex and the legendary vibe of Gruene Hall, he also loves smaller venues for live music, such as the Freiheit Country Store ("It's a really neat half-indoor, half-outdoor venue and just a cool place to hang out") and Billy's Ice ("A nice little roadhouse place, never has a cover, always a great time.") 
Many local New Braunfelsers frequent The Pour Haus, right next to the Downtown Social for local live music. The historic Riley's Tavern, the first bar in Texas to serve beer after prohibition, hosts live music almost every weekend, as does The Watering Hole. 
Discover your own favorite live music venue on your next visit to New Braunfels! Plan your trip #InNewBraunfels today at https://www.playinnewbraunfels.com/.