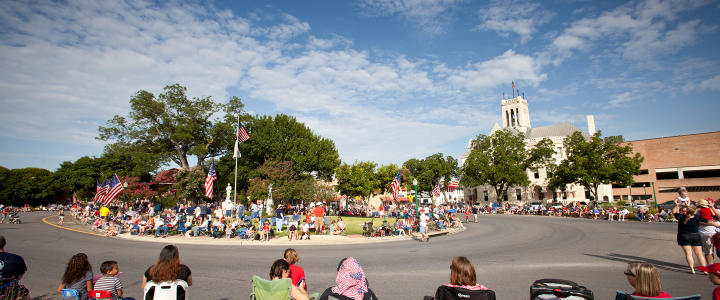 Tradition dates back to 1846 when city's German settlers celebrated America's birthday
If you're looking for a traditional, feel-good parade to start your Independence Day, head to Main Plaza in downtown New Braunfels. The annual New Braunfels July 4 Patriotic Parade is a march back in time to small-town charm, simple pleasures, and wholesome fun. 
Each year, antique cars, kids on decorated bicycles and scout troops carrying flags march around Main Plaza in downtown New Braunfels. The New Braunfels Community Band provides the parade's soundtrack, performing a short, patriotic musical program in the plaza pavilion after the parade. 
The annual July 4 Patriotic Parade and Program is sponsored by the Sophienburg Museum in coordination with the City of New Braunfels and the Parks and Recreation Department. The parade kicks off at 9:15 a.m. at Castell Avenue and Bridge Street, following a route around Main Plaza and ending at Seguin Avenue at Zink Street. Spectators are invited to wear their most patriotic attire and bring lawn chairs to enjoy the fun. 
"If you want a multi-hour, star-spangled entertainment extravaganza, this isn't it. And that's by design,"  said Tara Kohlenberg of the Sophienburg Museum, which organizes the yearly parade. 
As the keeper of New Braunfels' heritage and history, the Sophienburg Museum considers the old-fashioned July 4 celebration as its gift to the city. The sweet, simple parade is a way to hold onto a treasured local tradition as New Braunfels continues to grow, Kohlenberg said. 
"It is little, and homegrown, and very Pollyanna-ish – and we like it that way," Kohlenberg explains. "We preserve that history. Families can get together and decorate their golf carts, cars or bicycles or walk together. It's just like small-town America - you don't have to be a big shot to be in the parade."
You do have to apply to be in the parade, however. Applications are available online and are due by June 28.
New Braunfels has a long and storied history of July 4th celebrations. The Stars and Stripes is actually the third flag to fly over the city. The first was the Austrian flag, planted by the city's founder, Prince Carl of Solms-Braunfels, when the settlers he led arrived in March 1845. That flag was quickly joined by the flag of the Republic of Texas, as Texas was not yet part of the United States. Texas became a state in December 1845, so when the next July 4 arrived, New Braunfels residents were proud to celebrate and did so for two full days with cannon fire, flag raising, shooting competitions and other festivities. 
The foundation of modern-day July 4 celebrations was laid in 1895, when city officials added a fountain in the city's oval-shaped central plaza (they also installed a curb to keep residents from watering their horses in the fountain). Today, Main Plaza is the heart of the annual celebration. The site was inducted into the National Registry of Historic Places in 2022. 
Celebrate America's birthday with time-honored tradition #InNewBraunfels! Go to https://www.playinnewbraunfels.com for information on lodging, dining and everything else your July 4 celebration needs.