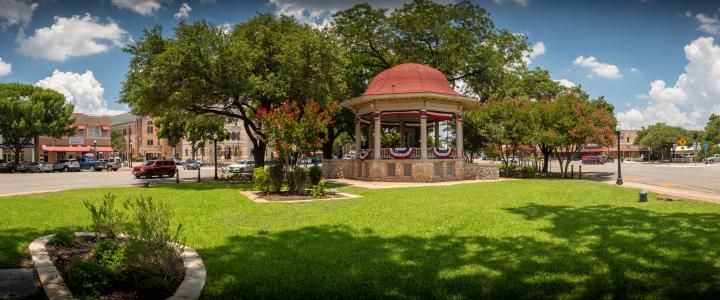 178 years after an adventurous German prince established New Braunfels, here's a look at how it started vs. how it's going
City's vibrant past lives on today
Ever since a dashing German prince plunked down cash for 1,300 acres of land along the Comal and Guadalupe Rivers, visitors have been coming to experience the many appeals of New Braunfels.
Today the city's colorful past is celebrated with frequent festivals, multiple museums, restored buildings and public artworks. Whether you're a history buff or just here for the party, the past is never too far away.
With a shout-out to social media memes, here's a look at how New Braunfels started – and how it's going today.
How it started: A spirited German prince plans a castle to lure his princess bride to Texas.
How it's going: She vetoed a move and instead of a castle, a museum pays tribute to her.
Adventurous Prince Carl of Solms-Braunfels, Germany, had big plans to create a "New Germany" in unsettled Texas. On his first exploratory visit here, he was ready for the gritty realities of frontier life (packing two cannons) yet hopeful for more civilized delights (bringing table linens and 12 place settings).
After purchasing almost 1,300 acres of land in central Texas on March 21, 1845 (Founder's Day), he laid the cornerstone for the hilltop castle he planned to build for his fiancée back home, Princess Maria Josephine Sophie.
Despite this touching gesture, Sophie passed on Carl's idea to start over in America. After their wedding in Dec. 1845, Carl never returned to the community he had helped establish, instead living out a life of military service in his homeland. What was once the would-be site of a princess's castle is now the Sophienburg, a premier museum of New Braunfels history.
How it started: Saloons were a big deal in downtown New Braunfels.
How it's going: Saloons are still a big deal in downtown New Braunfels.
Early settlers needed places to gather and discuss the trials and tribulations of carving out a living in the Texas wilderness. Maybe that's why early downtown New Braunfels was home to 17 saloons, some of which still exist to this day.
For example, Zum Schwarzen Wallfisch Saloon was established in 1890 just off Main Plaza. In 1924, the original wood frame building was replaced and became home to the Herald, the first English newspaper in town (now known as the Herald-Zeitung, the newspaper is still going strong).
Fast forward to today and you can explore this historic building while treating yourself to a signature Bloody Mary cocktail or craft beer, because it's once again a saloon called the Black Whale – which is what Schwarzen Wallfisch means translated to English. It's one of several delightful watering holes still bringing visitors to downtown New Braunfels.
How it started: Industrious settlers build German-style homes, buildings and shops
How it's going: Proud locals preserve historic buildings from the past
The early German settlers in the colony of New Braunfels wasted no time in establishing a thriving community, building homes, shops and other gathering places in the German fachwerk style of architecture. From modest homes to a grand limestone courthouse, many of the earliest structures built in New Braunfels are still standing, either updated for modern purposes or carefully preserved to show how early settlers lived.
The New Braunfels Conservation Society takes visitors back in time at Conservation Plaza. Each of the 18 historic buildings on this 3.5 acre site tells a story of New Braunfels heritage and hospitality. Take a seat at a desk in a one-room limestone schoolhouse from 1870. Check out an original Sunday House, where ranchers coming into town for church would stay, or peek inside a garage holding a 1907 REO automobile.
Since 1964, the Conservation Society has raised funds to save, restore and sometimes relocate notable structures onto its Old Town village. Stop in during regular business hours and get a personalized tour!
Step back in time with self-guided tours
Take a deeper dive into the past with three great self-guided online tours, each complete with a map of historic places and interpretive videos that tell the story behind the site. The Walking Tour of New Braunfels takes you through the buildings and murals of downtown. The Driving Tour of New Braunfels covers the city center and beyond, and the Gruene Walking Tour fills you in on sites in the Gruene Historic District.
Wherever you roam here, living history and time-honored traditions are close by. Plan a trip back in time #InNewBraunfels with a full array of lodging, restaurants, activities and more at www.playinnewbraunfels.com/