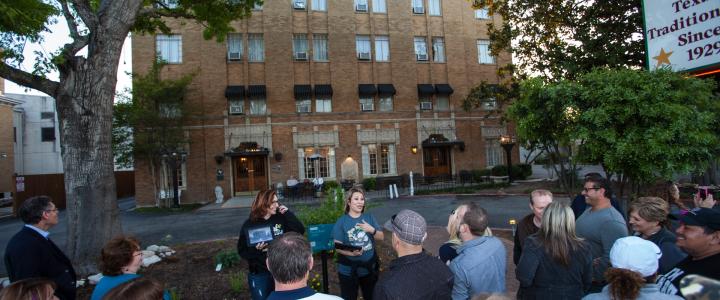 New Braunfels Ghost Tours named one of the top 10 ghost tours in the U.S.
New Braunfels Ghost Tours earned a spot as one of the top ghost tours in the nation in USA Today's 10Best Readers' Choice 2021.
The 90-minute walking tour is a must-do activity when visiting New Braunfels, especially if you're visiting around Halloween! New Braunfels is known for its rich history, but it may come as a surprise to learn that it has a haunted history, too! The area now known as New Braunfels has been called home by several Native American tribes and generations of German Americans, many of which had a rough start to life in Texas. In 1846, just a year after German immigrants settled New Braunfels, Hermann Seele crossed the Guadalupe River and arrived at a gruesome scene – cholera had spread through the immigrants. The New Braunfels Cemetery was dedicated in 1845, with the first person buried there assumed to be a victim of the cholera epidemic. Intrigued? A ghost tour awaits for you to learn more.
Ghost tours wind through downtown New Braunfels, with stops including the Faust Hotel, Prince Solms Inn, the Phoenix Saloon, and the Brauntex Theatre. Even if you don't believe in ghosts, you're sure to have a scary good time! Ghost hunters and historians alike will enjoy learning about the spooky side of New Braunfels' past, including tales about ghosts, murders, and distraught lovers. Even long-time locals will learn something new! Ghosts tours cost $20 per person and start at 8:00 p.m. sharp. Discounts are available for groups larger than 10 people. Private tours, including haunted pub crawls, can be arranged. Tickets and more information are available at https://www.nbghosttours.com/.


A tour group stands outside the Faust Hotel during a New Braunfels Haunted Pub Crawl.
  Learn more about the history of New Braunfels at since1845.com.