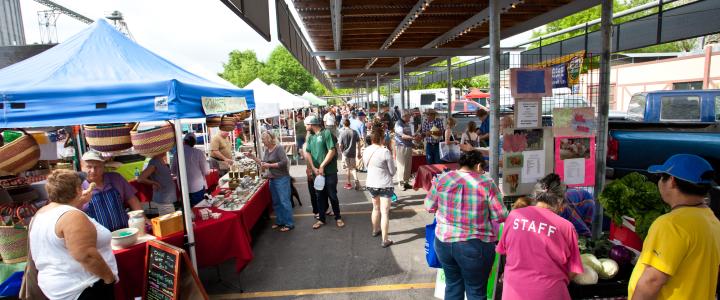 Bluebonnets may be blooming but it sure was cold last week! We decided that what we most needed was to gather up some ingredients from the farmers market and make ourselves a nice, warm, meaty stew, and boy did we!
We love going to the New Braunfels Farmers Market. If you haven't been yet, take the kids after this week's soccer game or heck, just skip the game and go!
Each Saturday Krause's opens up their parking lot and outdoor play area and it's filled with music, face painting, free balloons, hotdogs, and so-good-I' d-steal-it-from-a-baby popsicles. The kids love being there. Till we steal their popsicles. (Joking. Mostly…) 
This week we had a real surprise. The sweet micro greens guru at The Drake Hearth (@thedrakehearth) cut some samples of his baby kale and basil and passed them to the kids, and they ate it. They freaking ate it. Like it was candy! We're still in shock. They even let us make them mini salads with the greens when we got home. AND THEN THEY ATE THEM!!! What is happening?! Is it the cuteness factor? If we shrink down durian and stinky tofu, will they shove that in their faces too?! 
Refocusing. For adults, first grab yourself a cup of coffee (or kombucha! YUM!) when you arrive, then browse the fresh produce grown without pesticides (talk to the vendors!). Once you've got your dinner in mind, go and visit the grass-fed section and get yourself some beef or pork (check out Prairie Dell Meat Co. for a meat sauce that will save any dish). Now you need to round it out, so just peruse. You might end up with some goat cheese after a visit with the fromager, a troop of delicious mushrooms, or some tasty juice.
This week our big hits were mushrooms from Kitchen Pride Mushroom Farms (get there early because people pounce on those oyster and shiitakes, they were gone by 9:45am!), micro-greens (because life will be different forever now), and a thick and juicy osso-bucco center cut steak from River Bottom Farms that we slow cooked until it was falling off the bone (and straight into our mouths).
The best part? You don't get much more local than, "We drove in from down the road a stretch."
Head to the NB Farmers Market this weekend, you'll be glad that you did!
New Braunfels Farmers Market is located in Krause's parking lot and open every Saturday from 9am-1pm.
A full vendor list is available at https://www.nbfarmersmarket.com, but the vendors mentioned above were:
Poptopia Pops
River Bottom Farms
https://www.facebook.com/riverbottomfarmstx/
Kitchen Pride Mushroom Farms
The Drake Hearth