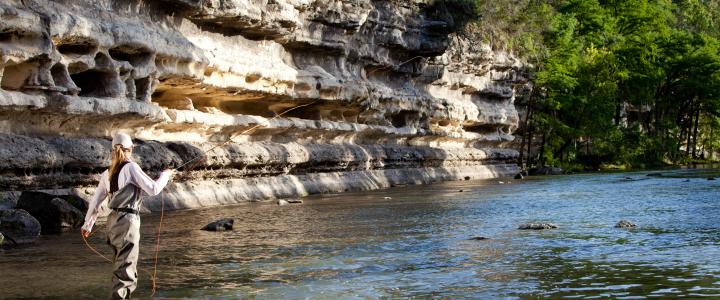 Goodbye hot days, hello trout!
Guadalupe River here ranked as one of America's top 100 best trout streams
When the summer heat departs, a different kind of visitor heads to the waters of the Guadalupe River in New Braunfels.
Every fall, tens of thousands of trout arrive, turning the river into a fishing paradise.
Lower temperatures in the winter months keep the water cool enough for trout to flourish, making the Guadalupe River near New Braunfels one of America's top 100 best trout streams.
Texas Parks and Wildlife and conservation group Guadalupe River Trout Unlimited (GRTU) stock the river between Canyon Dam and New Braunfels starting in late November and continuing until early March. It's the southernmost trout fishery in the U.S.
Fly fishing is one of the best ways to enjoy trout season in New Braunfels. Because fly fishers constantly move the fly on top of the water where they can see the fish react, the sport is a unique blend of action and zen-like calm, according to lifelong angler Tiffany Yeates. Yeates owns Gruene Outfitters, a fly fishing and outdoor retail store in the Gruene Historic District.
"It is kind of peaceful and calming," Yeates said. "It's just a very therapeutic sport, along with lots of action and lots of fun."
Fly fishing on the Guadalupe and elsewhere is primarily catch and release. Because fly fishing doesn't use live bait on a hook, it's easier on the fish.  "In general, fly fishing is much more a conservationist sport," Yeates said. "We just put them back for the next person to catch."
Yeates is the founder of the Fly Girl Society, a group based in New Braunfels that teaches women to fly fish with instruction, outings and events. Most who join are complete beginners. The group hosts its fall kick-off party to welcome new women to the group on Sunday, Oct. 16 from 2 to 4 p.m. at Gruene Outfitters.
"The goal is to teach beginners all the steps, then get them started so they can go do it on their own," Yeates said.
New to fly fishing? Start by getting local advice, supplies and expertise at a fly shop.
"Local fly shops are just a wealth of knowledge," Yeates said. "They know what's best in your area as far as equipment for what you're fishing for and where you're fishing." 
In addition to Gruene Outfitters, Action Angler & Outdoor Center is a stream-side fly shop and guide service specializing in serving Hill Country fishing enthusiasts. Located along the Guadalupe off River Road, Action Angler offers float trips, fly fishing classes and river access for wade-in fly fishing. 
Next, get some instruction on technique. Most fly shops offer complimentary casting lessons for customers as a starting point.
While most of the land along the Guadalupe River is privately owned, there are sites where anglers can pay for river access near prime fishing areas, such as Lazy L & L Campground, a GRTU trout release site. Visitors can enjoy fishing along its one mile stretch of riverfront property. The campground is on 25 acres and is open year-round for RV and tent camping.
If floating is more appealing, a guide can provide the raft, equipment and expertise for a memorable fly-fishing experience. 
Trout fishing season in New Braunfels is roughly from Thanksgiving to Easter, although fly fishing is a year-round sport here. In warmer weather, anglers fly fish for warm-water species such as bass, perch, bluegill and sunfish.
After a day on the river, the rest of New Braunfels awaits you! Tell fish stories over locally crafted beers at a brew pub. Choose from a variety of top-quality restaurants, or catch some live music, then rest up at a rustic cabin or a historic inn to get ready for another day of fly fishing.
Check out Gruene Outfitters' feature in the Emmy-nominated episode of The Daytripper below!