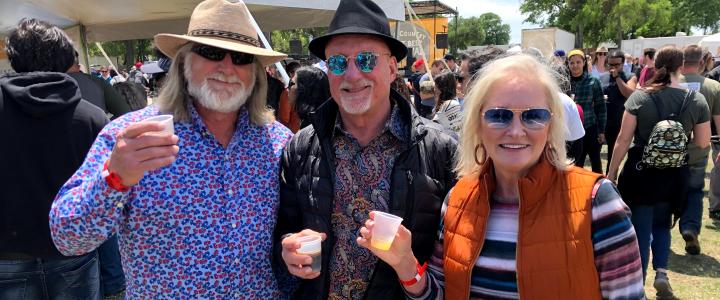 Annual festival showcases 30 Texas Hill Country breweries
The fourth annual Hill Country Craft Beer Festival returns to New Braunfels on April 15, bringing more than 30 Texas Hill Country breweries together to offer more than 150 craft beers for guests to explore and savor. 
This year the festival is in a new location at the Comal County Fairgrounds, 701 Common Street. Hours are 12 p.m. to 6 p.m. for VIP guests and 1 p.m. to 6 p.m. for general admission.
The event also features food trucks and live music from Soul Sessions from 12 to 2:30 p.m. and 3 Man Front from 3 – 5:30 p.m.
The Rotary Club of New Braunfels organizes the festival, with proceeds supporting many local non-profit organizations. Tickets are available online at https://hccbf.com/. All attendees must be 21.
There are two ways to enjoy the festival. Guests can purchase one of only 300 VIP tickets, which includes access to an exclusive indoor area with seating, a buffet lunch and all-day snacks, private restrooms, a swag bag, preferred parking, and early admission to the event before the general admission gate opens. Each admission includes six 3-oz. beer samples, with additional samples and full beers available for purchase.
General admission tickets include six 3-oz. beer samples (with additional samples and full beers available for purchase) access to food trucks, live music and free parking. Portable folding chairs and blankets are welcome.
The festival is a cashless event using RFID technology. Guests can connect their credit card to their wristband for easy purchase of additional beers, food truck items or event T-shirts and other souvenirs.
The love of beer in New Braunfels goes back to the city's earliest days, when German settlers arrived in the mid-1800s, bringing their Old World beer-brewing traditions with them. Today the city's craft beer scene is thriving, with several local breweries and tasting rooms offering their own unique approaches to brewing. Most offer a combination of year-round selections, seasonal varieties and small batch creations, with several offering a schedule of live music, too. Here are some highlights of the New Braunfels craft beer scene:
Big Hops New Braunfels
Big Hops Craft Beer Taproom offers 32 rotating taps specializing in local brews and also serving wine and mead. Enjoy draft beer on site in a fun setting that includes games like darts, live trivia and special events, or take some home.
Faust Brewing Co.
This iconic local brewery has been crafting award-winning ales since 1998. The brewery produces beers that tell the story of New Braunfels, such as the Alex Meixner Polka Pils, a tribute to the local Grammy-nominated polka hero. While still brewing beer, the brewery has been closed to the public since the onset of the COVID-19 pandemic—but reopens April 1 with a renovated and expanded tasting room and biergarten.
Guadalupe Brewing Co.
This brewery focuses on full-flavored, well-balanced and approachable craft beer with the use of natural ingredients. There's plenty of room to relax and savor their inventive beers, with two beer halls, an open-air biergarten, and a Detroit-style pizza kitchen.   
New Braunfels Brewing Co.
This brewery is a refreshing stop in the city's downtown historic district. It's a family-owned and operated—changing family ownership in 2021. Known for its sour beers, the new owners have added  a porter, stout, Irish red ale, blonde ale, and an IPA. Don't worry; they still serve up sours, including the legendary spicy pickle beer.
5 Stones Artisan Brewery
Enjoy a creatively brewed beer under a canopy of oak trees at this rural brewery, just minutes from New Braunfels (indoor seating is available too). 5 Stones brews beer crafted with seasonal ingredients and German influences and also serves food from its on-site kitchen.
OffRhodes Craft Beer Station
Enjoy a craft beer experience at OffRhodes, a craft beer tap room, beer garden and bottle shop that serves local beer from all over the Texas Hill Country, along with a selection of ciders and mead. Whether to enjoy on site or take home, beer lovers keep returning for frequently rotating taps and a wide variety of craft beer.
German traditions, fun festivals and one-of-a-kind breweries make New Braunfels an ideal destination for craft beer lovers. Plan your trip #InNewBraunfels today at https://www.playinnewbraunfels.com/.