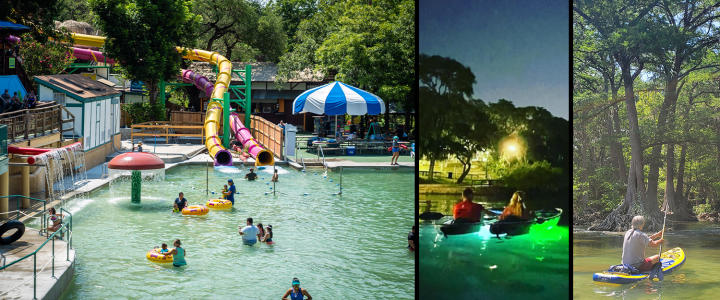 5 must-do New Braunfels water adventures to try before the end of the season
Long summer days are drawing to a close and the new school year is on. But the weather's still warm and the water in New Braunfels keeps flowing, which means there's still time to make a splash or make plans for the warm September weekends.
As the seasons change some attractions may be available on weekends only, but there are more one-of-a-kind water adventures to be had in this historic Central Texas city. Try one of these five fun ways to get one last blast of water fun in before the school bell rings again.
Ride the uphill water coasters at Schlitterbahn.
It's part water ride, part roller coaster, and 100 percent original: the Master Blaster Uphill Water Coaster at Schlitterbahn! This ride has been voted the best water ride in the United States multiple times. Jets of water propel riders up and down the Master Blaster course, which stands six stories tall and more than 1,000 feet in length. The thrills begin with a three-story plunge. Then, defying gravity, riders are sent racing back up three stories and into a twisting tunnel before the final downward spiral. It's a must-do for any water ride connoisseur.
Kayak under the stars.
Savor those last nights of summer from a kayak! Glide along under the stars in a unique clear-bottom 2-person kayak fitted with LED lights that offer a glimpse below the surface while creating a beautiful effect on the water. Rockin R offers this intimate guided evening adventure on both the Comal and the Guadalupe Rivers for up to five kayaks and 10 people per trip.
Rent a stand-up paddleboard and paddle on the Comal or Guadalupe Rivers.
You'll get a new perspective on riding the river from your stance atop a paddleboard. Rockin R offers a fleet of high-quality paddleboards, available by the hour, for a leisurely float on the Guadalupe River under a canopy of cypress trees. It's an adventure for both beginners and experts. Stand-up paddleboards (SUPs) are available for group rentals, private lessons or even home delivery for your own river or lake excursion.
And, of course, if you looking for a leisurely tube ride down the Comal, there many outfitters that can help with your trip like 444, Texas Tubes, and Corner Tubes.
Zoom down a 2-story tall water slide into the Springfed Pool at Landa Park.
No summer is complete without a visit to one of the oldest and most historic swimming holes in Texas. The Springfed Pool at Landa Park Aquatic Complex dates back to the 1900s, when locals created a pool fed by the Comal Springs near the headwaters of the Comal River. The water stays a constant 72 degrees, which makes it perfect for cooling off in the late summer heat. With depths ranging from zero to 9 feet deep, there's truly something for everyone here, including a 2-story water slide, rope swing, a cargo net for climbing and a kiddie fountain. It's open weekends through Labor Day.
Get soaked at the Fischer Park Sprayground.
At 62 acres, Fischer Park is the largest park in the New Braunfels park system. In addition to outstanding city views, the park offers amenities including greenway trails, fishing ponds, playgrounds and a nature education center. But at this time of year, its most popular feature is the Sprayground. This splash pad features a variety of interactive water toys that spray, spout, mist and pour, providing fun for all ages. Get soaked at the splash pad daily through Oct. 31 from 9 a.m. to 9 p.m.
There's still time to make a few more memories, so bring a towel and head for the water #InNewBraunfels.