A couple of shops down from Naegelin's bakery, right before you reach Water to Wine, is the new, fantastic Le Citron. Its storefront is reminiscent of a Tuscan café with a warm color pallet, sidewalk seating, greenery and brightly colored striped awnings. With a cute interior, pastries baked in-house daily, and freshly roasted coffee, what's not to love?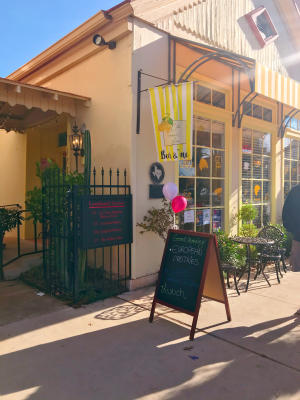 The inside front room is warm and inviting. They have long bench tables (they accept reservations for them for free!) and a scattering of classic style white tables and chairs. Throughout the room there's bright light streaming in from the large front windows and bouncing off the cheerful lemon yellow walls.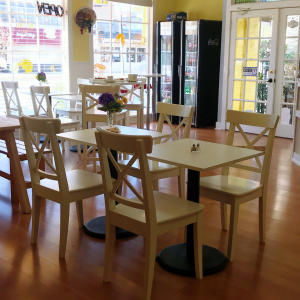 Le Citron has an impressive display of fresh baked bread and pastries (made daily by their in-house European baker) up front at the counter and, if you choose, you can order a crepe and watch them make it. Please watch them make me a crepe below! It was SO fun! They have one of those seasoned electric griddles that you see street food vendors working on the streets of Paris and they will whip you up a crepe with the fillings of your choosing while you stand and wait.
Link:  https://www.youtube.com/watch?v=kOUhpNzUcYw 
We chose banana and Nutella and it was delicious! It was very soft and juicy with the banana but not overly filled with nutella so that it was too sweet or gushing out as you're trying to cut it.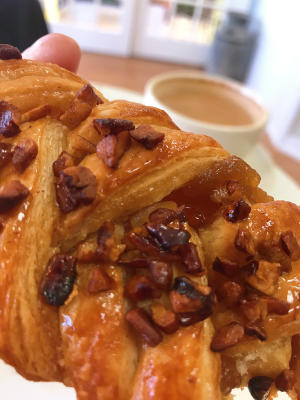 We tried out their croissants (deliciously buttery, chewy, and flakey), a bunch of macaroons (our favorite was the creamy bailey's flavored one), a maple something with pecans and caramelly maple sweeeet filling, and a lemon creme fan, which was our absolute favorite. I couldn't get a picture of it before we accidentally (very purposefully) wolfed down most of it, but it was very bright and creamy and D-Licious! It really reminded me of a lemon tart that I make at home that calls for all sorts of lemon juice and a great amount of lemon zest to be massaged into the sugar to get out all the delicious zing! It was sweet, tart, and the pastry had a nice slight crunchy flake to it which was a nice contrast to the creme center.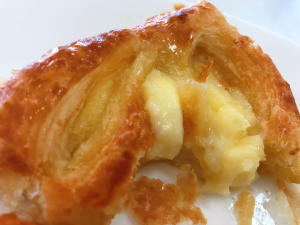 I was so very impressed by Le Citron that I wanted to give a full review of what they had to offer and so after we wolfed down our impressive breakfast spread, I ran out and got the teeniest of tiny bit of work done at my real job and popped back over as soon as they started serving their lunch menu (God bless my self-employed "schedule").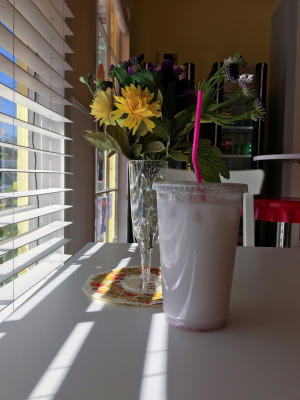 I ordered the Toscana Sandwich with a slightly sweet, bubbly, refreshing Lavender Italian soda. I love that they had lavendar as an option. I will order literally anything lavendar flavored if it is offered to me. I feel like it is a really nice pallet cleanser (if served in a light flavored way. Hellooo lavendar sorbet! I love you!) in addition to being just supremely tasty.
The Toscana starts with their fresh baked artisan loaves of focaccia hero bread. It's soft with slightly chewy edges once toasted, and they stuff it full of garlic packed, amaaaazing basil pesto, warm-melted german muenster cheese, and Italian prosciutto. The toasted edges of the prosciutto add another smokey layer to the sandwich. It managed to be fresh tasting without any raw crunch veggies, and salty savory. It was just plain delicious.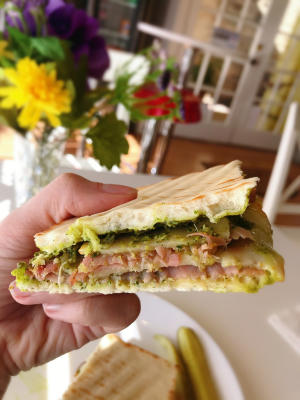 The sandwich was the highlight of the whole day of eating we committed to here. The best sandwich I have eaten in town. I am full-heartedly committing to this statement and any backlash or arguments. Come at me with your other sandwich hopefulls. They will lose (all contestants to be addressed to my belly).
I downed that sandwich. I would be very very happy to eat it every lunch time, and will absolutely be scheduling all my future meetings here to try and make that happen. <3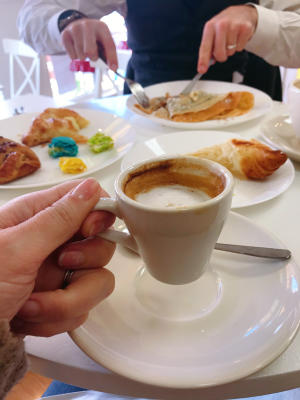 On a beautiful side note, Le Citron is a local mother/daughter owned and operated bistro, which is precious and wonderful in its own right and "YAY! Support Local businesses!" It becomes extra cool when you learn that they are both originally from Germany, not only that but they're from the State in Germany where all of the original German settlers of New Braunfels came from. They have visited the Braunfel's castle painted on their wall many times and list it as one of their favorite castles (Oh to live in Europe and get to have a "favorite castle"!) Is that not beyond cool?