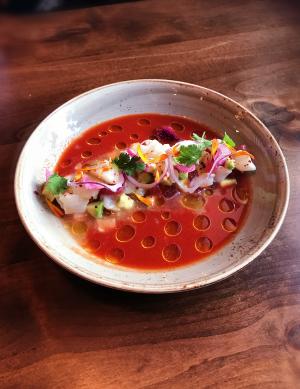 "Guajillo Peach Ceviche - guajillo peach aguachile, halibut, serrano, avacado, and radish"
It's always easier to write about a place when you don't have much to say. Just place some juicy pictures, wax eloquent for a while with some well placed culinary buzz words (umami! mouth feel! artisanal!), mention the service and ambiance, and you've written a pretty helpful, "readable" description of the place. La Cosecha is special though and in this case, that will not be quite enough.
         Those that were present during the fanfare of their opening probably picked up that La Cosecha is owned by the Wiggins family. The same Wiggins family who owns McAdoo's, the classic "go-to" in town for when you have a parent visiting for the holidays, or you kinda want to dress up (but not really...), or you have a hankering for a really, truly ridiculously extra Bloody Mary Bar.
          The Wiggins seemed to have been unhappy with just one highly successful restaurant in town, so they scalped Tom Goss from Fort Worth, dubbed him their executive chef, and shipped him off to inner Mexico for 4 to 5 months. He happily hopped around from village to village (mainly in the Oaxaca area), studying their food and flavors, and brought this all back home to put together in the creation of the menu.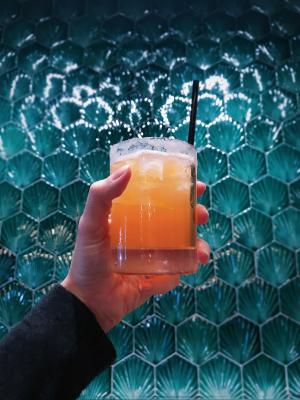 "Red Bell Pepper Margarita"
          This menu is groundbreaking for New Braunfels. It has traditional, authentic inner Mexico dishes and flavors, but then it puts a spin on them to improve them, cooking the dishes with modern culinary techniques that bring out the best from the ingredients, sourcing them from wherever has the top, highest-quality, ingredients that can be found.
          That just sounded like floral buzzwords, so here is an example: their Wagyu Steak Fajitas. For those that don't know what wagyu beef is, please watch the following video, but I will also briefly describe it because I'm passionate about it
*video: https://www.youtube.com/watch?v=9CTzhqVHmww "
           Wagyu beef, from Japanese cows, is some of the most expensive meat in the world and for a very good reason. The cows have specifically been bred to have more fat cells and have them more evenly distributed among the muscle. This means that the beef has the best marbling that you will ever see, and appears pink because of all the white fat mixed in among the red meat. Wagyu cows are up to 50% fat and a wagyu calf up for auction can fetch up to 40 times the price of US cattle.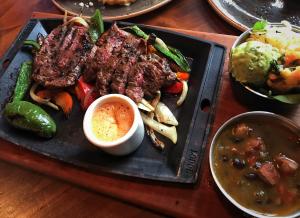 "Wagyu Steak Fajitas"
          If you ever watch someone cut a good piece of uncooked wagyu, you will notice that the meat does not squish and move back and forth with the knife, but because of the high, high concentration of fat it instead holds its shape and a slice peels off as if you're slicing through cold butter.  It has more flavor, is more tender, and is consistently described as "melt in your mouth buttery."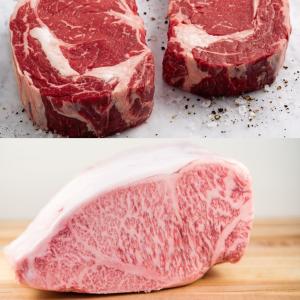 "Angus Beef (top) compared to Wagyu Beef (bottom)"
         When I first saw wagyu on La Cosecha's menu AS FAJITAS I was incredibly surprised. I ordered it because, Duh! It's wagyu in New Braunfels(!), but I was pretty terrified it would come out over-cooked and covered in a "fajita seasoning" blend like so many place's fajitas. It was perfect though. The meat was cooked medium rare and was juicy beyond belief. They cooked it over an open grill with butter, the simplicity showcasing its' amazing natural flavor. It had a nice caramelization with a small bit of smoky char to it and each bite seemed as if the meat was shooting butter into your mouth.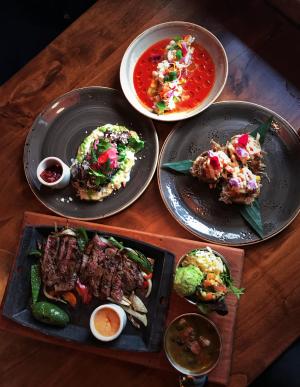 This is very characteristic of their menu. Nobody is out there bragging on the food's amazing ingredients and flavor profiles and presentation, but the menu is full of amazing shockers like the wagyu.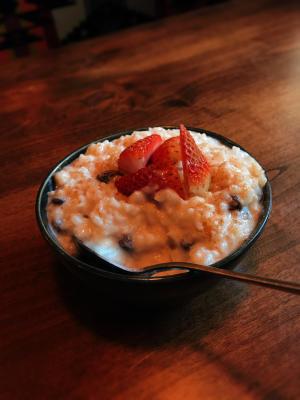 Take their Arroz Con Leche, for example. The description is "sweet cream, Carolina gold rice, and seasonal fruit." Very simple sounding, right? Carolina Gold Rice however is a very special heirloom variety of rice only recently brought back from virtual extinction and is now famous among the foodie community for its amazing flavor.
          It was THE top produced variety of rice in Carolina for almost 100 years, but had disappeared completely by the 1940s. An optometrist (yes really) in the mid-80s, after reading about it's amazing flavor, convinced someone at a rice research institute in Texas to give him some Carolina Gold Rice seeds that were being banked there and planted them. Since then, it's started to be grown in multiple places, and there is a Carolina Gold Rice Foundation (yes really) that's committed to helping the rice improve and grow with better breeding and quality.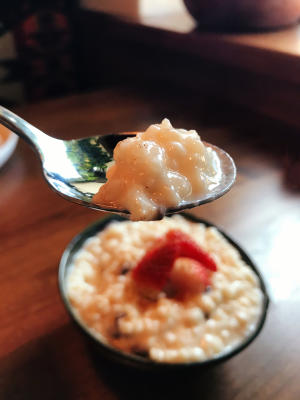 In fact, Sean Brock, (James Beard Award winner for "Best Chef, Southeast", owner of the incredibly acclaimed "Husk", proponent extraordinaire of preserving and restoring heirloom ingredients, and creator of the "lardcore" movement in cuisine) cites Carolina Gold Rice as "the most flavorful rice [he] ever tasted." Also, *surprise!* he sources it from the same exact place that La Cosecha does, Anson Mills. If you happen to be a Netflix watcher, you can see Sean Brock visit Anson Mills multiple times in the season he hosted, the "The Mind of a Chef" series.
           The Con Leche was, not surprisingly, beyond delicious. Slightly sweet, creamy, and with a pleasant savory flavor that I couldn't quite place. The Carolina Gold was cooked perfectly. Soft and flavorful, with just enough resistance to the bite to stop it from being too squooshy. La Cosecha served it cold as they do in Mexico.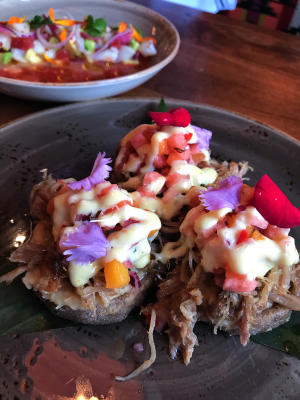 "Duroc (!) Pork Carnitas with white bean puree, chimichurri aioli, and cotija cheese"
            La Cosecha makes all of their ingredients fresh. There are no ready-made mixes. Their produce is grown hydroponically, from non-Gmo seed, ripened on the vine and picked by hand, and still attached to the roots when delivered (when possible) to ensure ultimate freshness. Yes, I did look up every single one of their "artisanal purveyors" listed on the bottom of the menu's policies. They make their own syrups for the bar and even have their sweet, committed bartenders squeeze teeny, tiny key limes for drinks, one after another, to achieve a slightly higher flavor profile for their drinks than regular limes would provide.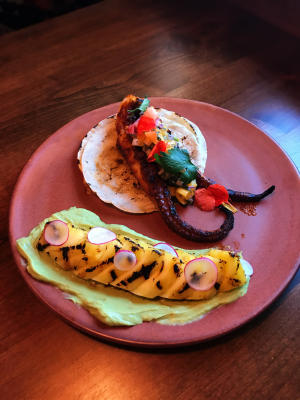 "(amazingly tender) Octopus Al Pastor- achiote grilled octopus, stawberry mango pico, avocado crema, grilled pineapple"
              Everything, literally everything, on the menu is made fresh in-house from scratch, except for the chips. Just the dang chips. That's literally it. I've been told that they don't even have a deep freeze in the back to store things as they do so much prep every day to create everything fresh that they don't need it.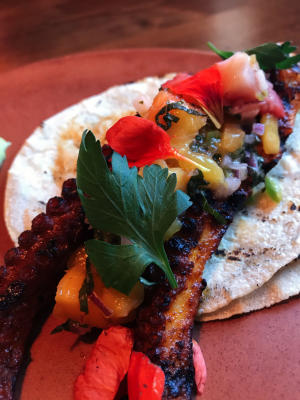 La Cosecha is next level for New Braunfels in terms of well balanced flavors, innovation, presentation, quality of ingredients, and service (did I mention, the wait staff not only stopped by multiple, multiple times to check in and explain things to us, but the manager did as well?). But there in actually lies its problem.
         La Cosecha is having trouble putting bottoms in seats. Multiple people involved have expressed to me that it is because the people walking in to the restaurant are still expecting Mamacita's food and pricing and run off before they try the food and have their brain exploded by flavor. There seems to be a discrepancy between what the restaurant is amazing at, and special for doing, and what the public that shows up seems to be expecting.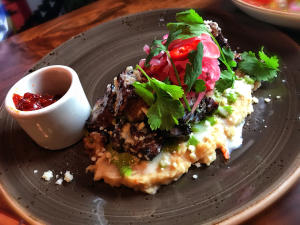 "DUCK (!) Carnita Sopes- blue corn sope, white bean, duck confit, blood orange aioli, strawberry mango pico"
           Someone on Open Table described La Cosecha as "a local, neighborhood, Mexican restaurant." I feel like this greatly mischaracterizes the place, and this is a point I want to stress; La Cosecha is not a traditional Tex-Mex restaurant that you'll find in any ole neighborhood in New Braunfels (or any other city). It is not even Tex-Mex. It is not a place with year round Christmas lights or Velvet Elvis "Paintings" up as decoration. You do not leave it reeking of old chip frying oil and you can not pop in to get some melted, yellow American cheeze queso and a margarita the size of a boat that comes with warnings on the menu, sparklers, and multiple swizzle straws, inserted in the hope that you might share it. Somehow along the way this has been lost or at least not been appreciated in the spread of information through New Braunfels.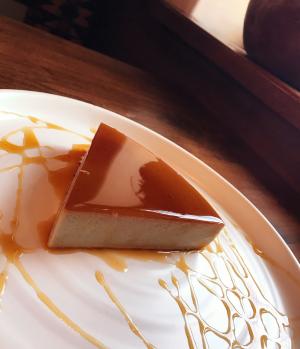 "Sweet Cream Coffee Flan with Cajeta"
          La Cosecha is the only place in town creating on the level that it does, but it just released it's THIRD rendition of its menu, in an attempt to appeal more to the New Braunfels crowd.
           This is why we can't have nice things, New Braunfels. If we foodies of New Braunfels want to have more gourmet cuisine restaurant options around town (and I KNOW there's a community of us out there that do!), then we need to make a point of getting out there and supporting the places that are going above and beyond with our patronage.
            La Cosecha is delicious,  and beyond special to me now. I can not wait to go back and try their Cachete Barbacoa (cherry smoked akaushi  - a breed of wagyu - beef cheeks, port wine demi-glace, pistachio, sweet corn puree, chicory & roasted grapes) and their mezcal (MEZCAL FOR LIFE!!!). I will continue to throw my money and patronage at them, working my way through the innovative items on their menu. I hope you do the same. This is up to us, you guys.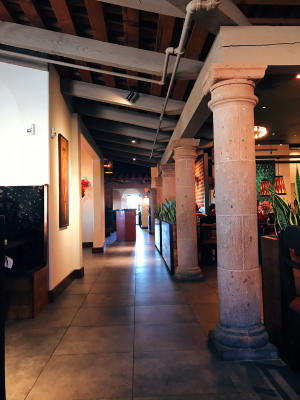 *Special thanks to Jaime Hernandez, La Cosecha's Chef de Cuisine, who helped answer some questions on sourcing we had and personally plated all of the beautiful dishes featured in this post.*
La Cosecha
New Mexican Cuisine
505 Business 35N, New Braunfels, Tx, 78130
www.lacosechatx.com
830.358.7511