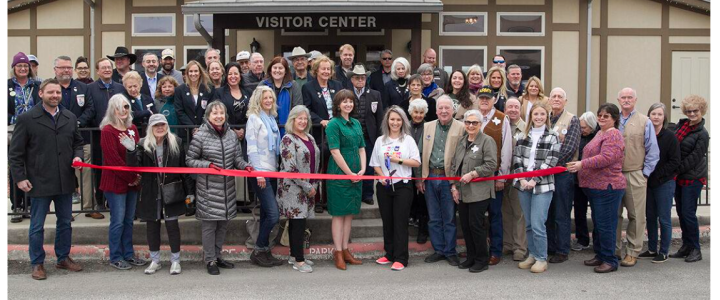 By Steve Knight | The Herald-Zeitung
 Updated 
It wasn't exactly chamber of commerce weather on Friday with a cold wind blowing through town and cloudy skies, but the Greater New Braunfels Chamber of Commerce and the New Braunfels Convention and Visitors Bureau reopened the highway visitors center with a ribbon-cutting ceremony, just in time for Spring Break visitors.
The center, located at I-35 and South Seguin Avenue, reopened to the public as the official visitors' resource for everything New Braunfels after a long closure period due to the COVID-19 pandemic.
Mallory Hines, vice president of the Convention and Visitors Bureau, who oversees the Chamber's destination marketing efforts, said the CVB's goal is to make the center the central hub of destination information and give visitors an initial welcome and a positive first impression.
"With the pandemic, there were a lot of precautions in place, and we took a step back as the world figured out where equilibrium was going to be," said. "We found that things were coming back, and we looked at this place and realized it's a cost-effective way to positively enhance the experience of our visitors. It's a place for people to come be in-person and have that touchpoint of what there is to do in New Braunfels."
Hines added that "there is so much that can be shared through human interaction, walking them through and planning a visit that's customized to their needs and wants."
"We want to be a hub of activity, the hub of experience," she said. "Let them start or end their trip here, grab a souvenir, have a cup of coffee, have a conversation with a person about what is going on in New Braunfels and share our history and culture with them."
As tourists also explore destinations through online and digital means, Hines said the CVB would continue and expand those efforts as well.
"At the same time, we've launched an online chat feature, so through our social media and even through playinnewbraunfels.com, if you're not an in-person talker or a phone talker, you can interact with us that way," she said. "So it's really appealing to the way all of our visitors want to communicate. We want to communicate with them the way they prefer."
Volunteers will continue to supplement the CVB team to ensure the center runs smoothly.
Mike Hansen, who has served as a volunteer visitor counselor at the center since 2015, said he was looking forward to continuing that role after a break. He said it's a "love of this city over many years" that keeps him coming back to assist New Braunfels' visitors. 
"I like meeting new people and trying to satisfy their needs as far as recreation," Hansen said. "What do you want to do? Where do you want to go? What do you want to see? Wherever they go with the question, that's what you try to do. You feel really good when you can help somebody, and they always say, 'Hey, thank you. I really appreciate it.' That makes you want to come back the next day."
Hines added that they hope to also make the center a home base for new activities the CVB will introduce.
"The last couple of years have been interesting," Hines said. "People were not interacting the way they were used to. Looking back at history, there were times that this was a big hub of activity, and that's what we're going to try and recreate."
The center is open Monday through Saturday from 10 a.m. to 5 p.m.
https://herald-zeitung.com/community_alert/article_bf1acd0c-a1a3-11ec-a902-efcf604de941.html