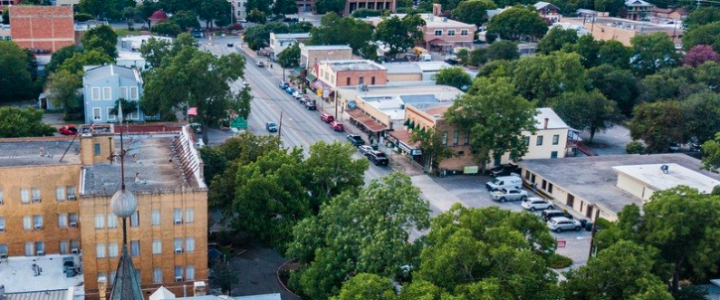 When the city's website has the word "play" in it, you know that's exactly what to expect when you visit. New Braunfels is known for being a German town filled with antique shops, boutiques, and many great festivals. But the most exciting adventures in the city are the Guadalupe and Comal rivers and many outdoor water recreations. Located between Austin and San Antonio in the Texas Hill Country, New Braunfels is an outdoor playground for everyone!
Going to New Braunfels for the weekend isn't just a one-time place to go for fun -- it's a place to go over and over again. If the outdoors and fun in the water is your thing, place this trip way up high on your bucket list, and I'll bet you'll want to go back! New Braunfels could just be your go-to vacation spot for many years to come. To make the most of your visit, check out these fun ways to spend a wonderful weekend in New Braunfels.
Things To Do In New Braunfels
Make your first stop at the visitor center to pick up brochures and find out what's going on in the city. I like to stop at a small town's visitor centers to see what's going on that I may not know about and pick up coupons for restaurants and attractions. Greater New Braunfels Convention & Visitors Bureau is located at 390 S Seguin Ave.
Stay And Play Downtown
Shop, stay, play, eat, drink, and do whatever else you want to do in Downtown New Braunfels. From listening to music at Krause's Biergarten and Cafe to checking out the farmers markets to seeing an old-time movie, everything that happens in New Braunfels happens here!
Pro Tip: If you like antiques, be sure to stop by Red Rooster Antiques and Adele Kerr & Co. Both are part of the popular Texas Antique Trail.
Hop On The Bus For A Beer Tour
Move over, wine tours, it's beer time! While on the Hill Country Craft Beer Trail, you'll taste a blend of traditional and creative craft beer at New Braunfels' breweries as well as other Hill Country craft brew establishments. Full and half-day guided tours are available. Just imagine the spectacular views along this tour, too!
Admire Handcrafted Furniture
During the tour of the Museum of Texas Handmade Furniture, you'll get to know the artistic beauty of handcrafted Biedermeier furniture as constructed by German cabinet makers who settled in New Braunfels many moons ago. Tours also include a brief history of the house and its surroundings. The museum sits on a beautifully wooded 11 acres in historic New Braunfels.
Shop In Gruene
Gruene (pronounced "green") is every bit worth a visit. And, if you didn't know (I didn't), Gruene is actually a part of New Braunfels and not a city itself. I've been to Gruene a few times and never knew there was no such place as Gruene, Texas. It's such a relaxed, quaint small town with lots to offer, such as antique shopping, lovely indoor and outdoor dining, a famous dance hall where George Strait first played, beautiful potted flowers, ice cream shops, parks, and more.
Pro Tip: Grab a good pair of shoes, park, and walk the whole town.
Float The Guadalupe
Whichever way you want to do it -- on a tube, a two-man raft, or a kayak, floating the Guadalupe is a fun outdoor adventure for the whole family. There are several places to rent water equipment, or you can bring your own. The one that comes to mind is Rockin 'R' River Rides. Immerse yourself in the river and have fun! I don't think this outdoor activity ever gets old.
Book A Tee Time
Play a round of golf at Landa Park Golf Course at Comal Springs on the 18-hole public course nestled along the Comal River. Soak up acres and acres of spectacular Texas Hill Country views while playing a challenging round. The course is for all levels, and the seasonal player will get a bit of a challenge. But don't let that be a worry -- you can always take a lesson there, too.
Explore The Caverns
On the outskirts of New Braunfels heading into San Antonio is Natural Bridge Caverns. It's the most significant cave in Texas and one of the world's premier caverns.
There are several tours daily, and the one my family took a couple of years ago was the Discovery Tour. This particular tour lasted about 75 minutes, and we were able to get some gorgeous views and photos. My grandson was six years old when we went, and when the tour guide said, as she was pointing to a rock, "This is the only rock you can touch, and all others are off-limits," he was all over that rock! You could spend the whole day in this area, as it looks like they've added a few attractions since I was there last. You can now zip line, climb, and go gem and fossil finding.
Make A Splash
Did you know Schlitterbahn Waterpark in New Braunfels is not just a Texas favorite, but it was also voted the world's best waterpark? And it has held that title for decades! It's a whole lot of family fun all rolled up in one waterpark.
If you wanted to make it a full weekend of fun, there are resort cabins you can rent. My mother, grandson, and I rented one last year for two nights and had so much fun. The park offers free activities out on the lawn for guests of the resort. This is one of the best places to take grandchildren of all ages!
Best Restaurants In New Braunfels
With hundreds of diverse dining experiences in New Braunfels, there's no way you won't find what you're looking for.
Breakfast
Edouard Naegelin, Sr., came to town in 1868 with a sack of flour and less than a dollar in his pocket and opened his first bakery. He called it Naeglin's Bakery. It is now the oldest bakery in Texas. For over 140 years, the bakery has been serving the public their signature breakfast items. You can expect delicious strudels, pastries, coffee cake, kolaches, and more sweet goodies. Start your morning either at a table inside or by drive-thru.
Lunch
When in a German town, you eat German food, right … or do you? At Fork and Spoon, you have your choice -- American or German.
There's also barbeque, Tex Mex, and fast food in town. You name it, New Braunfels has it. If you like good Mexican food, try La Cosecha Mexican Table -- a neighborhood favorite. Really, the choices for lunch are endless.
Dinner
The times my family has been to New Braunfels, we've had dinner in Gruene. Dining is spectacular at Gristmill River Restaurant and Bar. The ambiance inside and out is not to be missed, and the food and service are awesome. Gruene is so small, you can park and walk the whole town, so if the line is long here, walk down the street to Gruene River Grill.
Pro Tip: If wine is in your plans, the Dry Comal Creek Vineyards is just outside of New Braunfels and is part of the Texas Wine Trail.
Best Hotels In New Braunfels
Depending on what you're looking for, any of these options are great. New Braunfels has a ton of places to call it a night. You won't be disappointed in the city where everyone plays!
Hotels
Stay and play at Courtyard New Braunfels River Village. When I travel and want to stay in a hotel, a Courtyard always seems like the logical choice. I love the interior, and their outdoor pool is outstanding and mandatory when my grandson comes along -- plus there's free Wi-Fi. This Courtyard is minutes away from the Guadalupe River.
River Camps And Resorts
Staying in river camps and resorts is fun and most popular because of how cool it is to wake up and walk outside to the river. Check out River City Resorts for a place to stay and enjoy the Comal and Guadalupe rivers firsthand.
Bed And Breakfasts
Located in the middle of the Historic Gruene District, Gruene Mansion Inn will allow you to catch live entertainment, float the Guadalupe River, enjoy shopping in downtown Gruene, explore New Braunfels' finest dining, and experience the best nightlife around.
At the Historic Kuebler Waldrip Haus Bed and Breakfast, you can start your day with a morning walk around the peaceful establishment. At night, relax outside on the patio while enjoying sunset in the Hill Country. Enjoy complimentary refreshments that include homemade almond butter toffee, cold drinks, and Blue Bell ice cream.
Pro Tip: The best time to visit New Braunfels is undoubtedly in the spring and summertime; however, the city doesn't sleep in the winter, so don't miss out on potential fun then!
- Kim Croisant | TravelAwaits | Nov. 11, 2020