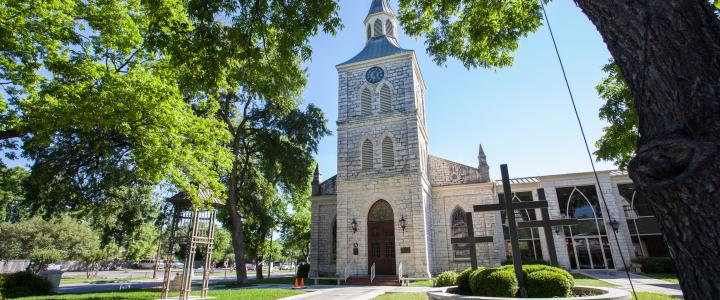 Upon their arrival at the appointed site, industrious German immigrants got right to work constructing what would become the city of New Braunfels. Among their numbers were skilled artisans, laborers, farmers, and engineers. Two famous Tischlermeisters (master carpenters), Johann Michael Jahn and Heinrich Scholl, Jr., lent their unique styles to the construction (and furnishing) of the pioneer town.
The town's original buildings consisted of a motley assortment of temporary wooden structures:
"Some houses were of logs, some were of studding framework filled in with brick, some were frame, while others were huts with walls made of cedar posts driven vertically into the ground like the posts of a stockade. The roofs, instead of being covered with the customary wooden shingles found throughout America, were covered with tent canvas or a couple of ox hides."
–Dr. Ferdinand von Roemer, April 1846
Sturdy European Construction Followed
Once the settlement stabilized, the old buildings were replaced with sturdy half-timbered structures. Traditional German fachwerk styles — stout wooden framework infilled with stone and plaster — were very popular.
Personal residences, churches, farms, and businesses all benefitted from the sturdier building materials. In fact, many of these second-wave buildings are still standing. Today, tourists can enjoy walking tours of historical New Braunfels buildings.
Town and Country
The same evolution occurred on the order of farm fields and ranches, where hastily erected wooden fences transitioned over time to fieldstones. Generations of New Braunfels farmers worked together to stack large stones — a plow's worst nightmare — into boundary walls and fences. Like the historic buildings of New Braunfels, many of these hand-built walls can still be seen.
New Braunfels, a City of Stone
The city underwent another transformation at the latter half of the 19th century, when the half-timber fachwerk fell out of favor. Architects began to design buildings out of local limestone and sandstone, which proved both sturdy and heat-efficient.
Two of the most famous limestone structures in New Braunfels are the First Protestant Church (built 1875) and the Comal County Courthouse (built 1898).