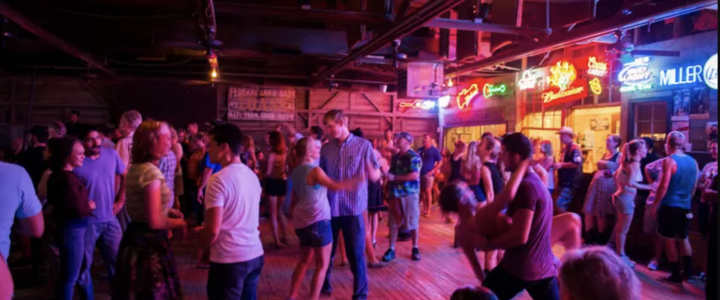 Photo Credit: Rush Jagoe
Original Article: Southern Living
"Sorry I'm late, y'all," says musician Bo Porter as he strolls over and picks up his guitar, floorboards creaking under his cowboy boots. He's been playing at Gruene Hall for more than 15 years. If you drop by on a weeknight, you might catch him performing for regulars who catch him by the door to chat, college kids from nearby Texas State, and first-timers trying to act inconspicuous, until he stops singing and starts telling stories like a wrangling raconteur. "We've got people here from Ohio, Illinois, and Australia tonight. Even Austin!" Porter says. "Welcome to Texas!" a mustached man in a ten-gallon hat calls out. The joke's not lost.
In the late-1970s and 1980s, musicians flocked to Gruene Hall, the oldest dance hall in Texas and the dance hall voted as the best in Texas by Southern Living readers this year. Timeworn photographs and newspaper clippings remember past headliners like Willie Nelson, George Strait, Lyle Lovett, Jerry Jeff Walker, Robert Earl King, and other country legends, iconized in black-and-white on the paint-chipped walls. "The more people heard about the magic, the more they wanted to come see it for themselves," says Mary Jane Nalley, co-owner of Gruene Hall along with Pat Molak since 1975. 
The white-clapboard venue hasn't changed much since its founding in Gruene, Texas, in 1878, barring the occasional coat of paint. Cases of beer surround the bar, the swinging doors hang askew on their hinges, and side flaps make room for open-air dancing. The stage is small, there's no green room or backstage, and that's the way it stays, no matter who you are. 
Dance halls have dotted Central Texas for over 150 years, built by German and Czech pioneers who settled the region. The structures served as centers of social life where weddings, funerals, holidays, and town meetings were held, as well as weekend dances. As Texas grew into its own unique heritage, dance halls became gathering places for two-stepping and two-buck beers. Different overlapping genres—including polka, western swing, Tejano, blues, and honky-tonk—have been showcased at these historic venues throughout the decades, giving Texas music somewhere to put down roots.
There's no shortage of memories of Gruene Hall's lasting magic that Nalley can pinpoint. There was the time that Little Richard drove his Cadillac through the back gate and hopped up on stage to sing "Good Golly Miss Molly." Or when Ryan Bingham, from popular television show Yellowstone, performed acoustically at the small makeshift stage by the bar at the beginning of his career. ("I'd met him around a campfire in Marfa, looking scruffy and playing the guitar," says Nalley.) Or the one when Willie Nelson snuck in through a hole cut out of the men's restroom to escape a packed crowd.
With more dance halls closing as urban migration marches on, groups such as the Texas Dance Hall Preservation Inc. are committed to saving these historic sites, as well as the music and culture that can still be found within them. Whether at Broken Spoke in Austin, John T. Floore's Country Store in Helotes, Twin Sisters Dance Hall in Blanco, or Waylon Jennings' folkloric Luckenbach (it's real), you can still hear Texas' true sound every day of the week, and the packed dance floors signal that there's hope yet. 
As the night winds down at Gruene Hall, Porter drawls out the final lyric of "I Met Jesus in a Bar." In the audience, a few shout out, "Amen!" 
gruenehall.com, 830-606-1281, 1281 Gruene Rd, New Braunfels, TX 78130