Governor's Small Business Webinar:
Updates on the New Round of PPP Funding
When: Wednesday, February 17, 2021, 1:00 - 2:00 PM Central Time
Where: Online Webinar
About:
Join us for the next Governor's Small Business Webinar for an update on the new round of Paycheck Protection Program (PPP) funding and other recovery resources through the U.S. Small Business Administration (SBA). Our panel of experts, including senior executives from the SBA and Small Business Development Centers, will provide up-to-date information on the PPP application process, loan forgiveness and other pandemic assistance for Texas small businesses and entrepreneurs. The virtual event will also feature a live Q&A with our expert panel.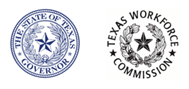 The Governor's Office of Small Business Assistance hosts this webinar in partnership with the Texas Workforce Commission.
Visit us online and connect on social media as we announce additional webinar details for 2021!