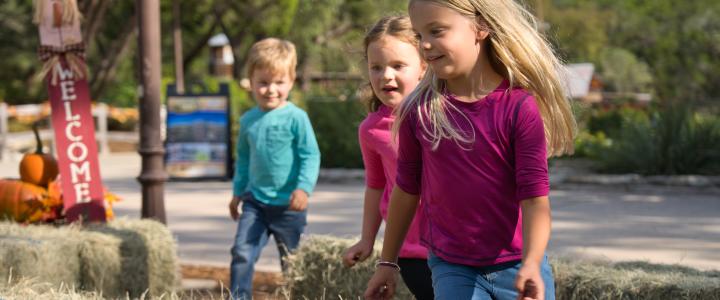 Cavern Fall Fest kicks off at Natural Bridge Caverns every weekend in October. This family-friendly event will feature a host of FREE activities including mini-hay maze, live music, fun photo stops, new seasonal menu items, and a free AMAZEn' Ranch Round-Up maze ticket to anyone who comes in a family-friendly costume. In addition, on Halloween weekend the Cavern Crew with host Trick or Treating in the Discovery Village area of the park.   
"Cavern Fall Fest takes advantage of the gorgeous autumn weather and beautiful Texas Hill Country views here on property," said Travis Wuest vice president at Natural Bridge Caverns. "It's a great time of year to get families and friends to come out, take one of our two cave tours, or zip around the Twisted Trails climbing adventure. Combined with all our free fun activities, folks can stay and enjoy a relaxing fall day in the Hill Country."  
 For more information on all the fun October events, adventures, and available tours, visit naturalbridgecaverns.com.  
About Natural Bridge Caverns: 
26495 Natural Bridge Caverns Rd, Natural Bridge Caverns, TX 78266  
https://naturalbridgecaverns.com/  l 210-651-6101    
Natural Bridge Caverns is one of the world's premier show caverns. Discovered in 1960 by local cavers, this family owned and operated natural wonder is the largest cavern in Texas. More than two stunning cave tours, the property features above ground adventures of a different kind including a ropes course, zip rails, a 5,000 square foot outdoor maze, and even an interactive "panning" activity. More of the cavern is still being discovered; the Wuest family along with their caving team are still actively exploring new areas in the massive cavern. Natural Bridge Caverns is a designated State Historical Site, National Natural Landmark, and is listed on the National Register of Historic Places.