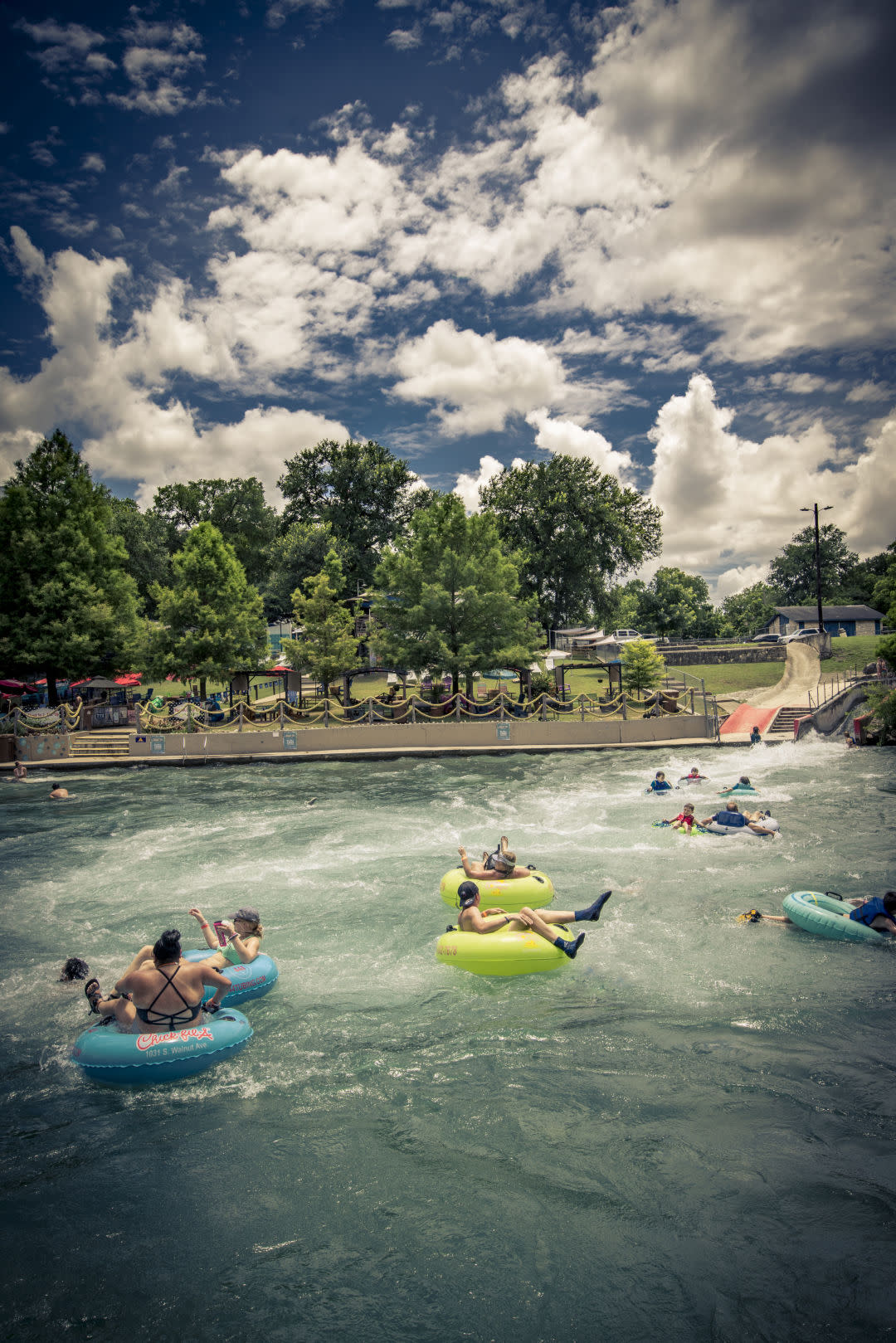 BEFORE I HOPPED OFF THE ROCKIN' R SHUTTLE in my UV-protection rash-guard swim shirt, rented tube in hand, and descended the slick stairs at New Braunfels's Prince Solms Park into the Comal River's gloriously crisp waters for the first time ever, tubing never had been much of a fun thing for me. I grew up in Florida, where floating the Ichetucknee meant braving the threat of water moccasins, gators, tetanus (from reefs of old beer cans), sun poisoning, mosquitos and hypothermia (or heat stroke, depending on the time of year).
It felt like fate when two days before I was supposed to head to New Braunfels to float the Comal, Tropical Storm Imelda flooded my car—not from rising waters, but a deluge that poured in through a mysterious crack in a welded seam in my dash. My car's interior looked straight out of a submarine disaster movie, and I almost canceled the trip. It was a ma'am, we've never seen this type of thing before-level problem. I wouldn't be able to drive. 
But my boyfriend, Gerritt, volunteered to drive last-minute, and soon we were pausing at the Luling Buc-ee's to fill up on those paper cones of sugar-coated fried almonds before landing in New Braunfels, where I quickly realized all the town's lawn ornaments were actual living, breathing deer.
"It moved," I screamed. "It's a deer."
"Please don't do that when I'm driving," Gerritt said, calmly.
Deer are everywhere in this part of Texas Hill Country. In herds. By themselves. In yards. On the sidewalk. Lurking near the parking lots of putt-putt golf courses and churches. At the Gruene Homestead Inn—the quaint, country-road compound of 10 historic houses and buildings, some dating to the 19th century—the deer didn't seem to mind us watching them enjoy their evening feast from rocking chairs on our front porch.
After breakfast the next morning and a quick hello to the inn's resident cats, Charlie and Heidi, we were off to the New Braunfels outpost of Rockin' R—the area's longest-running river outfitter, founded in 1979 by two brothers with the actual last name Rivers. Since it was before 10 a.m., there were no crowds and it was easy to park. We quickly signed some forms and handed over our keys.
"Wait," the girl behind the counter said as we headed to the van. "Y'all need Toobies."
"Toobies?"
"For your sunglasses. They attach to the tips and keep them around your neck. Otherwise they're goners."
After a Toobies tutorial, we hopped in a van and headed to a nearby park, our tubes bouncing along in the trailer behind us.
At just 2.2 miles long, the Comal is the shortest navigable river in Texas, beginning and ending within New Braunfels city limits. Spring-fed by the Edwards Aquifer, it remains a cool 70 to 72 degrees year round. We launched at Prince Solms Park, right before the first chute, knowing our float would be about two hours, give or take.
We paddled past a group of 20 or so squawky tubers who'd combined themselves into one massive, slow-moving organism, and immediately came upon Stinky Falls, so named because it used to smell like sulfur released from a nearby plant. It's now a man-made, S-shaped chute of class 2 rapids. The experience is a lot like a water park ride. I went down feet first and came out backward, unscathed and laughing, my sunglasses indeed saved by my Toobies.
We floated on, matching pace with a few families. There were kayakers out that morning, too, along with SUPers and at least one guy with a mask, snorkel, and fins, watching the world go by from below. It was wonderful. Peaceful.
Then came the second chute. It was just a short slide down a small rapid, but enough to separate me from Gerritt, who was swept into a whirlpool. He spun and swirled and waved and spun again as I clutched a wall 100 meters downriver, the current pulling at my tube with such force my finger nails were hating life. Minutes passed. Suddenly I noticed the large organism looming on the horizon, threatening to catch up to us.
"Hurry," I pleaded as Gerritt waved and spun some more, laughing as he went. The organism inched closer, sounding its Bon Jovi warning call as its tubers giddily hooted and hollered before ripping down the chute and re-forming into a mass. Finally the rapids released Gerritt, too.
"I tried to get out," he explained after catching up, as we waited for the boisterous blob to inch past. "But the river does what it wants."
And what the river wanted for us, it seemed, was to make us slow down. To realize not everything is a race. Soon the big party was out of sight again, way in front of us, and we lay back and let the river carry us past deer (of course) on the banks, dogs on paddleboards, and turtles sunning themselves on rocks. A large dragonfly landed on my knee. It hitched a ride all the way downriver, where the exit appeared, and, like the kids all around us, we shouted an aww, do we have to? before climbing out into the midday sun to catch the shuttle. The cool thing about the Comal? You can take your tube back to the start and hop right back in again.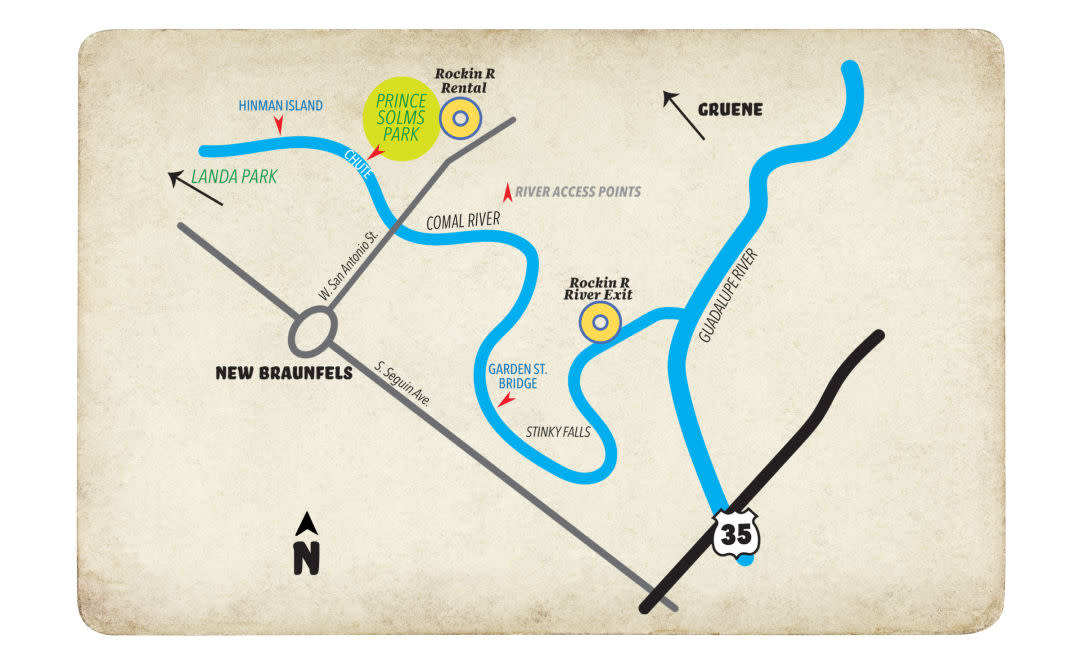 Routes
Launch at Prince Solms Park (100 Liebscher Dr.) in New Braunfels for a two-hour float, or to just keep going down the tube chute like a crazy kid. For a longer ride, start from Landa Park (164 Landa Park Dr.), a little over a mile upriver from Prince Solms. Make sure to check with local outfitters about any changes in park schedules, social distancing guidelines, and health and safety requirements before planning your trip.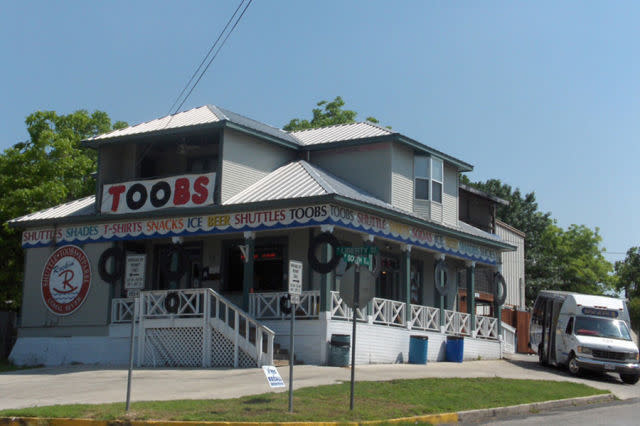 Tube/shuttle rentals
Expect to spend between $15 and $25 for your tube rental and drop-off/pick-up at the river; there are a ton of options, but we're fans of the OG, Rockin' R. You'll spend $10 to $30 more if you want an all-day float or plan to rent a cooler tube or a dog tube (yes, you can bring your pal). And remember cash for tipping your shuttle driver.
Pack
Your phone in a dry case. Coolers with beer, booze, and nonalcoholic beverages in reusable cups only; no disposables allowed. Leave food and a change of clothes in the car for after your float.
Eat/drink
Located within walking distance of Rockin' R, Pat's Place offers tasty enchiladas and po-boys. Tuck into a bar seat at upscale McAdoo's for cocktails, raw and chargrilled oysters, and dreamy seafood fondue. Grab some cookies at Red Oak Bakery, a hidden gem.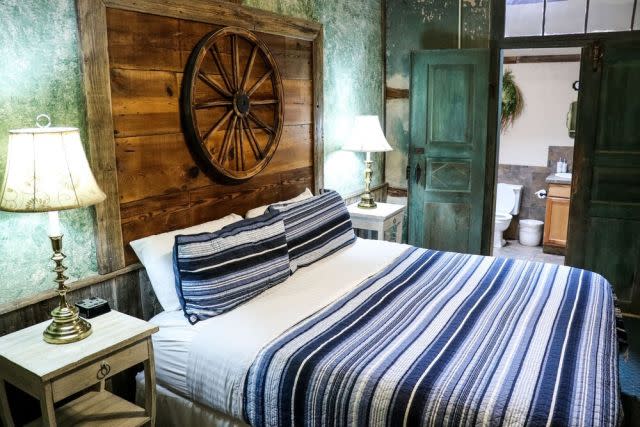 Stay 
At Gruene Homestead Inn (from $165/night), the hospitality is lovely, the rooms charming—think jacuzzi tubs, comfy beds, and shabby-chic touches—and the little breakfast buffet? Worth getting up early for (hello, biscuits and gravy). In the evening a burger, live music, and
a pint of cold beer are never far away, thanks to popular onsite eatery Tavern in the Gruene. Downtown Gruene is less than a mile up the road, but we were more inclined to relax on our front porch.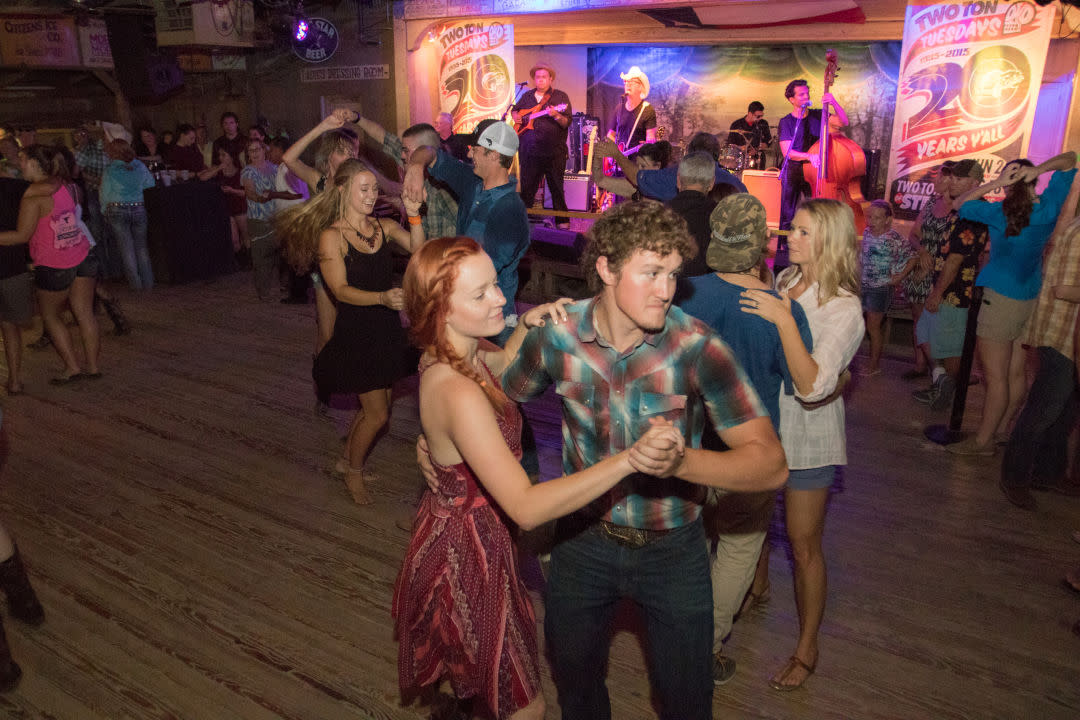 Also try 
Browse the impressive treasures at Red Rooster Antiques and Gruene Antique Co. Catch a show at the historic Gruene Hall, a screened-in bar and venue where everyone from Willie to Garth Brooks has played. Stop into nearby The Gristmill beforehand for the best queso and bacon-wrapped filet on the Guadalupe, literally: The deck directly overlooks the river.