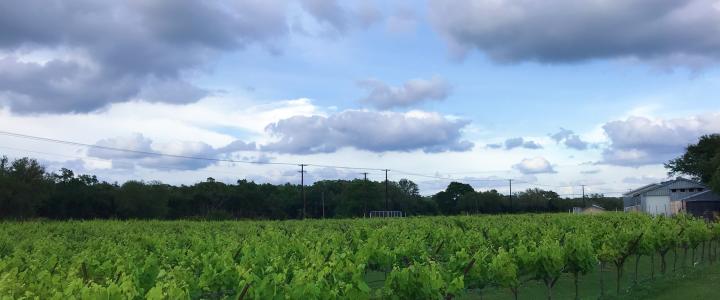 Just outside of New Braunfels, down a long windy country road is Dry Comal Creek Vineyards.  The AWESOME Dry Comal Creek Vineyards. This is one of those places that has always been around, but has recently gotten way, way better. The wines have improved dramatically, and so has the atmosphere. Beyond the normal wine tour sippings and tasting, this place is hopping with live music, food trucks, and has started to put on awesome Wine 101 classes for those among us with less wine education but a high appreciation for the beverage.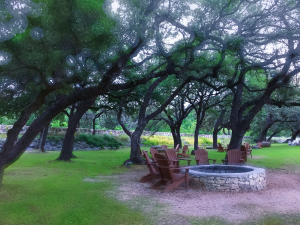 We figured it was about time for us to feature this famous go-to New Braunfels winery.
This trip out, we sat down and tried out some of their newest bottles (they have 10 (10!!) new wines since August). We had some we loved, some we liked, and one that would make an absolutely delicious summer slush (we're looking at you Dora Rosa!)
Hitting the top of our love list was the Rosé of Sangiovese, 2017. Half of our two person team at GoodEats hates HATES Rosés and she (or he! ...naw it was the she) loved this one. It is dry but slightly sweet somehow with 0 % residual sugar. It was so easy to envision ourselves chilling, overlooking the river with a glass of this in hand or sipping while nomming on a cheese board or ribs. Honestly it'd pair well with a lot of things.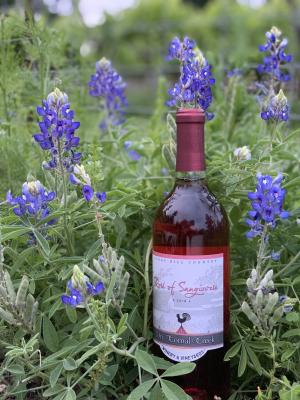 For Summer nights on the grill or for saving (as in buy now and save it cause it's going fast) for a Winter beef stew, we would try their Cotes du Comal. Dark garnet colored, with a nice mouth feel, this wine was a treat. A nice mix of Cabernet Sauvignon, Petite Verdot, and Touriga Nacional, it is their top-selling wine in this new batch. If you are going to visit family or friends this summer grab a bottle and share the Comal with them!
The Dora Rosa is a sweet Muscat, Muscat Canelli, and Riesling blend in a beautiful watermelon hue. It is begging to be turned into your summer slush for your weekend float down the river.
Dry Comal Creek makes for a wonderful afternoon with your family, or an easy date night with your belle or beau. Come late July or early August and you can participate in their grape-stomp event or come by most any weekend during the summer for live music and food truck foods.
GOLDSTONE PIZZA
That brings us along to GoldStone Pizza. Dry Comal Creek invites out a lot of different food vendors/food trucks on different weekends, but one that's invited out quite regularly (read: because it's amazing)  is GoldStone Pizza, a mobile wood fire pizzeria. They are family owned and have only been running their business for about two years now, but have taken off, getting requests to do event after event.
It could absolutely run for best pizza in New Braunfels.. when it's in New Braunfels.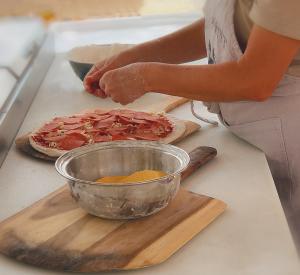 Check out this Pepperoni. They use beef pepperoni on their pizza, unlike the pork that most places use, because it's less oily and crisps up nicer. They use a combination of provolone and mozzarella cheese and the pepperoni is just the right amount of caramelized crisp on the edges and the bite is umami savory and delicious.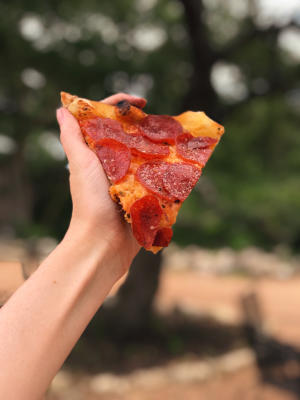 The other pizza we got on this trip out was their Date and Prosciutto pizza. They used provolone, mozzarella, and gorgonzola cheese, covered the pizza in dates and prosciutto slices, then after wood firing it, drizzled it with their unfiltered extra virgin olive olive, and sprinkled it with savory parmesan and basil leaves (you need to ask for the basil). The dates became even more sweet from being dried and baked and that in combo with the salty savory prosciutto and the melted, oooey gooey, umami cheese was fan-taaaastic!
They don't update their Facebook or Instagram but when they come to New Braunfels they're at 5 Stones Brewery or Dry Comal Creek, so you can check both of those Facebook page's scheduled events for the vendor of the weekend or you can message GoldStone Pizza directly on Facebook to ask where in town they'll be next and they generally message back pretty quickly.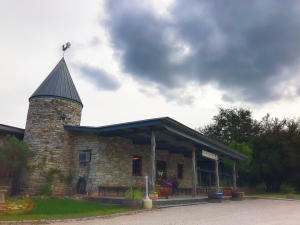 Bottle prices range from the low $20's to $30's.
All wines served in house are $10 a glass.
PRO TIP:
If you are a wine lover, and live locally, you should definitely consider Dry Comal Creek's wine club. Just started, they have some major discounts for their members, we're talking major, and some cool perks. The two levels are Silky (cutest chickens ever) and Brahma. Brahmas get 36 bottles, three members only dinners (past ones were steak and crawfish boils), and a 25% discount for each visit.
Silky – $144
6 bottles, two times a year, total 12
15% discount each visit
October and March member's appreciation dinner
Brahma - $233
12 bottles, three times a year, total 36
25% discount each visit
October, March, and June member's appreciation dinner
More about them:
The Vineyard was recently (ish) bought out and have started to revive the old vines and brought in a new winemaker, Seth Urbanek. The wines they're putting out together now have gotten better and better. Seth is a native texan with a masters in vine culture and wineology from Cornell. He spent time studying in Champagne, Molly Duker in Australia, and has a very diverse pallet that he's absolutely putting to work creating wine gold from all the native texas grapes.