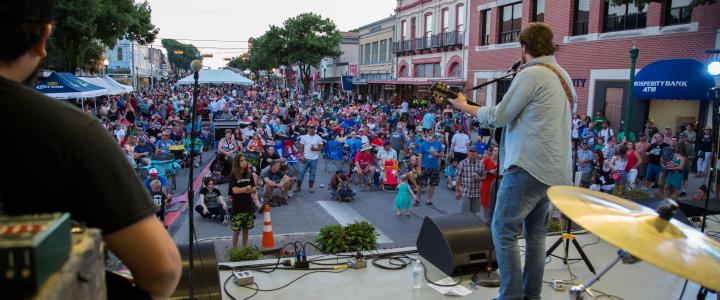 Main Plaza becomes pedestrian-only at this annual celebration of wine, music and a whole lot more
Historic downtown New Braunfels will turn into a day-long party celebrating wine and live music during the annual Wein & Saengerfest on Saturday, May 6 from noon to 9 p.m. 
The name, a tribute to the city's German heritage, translates to "Wine and Singer Festival." Wine and music are at the heart of the event, with plenty of opportunities to sample and learn about wine and three stages for live music.
But wait… there's more! Family and children's activities, food vendors, craft beer tastings and shopping both at specialty vendors and in downtown shops means there's plenty of fun for the whole family.
It all takes place at Main Plaza and surrounding streets, which will be closed to vehicles for pedestrian traffic only. The event is free, with tickets available for wine and beer tastings, for full pours and souvenir cups.
Proceeds from wine and beer sales benefit the New Braunfels Downtown Association and the New Braunfels Parks Foundation for use in downtown beautification and enhancement.

New ways to have fun  
This year's event features some new additions to add to the fun:
The Hinterhof: New to this year's event is the Hinterhof (German for "backyard.") Located along South Seguin Avenue, this pedestrian-only spot is a great place to relax, with Adirondack chairs, picnic tables, an play area for the kids and casual backyard games in a shaded, family-friendly space. The Hinterhof is the site of a third stage (another new addition this year) where acoustic musicians will perform all day.
​VIP Experience: A new VIP option gives guests great swag (including a souvenir glass, tasting tickets, a T-shirt and poster) along with additional perks, such as special VIP-only seating in front of the Main Stage and exclusive access to special shaded area with complimentary ice-cold bottled water, light snacks and a private restroom. VIP tickets are available online at www.weinandsaengerfest.com.
Festival favorites
Of course, beloved festival traditions will continue this year. The Wine Tasting & Market is the place to sample wines from local and regional wineries. Bottles will be available for sale so you can take your favorites home. Throughout the event, specialty food trucks, beer and frozen specialty drinks by the glass will be available, as well as many specials from downtown restaurants, bars and cafes.
Head back to school at the WeinStein University tent and enjoy a full day of wine, beer and cooking demonstrations and seminars. Local wineries and chefs will lead six different sessions throughout the day, each with fun ideas for enjoying, pairing and preparing wine and beer-themed delicacies. The lineup includes a session on pairing wine and tapas and one on creating boozy fruit sorbets. Sessions are free, with seating available.
3 pro tips for parking and seating
Here's a little insider advice for maximizing your fun at this year's Wein & Saengerfest:
Take advantage of the event's new free shuttle to avoid any parking hassles. Park for free at City Hall at 550 Landa Street, and catch a free event shuttle, which will run from 11 a.m. - 10 p.m. The shuttle stop is at N. Seguin and East Mill (by the Comal County Tax Office).
Skip the lines and purchase your souvenir glass, tasting tickets and full pour drink tickets online at www.weinandsaengerfest.com.
If you're not treating yourself to a VIP package, bring your own folding chairs so you can relax and listen to music.
For more information visit www.weinandsaengerfest.com and be sure to follow the event on Facebook for news and updates.
Make the 2023 Wein & Saengerfest the centerpiece of a lovely spring weekend in New Braunfels! Get ideas for lodging and more at https://www.playinnewbraunfels.com/.
Links: