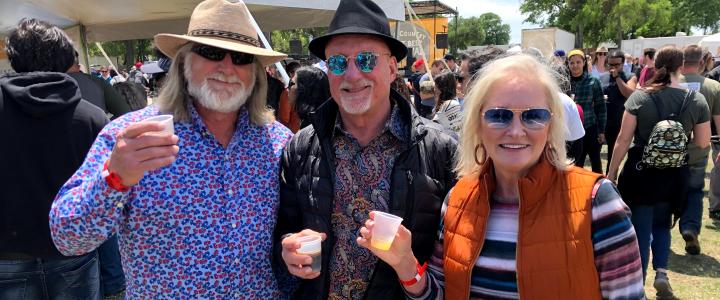 Third annual festival shines a spotlight on New Braunfels' craft beer scene
It's a craft beer lover's dream come true: more than 150 craft beers from more than 30 Texas breweries, all in one location.
That's the Hill Country Craft Beer Festival, happening Saturday, April 23 at Rockin' R River Rides along the Guadalupe River in Gruene, just north of New Braunfels (1405 Gruene Road). Hours are 12 p.m. to 6 p.m. for VIP guests and 1 p.m. to 6 p.m. for general admission.
The festival includes well-established local favorites as well as up-and-coming breweries. Organizers launched the event in 2019 as a "festival known for quality beer in a city known for quality fun", with the inaugural event hosting 20+ breweries and more than 100 beers. The festival's success grows each year, with the 2022 festival to feature nearly twice as many breweries as 2019.
"We try to recruit those small breweries, some of them very out of the way, that are between Austin and San Antonio," said event organizer Britt Etheredge with the Rotary Club of New Braunfels.
The event also features food trucks and live music from Phil Luna and the Lunatics and Soul Sessions.
Guests can purchase general admission or VIP tickets, which are limited in quantity. VIP perks include a swag bag, preferred parking, early admission to the event an hour before the general admission gate opens, a riverside VIP tent with catered food and refreshments and more. Each admission includes 6 beer samples, with additional samples available for purchase. Tickets are available online at https://hccbf.com/.
New this year is a cashless system with RFID technology. Guests can connect their credit card to their wristband for easy purchase of additional beers, food truck items, or event T-shirts and other souvenirs.
The event raises funds for the Rotary Club of New Braunfels, which supports many local non-profit organizations.
The festival is just one example of New Braunfels' growing reputation within the Texas craft beer scene and among Texas beer festivals. Beer is a beloved piece of the city's German heritage, with several breweries and biergartens that draw inspiration from Old World brewing traditions.
Check out these highlights of the New Braunfels craft beer scene:
This hometown brewery produces classic German and English styles. Their quality beer is available throughout New Braunfels, including the brewpub within the Faust Hotel. Several varieties honor local heroes, from Walter's Ghostly Pale Ale (a tribute to Walter Faust, the hotel founder, whose ghost reportedly haunts the hotel) and Alex Meixner Polka Pils, a nod to the Grammy-nominated musician and nationally recognized advocate of polka music.
This brewery serves inventive beer brewed on-site, with a menu that includes classics that remain on the menu year-round and a rotating selection of experimental beers, from German Chocolate Stout to Banana Cream Pie Hefeweizen. With two beer halls, an open-air beer garden, a Detroit-style pizza kitchen, and plenty of live music performances, this brewery has become a local mecca for beer lovers.
This small, family-owned and operated brewery is in the city's historic district. The brewery specializes in mixed cultures and barrel-aging and is known for an extensive selection of sour beers, along with other inventive brews (the spicy pickle beer is a local legend). A newly expanded beer garden and seating area makes it a refreshing stop when exploring downtown New Braunfels.
Just minutes from downtown New Braunfels, 5 Stones serves up creatively brewed beer with seasonal ingredients and German influences. Guests can savor their beer in the spacious, secluded oak-shaded beer garden or in one of the indoor spaces. The brewery recently added a coffee bar and its own Slinger Bakery and Bistro, serving pizzas and other pub fare.  
OffRhodes is a craft beer taproom, beer garden and bottle shop, serving locally brewed craft beers from all over the Texas Hill Country, along with a selection of ciders, mead and wine. Their goal is to offer the best and widest craft beer selection in New Braunfels, whether to enjoy on-site or take home. With frequently changing taps, OffRhodes keeps customers coming back to try new beers and to source hard-to-find locally brewed craft beer.
All of these options add up to make New Braunfels a must-visit destination for craft beer lovers.