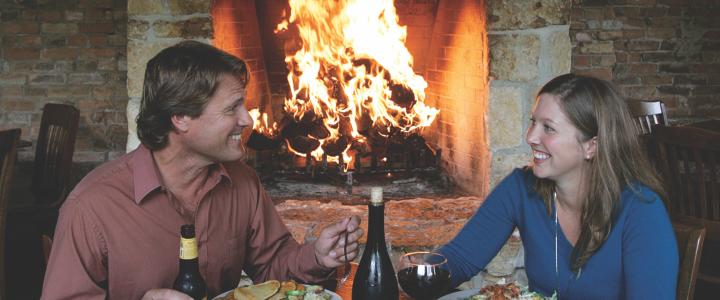 From roaring fireplaces to S'mores beer, stay toasty in this historic Texas town
As far as winters go, it's downright balmy in the Central Texas town of New Braunfels compared to much of the country. Still, there are some cooler days when you may need a little extra help staying warm and toasty.
From heated pools to hot coffee, cozy nightclubs to in-room fireplaces, New Braunfels has plenty of ways to stay nice and toasty. Read on for ways to turn up the heat even on the chilliest winter days #InNewBraunfels!
A cozy nightclub
It doesn't get much cozier than Sidecar, an intimate, underground speakeasy-style bar with a menu of handcrafted cocktails and plenty of live jazz. Located in the basement of the Prince Solms Inn, this dimly lit sanctuary will transport you to another era as you warm up with a delicious drink and hot music.
Live music by the wood-burning stove
It's been said that Gruene Hall has been "gently resisting change" since it was first built in 1878. That also applies to the heating system in the front bar area. While live music generates plenty of heat in the main stage area, check out the seating around the old-fashioned wood-burning stove in the rustic front room. Grab a drink, settle in near the stove and warm both body and soul.
Dinner by a roaring fireplace
The Gristmill River Restaurant, overlooking the Guadalupe River in the Gruene Historic District, is a favorite eatery year-round. But it's especially inviting on cooler days when you can find a roaring blaze in one of the dining area's native stone fireplaces. The restaurant is on the National Register of Historic Places in honor of its history as a cotton gin dating back to 1878.
A hot cup of freshly roasted coffee
Comfy seating, work space and coffee made with fresh, locally roasted beans await you at 2 Rivers Coffee. Warm up with a steaming cup of classic 2 Rivers Coffee or try one of their signature drinks, like the 2 Rivers (white chocolate with a slap of caramel) or The Guad, a salted caramel latte with an extra shot of espresso.
Cold beer by the firepit
The chilly night air can be downright enjoyable when you're seated next to a blazing fire under twinkling lights with a cold beer in hand as live music plays. That's the scene at the historic Freiheit Country Store an indoor/outdoor restaurant and bar that was established in 1889 (they also serve up some of the best burgers in New Braunfels.) At Guadalupe Brewing Company, indulge in the grown-up version of a classic campfire treat: the S'mores Stout, a chocolate stout served with cinnamon and a toasted marshmallow on the rim of the glass. Enjoy in the beer garden by the fire or cozied up in one of the brewery's indoor seating areas.    
Two words: heated pools!
You have to wait until spring for the waterpark to open, but did you know that Schlitterbahn Resort is open year-round? Guests at the 'Bahn can choose from has seven different styles of accommodations, each offering access to the resort's heated swimming pools.
Zesty Mexican cuisine
Warm yourself from the inside out with upscale Mexican food at La Cosecha Mexican Table. The restaurant's menu features dishes from Mexico's interior region. Whether it's a bowl of smoky tortilla soup with chipotle peppers, a sizzling plate of Wagyu steak fajitas, or the molten cheese of the queso fundido dip, it's a delicious way to fight off winter's chill.
A room with a fireplace
After your adventures on a brisk winter day, there's nothing like snuggling up by your own personal fireplace. Enjoy a roaring fire in the comfort of your room at Gruene Mansion Inn. Located on the Guadalupe River in historic Gruene, the inn dates back to 1872. The lodging options include century-old barns and homes restored to Victorian rustic elegance, and several rooms have their own fireplaces. Sophie's Gasthaus, a luxury boutique hotel in downtown New Braunfels, also features some in-room fireplaces, as well as a hot tub outside.
Defy winter's chill the fun way #InNewBraunfels! Plan your seasonal adventure at https://www.playinnewbraunfels.com/.