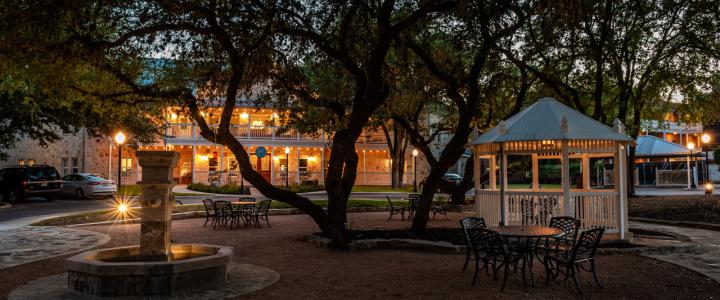 Whether glamping on the river or getting cozy by the fireplace, choose your own fall adventure in New Braunfels
Abundant lodging options make it easy to enjoy fall's cooler weather
When the long, hot days of summer end, autumn offers a different experience in historic New Braunfels. The city offers a wide variety of lodging options that make it easy to enjoy the season's comfortable weather and scenic beauty. Even better, when temperatures cool off and summer crowds thin out, many lodging options offer off-season rates. That makes fall a great time to explore the area's natural beauty, along with all the attractions, festivals, markets and other activities the season has to offer.
Whatever adventure you dream of, from glamping along a scenic river to getting cozy by the fireplace in a river-view boutique hotel room, you'll find it in New Braunfels. Book a spot today and start exploring!
CAMPING & GLAMPING
New Braunfels makes it easy to enjoy the outdoors. Whether you prefer an RV site along the river or glamping in an air-conditioned cabin, these three riverfront campgrounds put you in the heart of Hill Country beauty.
Camp Fimfo offers camping, glamping, outdoor fun and more along the Guadalupe River. The park is open year-round, with peak season ending Aug. 20 and fun amenities continuing on fall weekends. There are several ways to stay. Choose from top-of-the-line RV sites, custom-designed cabins and improved tent sites. Whatever you decide, you'll have access to the park's exciting seasonal amenities, including a resort-style, heated pool with a swim-up bar and a water park with four thrilling slides, along with 1,000 feet of river frontage along the Guadalupe.
Whether you're in an RV, a camper or a tent, Landa RV & Campground is the only place to camp right along the Comal River. The park only feels secluded; it's within walking distance of historic downtown New Braunfels and its attractions, restaurants and shopping. It's also within walking distance of beautiful Landa Park, with plenty of trees, hiking and biking trails, picnic areas and playgrounds. Landa RV & Campground is right across the river from Wurstfest, the 10-day festival celebrating the city's German heritage, taking place this year Nov. 4-13.
Camp Huaco Springs is a 30-acre haven along the Guadalupe River, with camping, an RV park, cabins and access to river fun. The camp boasts more than a mile of full hook-up riverfront sites by Huaco Falls, just off scenic River Road in New Braunfels. Whether you're looking for primitive camping, electric camping, RV'ing with full hook-ups or a stay in an air-conditioned cabin overlooking the Guadalupe River, Camp Huaco Springs has you covered.
BOUTIQUE HOTEL
Gruene River Hotel & Retreat is a boutique hotel in the Gruene Historic District. The hotel sets itself apart with a complimentary chef-prepared breakfast, complimentary wine every evening and river-view rooms. Only 100 yards from Gruene Hall, this location offers a peaceful setting and access to the Guadalupe River while keeping you within walking distance of great dining and entertainment options. Rooms with fireplaces and private balconies are a great way to savor crisp fall evenings, along with the outdoor hot tub and fire pit. This family-owned, family-run bed and breakfast was founded in 1999 as the Gruene Apple B&B. Today, it's part of the Southern Living Hotel Collection.  
VACATION RENTAL
Step back in time (while enjoying Wi-Fi and other modern amenities) at the Gerlich-Wagenfuehr Bed & Breakfast in downtown New Braunfels. This charming historic home was built in 1858. Owned and operated by the New Braunfels Conservation Society, all proceeds go to preserving New Braunfels' unique heritage. This one-bedroom home is decorated with antiques and includes a kitchenette and a complimentary breakfast. Guests have access to the home's quaint garden area. Walk to the Brauntex Performing Arts Theatre, the New Braunfels Farmer's Market or a variety of shops, eateries and entertainment.
HISTORIC HOTEL
The Faust Hotel dates back to 1929. It's been serving travelers ever since and is on the U.S. National Register of Historic Places. Today this historic hotel features 1920s-era Art Deco design and newly redesigned guest suites with modern amenities. An onsite bar and restaurant features house specialties and pub favorites with a German flair, served along with craft beer from the Faust Brewing Co. If you're planning a Halloween visit, the Faust might be the perfect place to stay: legend has it that hotel founder Walter Faust, who passed away in the 1930s, never left, and he and other friendly spirits haunt the hotel.
RESORT COTTAGES
From watching the river flow by to playing lawn games while deer stroll by, The Other Place Resort offers plenty of ways to enjoy the season. This family-owned resort sits on more than 4 acres along the Comal River. Guests can choose from 42 different lodging options nestled among the resort's many trees, from one-bedroom units with kitchens, dining areas and private river-view porches to 3-bedroom, 3-bath guest houses. The location is peaceful and secluded, yet only 4 blocks from the shops and restaurants of downtown New Braunfels.
Whatever your style, you'll find the perfect place to rest and relax during your autumn adventure #InNewBraunfels.